There's a different "church" in Bali. Every weekend, many will flock down to brunches for bountiful food selections, entertainment, and sometimes pool access so you can burn those extra calories from one too many champagnes.
Hence, the pressing question is, where to go? Here are some places that we vouch for:
IMPORTANT! We strongly recommended making a reservation before coming.
LAZY GRAZING SUNDAY BRUNCH AT COMO BEACH CLUB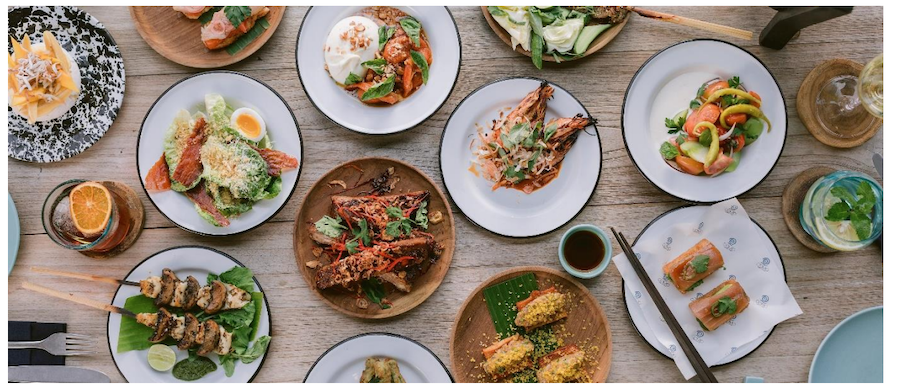 COMO Beach Club, the laid-back all day dining eatery and beach club at COMO Uma Canggu, relaunches new Sunday brunch menu to the already eclectic global menu. Escape the Canggu heat and join us for an idyllic brunch, set between the waves of coveted beach in Canggu. Guest can enjoy their time and graze their way through our delightful menu from caviar tarlet, sausage and egg muffin, san daniele prosciutto, bamboo lobster, lamb cutlets to 21-day dry-aged beef striploin and more.
These tantalising dishes will be served every Sunday from 11.00am to 3.00pm with a live entertainment from some of Bali's up-and-coming artists while enjoying the Balinese sun. Younger guests will receive a complimentary access to Play by COMO to enjoy fun-filled activities.
Brunch menu is available at IDR 650,000++ per person and IDR 325,000++ per child. With additional IDR 750,000++ per person guests can enjoy free-flow alcoholic drinks from wines, and beers to selected cocktails. Additional access to Play by COMO beyond 3.00pm will be charged at IDR 100,000++ per hour (for non-in-house guests only).
For more information and reservations, please contact COMO Beach Club through WhatsApp at +62 811 3820 9418 or email at [email protected] and phone number at +62 361 620 2208.
Healthy Sunday Brunch at glow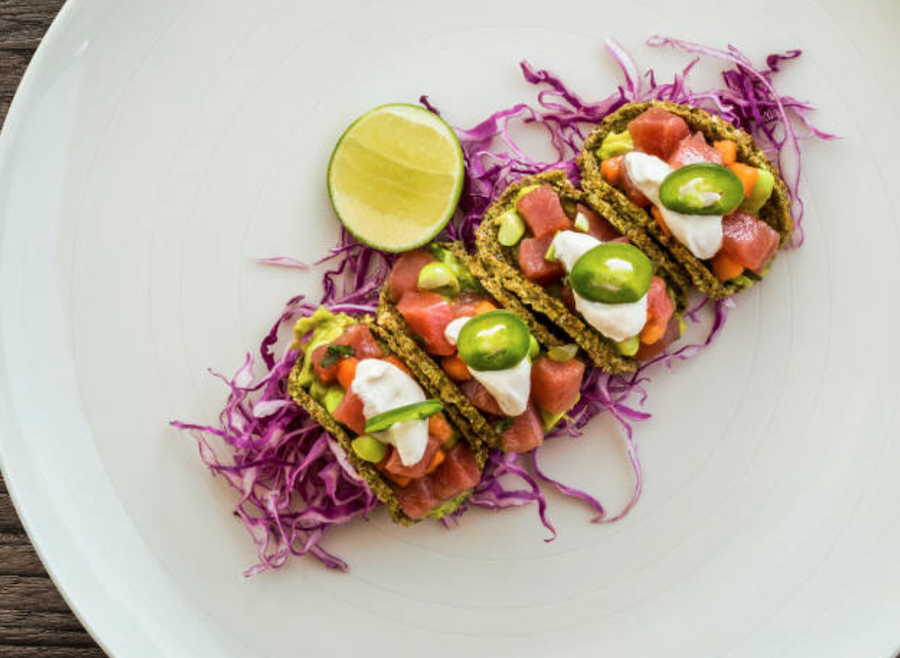 glow, is the buzzing heart of COMO Shambhala Estate. Featuring simple, tasty, and healthy COMO Shambhala Cuisine, including salads, revitalizing juices, and blends rich in live enzymes, vitamins, and minerals, the open-air restaurant re-introduced its famous Sunday Brunch. The Western and locally influenced meals at the glow Sunday Brunch are made to the customers' preferences and appropriate for a leisurely breakfast or late lunch. The Sunday Brunch offers more than a dozen options, ranging from appetizers through dessert.
glow Restaurant at Como Shambhala Estate
Banjar Begawan, Desa, Melinggih Kelod
Phone: (+62) 361 978888
IG: @comoshambhalaestate
Italian-inspired Sunday Brunch at Uma Cucina

Sundays are taken care of at Uma Cucina, where a laid-back brunch is served every week from 11.30 am to 3.30 pm. After a two-year absence, Uma Cucina has relaunched its Sunday Brunch, which features a variety of classic Italian dishes. If visitors want to complement their dishes with wines or drinks, there is an amazing range of wines and beverages available during brunch.
Uma Cucina at Como Uma ubud
Jl. Raya Sanggingan Banjar Lungsiakan, Kedewatan
Phone: (+62) 361 972448
IG: @umacucinaubud
Hamabe Brunch at The Westin Resort Nusa Dua Bali Resort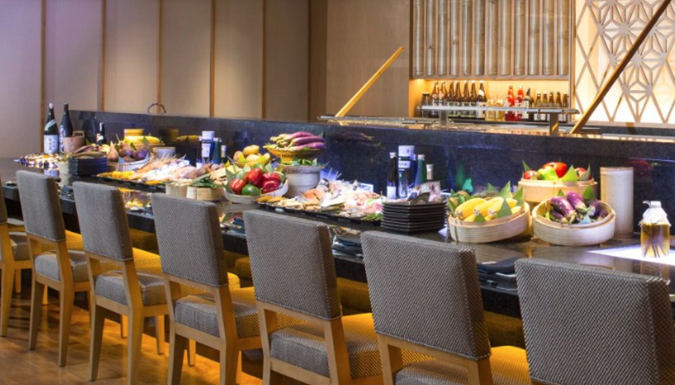 Indulge in a Japanese Kaiseki Brunch at Hamabe. Quench your thirst with the refreshing mocktail and arak-infused cocktail welcome drink before enjoying the sumptuous dish. Start from delectable premium Zensai, Sushi, and Sashimi with the freshest selection of seafood, Shiizakana, and more, as well as hands-on sushi making. The resort's facilities and beach access are available for you to access afterward.
Every Saturday from 11:30 AM to 3 PM
IDR 550,000++ per person 
IDR 650,000++ per person for Teppanyaki exclusive seating and extended menu
For more information and reservations, please contact 62 361 771906
or email to [email protected]
Brunch on the Beach in Bali
The Big Brunch at Starfish Bloo, W Bali Seminyak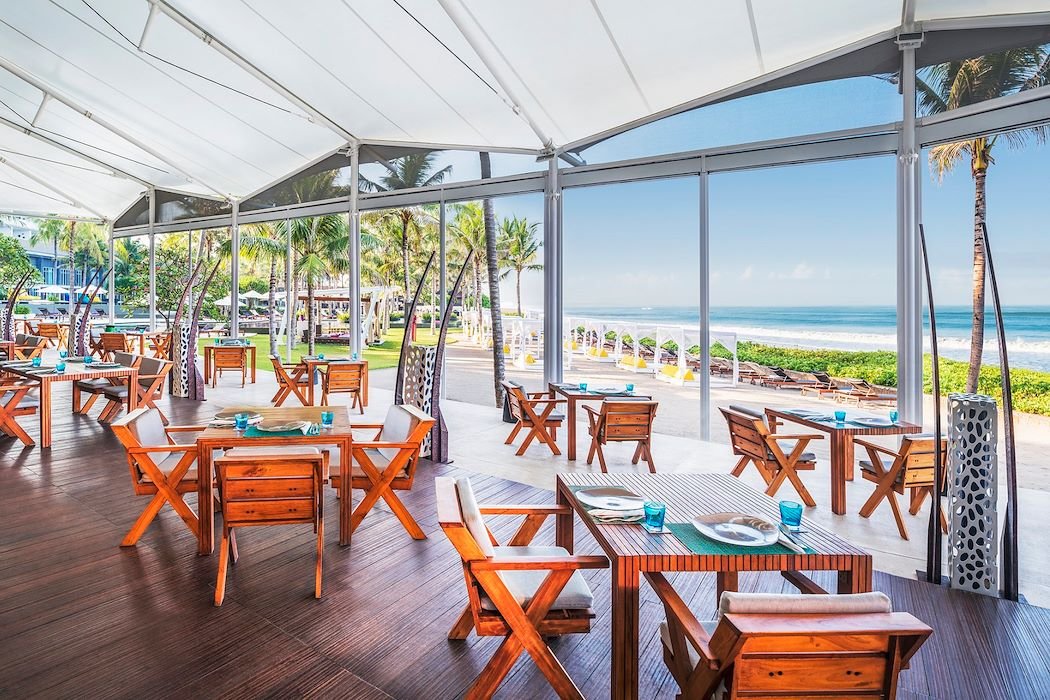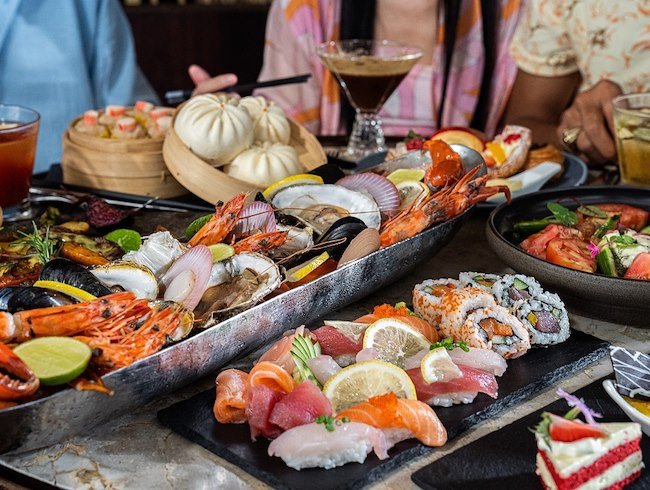 Spend the afternoon at Starfish Bloo W Bali and dive into a multitude of tastes across a generous selection of Pan Asian flavors and international stations. The brunch starts every Sunday from 12 pm – 3.30 pm. Not only can the guest enjoy the fins food selections, but they can also use the WET facilities, which are the W stunning pool located in front of Seminyak beach.
Starfish Bloo at W Bali| Call: +62 361 3000 106
Weekend Dim Sum Brunch at Bai Yun at The Apurva Kempinski Bali
Bai Yun, The Apurva Kempinski Bali's Chinese restaurant, introduced a new Weekend Dim Sum Brunch offer. This special menu, which includes over 31 varieties of handcrafted steamed, fried, and sweet dumplings, also gluten options, is offered from 12:00 to 15:00 and costs IDR 468,000++ per person. Guests will also be able to use the 60-meter infinity pool and children's slides, as well as the family watersports program and beach activities.
In addition to everyone's favorite shrimp dumplings and shumai, fried options such as wagyu spring rolls, and sweet plates, and desserts, chef's specialties such as Peking duck are available. Meanwhile, Cantonese specialties like congee and crab meat soup will round out the menu experience.
Bai Yun Restaurant at The Apurva Kempinksi Bali| Call: +62 361 2092288
Brunchcation at The Apurva Kempinski Bali
They don't call it a "Brunchcation" for nothing, as it offers a whole-day experience at this theater-like resort with the main highlights including a bountiful buffet selection of sumptuous dishes followed by a dip in the 60-meter infinity swimming pool and play pools. Served from 12:00 noon to 15:00, the brunch at Pala Restaurant features an international cheese counter, exotic seafood bar, grill station, assorted sushi and sashimi, a freshly baked bread station, an impressive range of desserts, abundant Indonesians' favorite light bites, or Jajanan Pasar, and other Indonesian and international delicacies to choose from.
After eating to your heart content, you can then relax in the Apurva Spa and take in the evening sky at Pala Rooftop Bar, entertained by live music, or take a leisurely stroll on the beach, experience the numerous water sports activities to shed that guilt from (maybe) an overindulging.
Pala Restaurant at The Apurva Kempinksi Bali| Call: +62 361 2092288
https://www.kempinski.com/en/the-apurva-kempinski-bali/restaurants-bars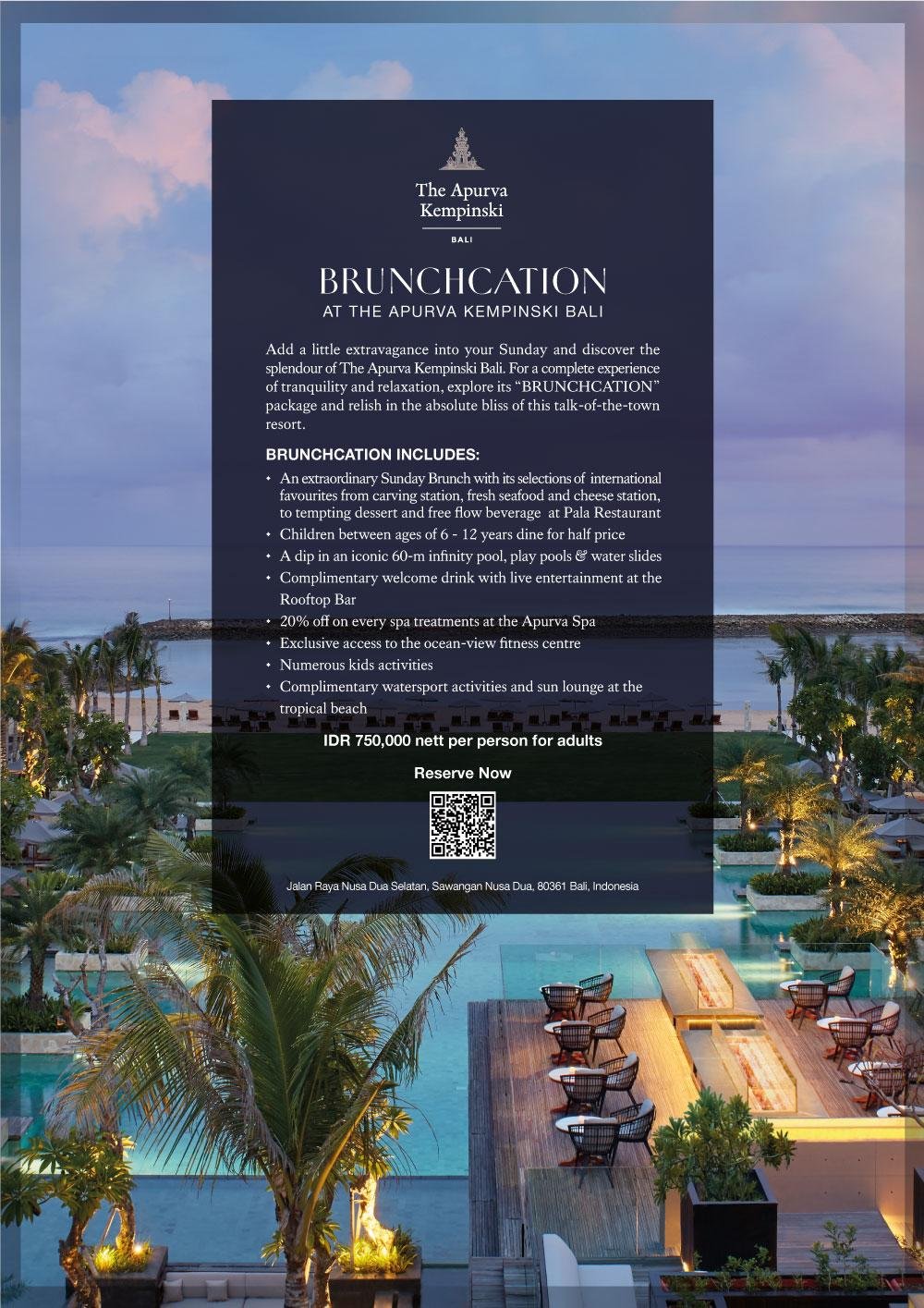 Lobster Brunch at Alila Uluwatu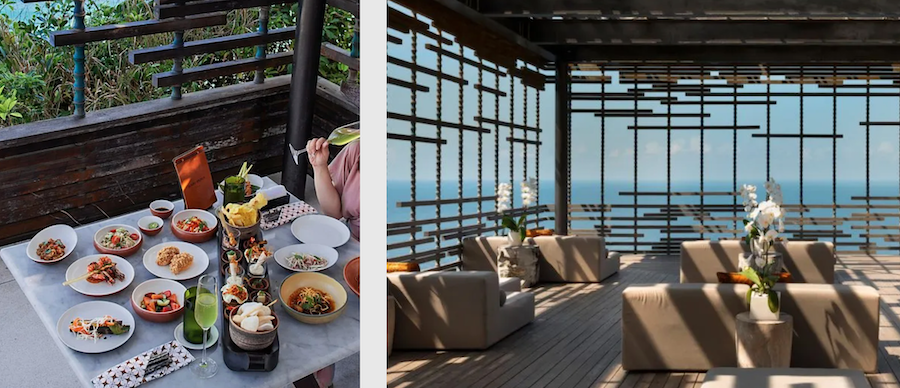 Indulge yourself with good food, chill-out music, and enticing drinks in the company of family and friends with our Lobster Brunch at CIRE restaurant. Whet your appetite with three different flavors of Bloody Mary specially crafted by Putu our talented Head Mixologist, before diving into an a la carte selection of all-lobster brunch-style dishes. Continue your Sunday afternoon to laze by the pool while enjoying the tranquility and ocean views with complimentary access to the swimming pool, pool cabanas, and poolside amenities. Three-course brunch is available at IDR 700,000++* per person, and a Five-course brunch is at IDR 1,000,000++* per person. All-inclusive beverage packages including artisanal crafted Bloody Mary Gueridon are available starting from IDR 400,000++* per person.
To reserve your seats, please contact our Communication Host on WhatsApp at +62 811 385 5729 or email at [email protected].
Graze, Glaze and Laze: Renaissance Bali Uluwatu Sunday Brunch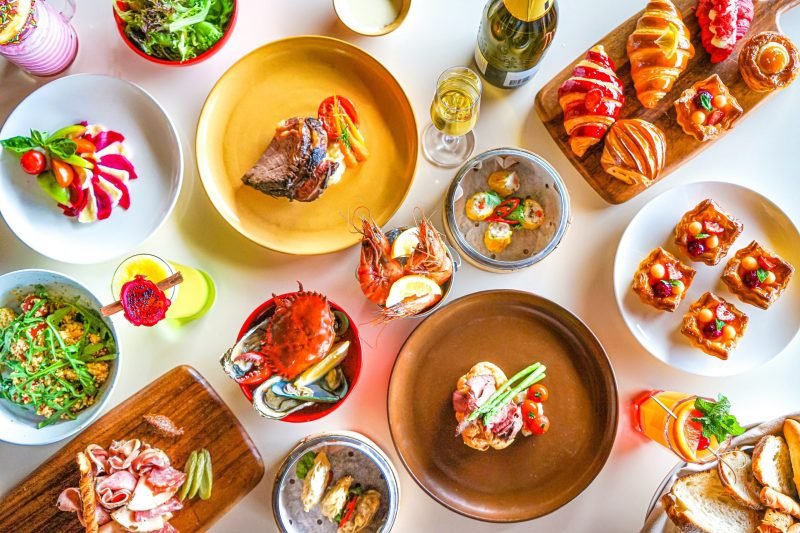 Spread over four massive interactive stations, guests are spoiled with unlimited choices of delicious and enticing brunch offerings. The Asian Station features the indigenous Nasi Goreng Kecombrang, wok-fried beef in black pepper sauce, an array of dim sum delights, and other Asian favorites. The Chilled Station delivers fresh items from the local market, from fresh seafood such as oysters, prawns, tuna, and scallops, to fresh juices and healthy salads. Meat lovers will rejoice over the mustard & pepper crust Australian beef ribeye, slow-roasted lamb leg with herbs, or lemon thyme baby chicken served at The Rotisserie Station. There is also an entire Dessert Station highlighting homemade pastries, chocolate and cheesecakes, and inventive sweet delicacies for guests with a sweet tooth.
"Graze, Glaze, and Laze" Sunday Brunch is served every Sunday. Price is IDR 450,000++ per person. Guests aged 6 to 12 years are IDR 225,000++ per person, while children aged 5 and under are complimentary. Reservation is advised and can be done via email to [email protected] or through Renaissance Bali Uluwatu Facebook and Instagram.
Gastronomy Oasis Sunday Brunch at Rumari Bali

Located at the resort's highest point, the restaurant is almost always caressed by cooling breezes which carry the tantalizing scent of Balinese cooking from the kitchen. try their newest Sunday brunch at Rumari Restaurant. Rumari brunch offers a variety of treats such as a selection of artisanal Indonesian cheeses, amuse-bouche, Indonesian-inspired dishes, decadent desserts, and more. the brunch served a la carte, and also pass-around canapes during brunch start from 12.00 PM until 04.00 PM.
Rumari at Raffles Bali| Call: +62 361 201 5800 
Sunday Brunch at Pizzaria, Hyatt Regency Bali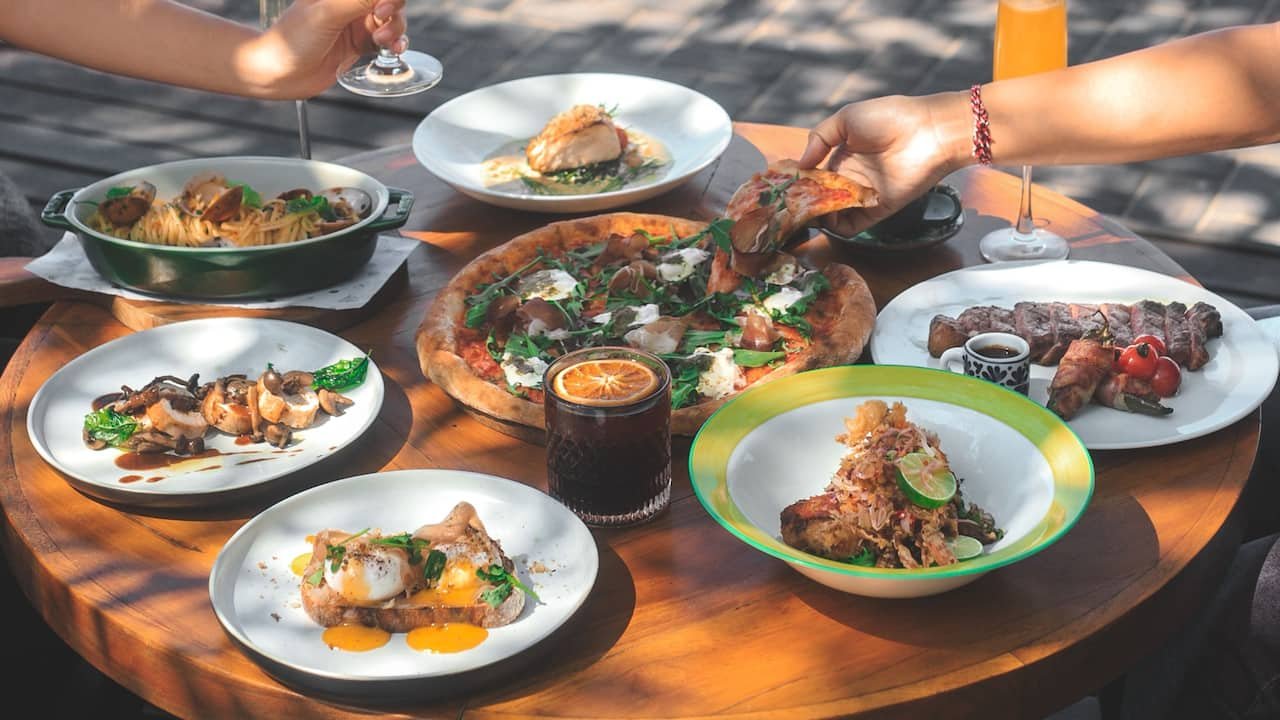 A new Pizzaria Sunday Brunch offers the simple ingredients for a perfect Sunday in one place. The brunch starts from 11:30 AM to 3:00 PM, giving you enough leisure time to discover Pizzaria's signature dishes such as sourdough-based pizza, creamy lasagna, addictive Italian meatballs, homemade tiramisu, and go for second or third rounds, should you wish. Delicious homemade dishes are now served ala carte instead of at the buffet to minimize contact during brunch. with some live stalls preparing freshly grilled seafood, wok-fried dishes, and pasta. With more than 20 dishes to choose from, going à la carte does not necessarily mean losing the merriment of traditional Sunday brunch.
Reflecting Sanur's laid-back charm, Pizzaria's relaxed ambiance allows guests to spend their Sunday over good food and calming acoustic tunes from the band as their little ones kept busy at the kids' corner.
Sunday Brunch
Every Sunday: 12:00 noon – 3:30 PM
Price:
IDR 390,000++ for brunch and non-alcoholic drinks
IDR 820,000++ for brunch, free flow of wines and cocktails
Pizzaria at Hyatt Regency Bali| Call:+62 361 281234
The Original Bali Brunch at Boneka Restaurant, St. Regis Bali Resort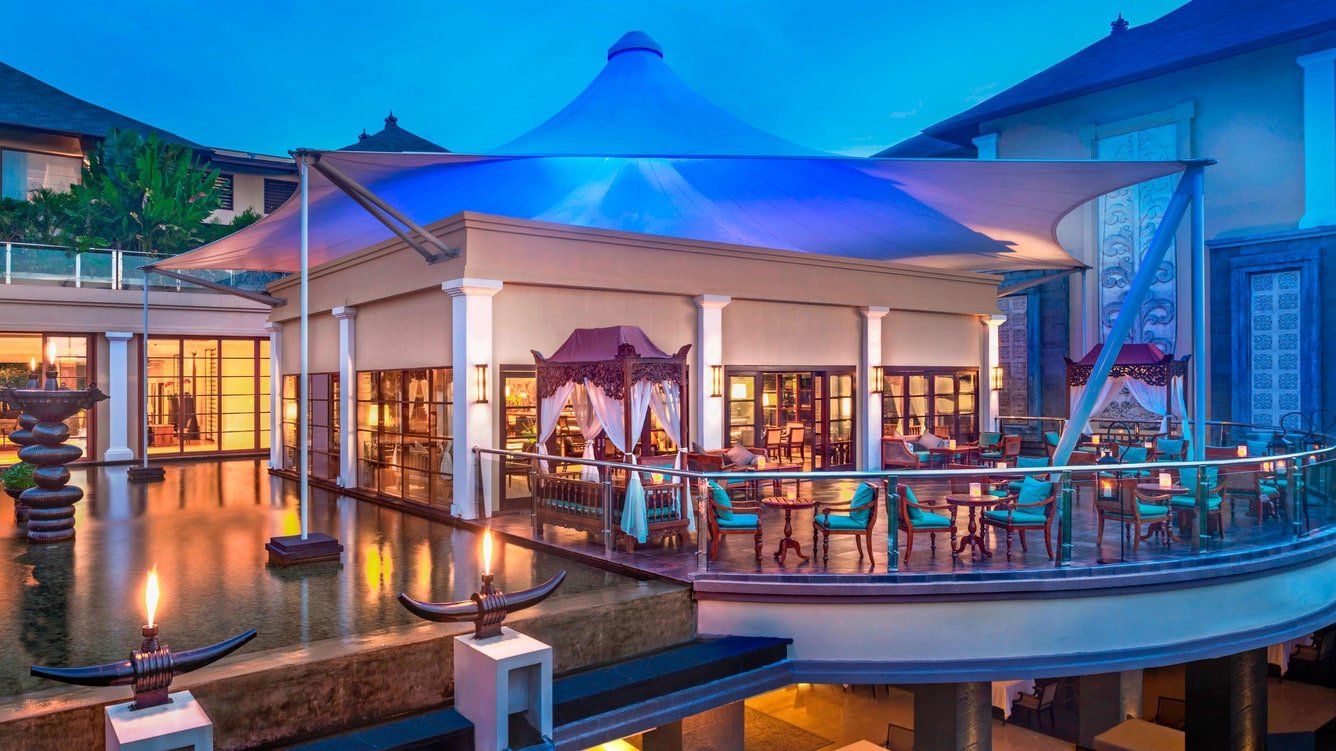 The home of the original Bali brunch, Boneka Restaurant welcomes guests back to a lavish Sunday Brunch featuring the finest selection of food from international to local Balinese dishes that will seduce and tickle your palate.
Boneka, which means puppet in Indonesian, transforms the concept of a traditional puppet theatre into a culinary spectacle, where Bali creations take the main stage. With three brunch concepts offered at the same time, Boneka Restaurant offers interactive, gourmet dining that is as vibrant and welcoming as the theatrical setting.
Begin your Sunday Brunch experience with complimentary cocktails, including the Bali Mary, a local twist on the famed St. Regis signature Bloody Mary, at King Cole Bar from 11:00 AM. Then commence with brunch prepared by one of the island's best culinary teams, including premium dishes such as our legendary lobster egg omelet and special creations presented at your table by our talented chefs.
Sunday Brunch at Boneka Restaurant
Every Sunday from 11:00 AM – 3:00 PM
IDR 690,000 net per person
IDR 345,000 net per child (3-12 years old)
For information and reservations, please email [email protected], call +62 361 300 6782, WhatsApp +62 811 3821 5356 or visit www.stregisbali.com
The St. Regis Bali Sunday Brunch
St. Regis' Sundays are meant for a leisurely pursuit. Tantalize your palate with the island's most lavish St. Regis Bali Sunday Brunch. By the ocean and with an all-you-can-eat à la carte concept in mind, indulge in a premier selection of fresh catches of the day including prime meat selection, decadent desserts, and many more. Each dish is prepared à la minute to control its taste and quality. Start your unparalleled brunch experience with cocktails and canapés at 11 AM in Kayuputi Aperitif Bar before brunch begins at 12 PM.
The St. Regis Bali Sunday Brunch Package
IDR 1,100,000 net per person including one-hour complimentary aperitifs, cocktail, and juice selection from 11:00 AM – 12:00 PM at Kayuputi Aperitif Bar, followed by brunch from 12:00 PM until 3:00 PM.
Elevate your Brunch experience with The St. Regis Bali Sunday Brunch Beverage Package
IDR 1,450,000 net per person inclusive of sparkling wines, wines, cocktails & mocktails
St. Regis Bali Sunday Brunch
Phone +62 361 3006786 
Global Explorer at Arwana Restaurant, The Laguna, a Luxury Collection Resort & Spa, Nusa Dua, Bali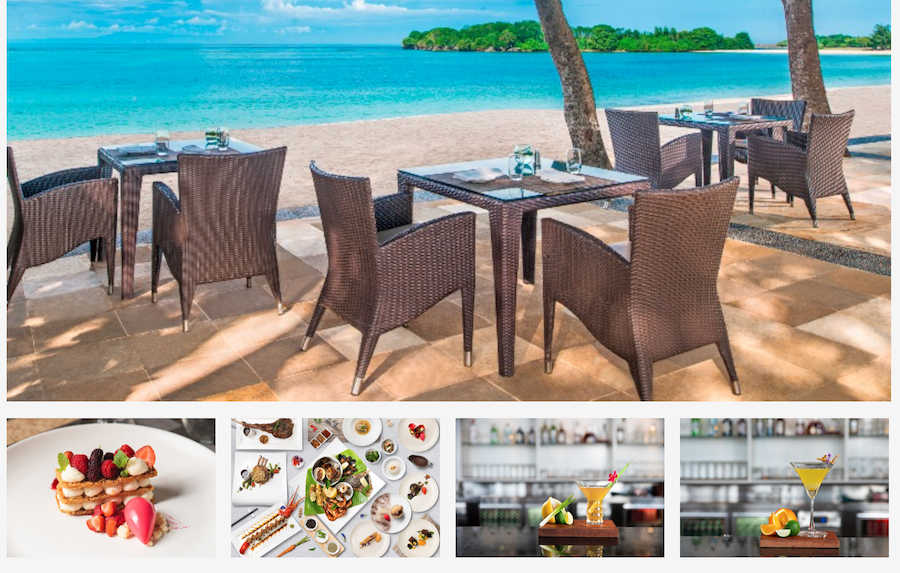 The Laguna Resort & Spa sure knows how to throw a great party. Just come and join their latest Global Explorer Sunday Brunch. Pack your bags as we invite you to the "Global Explorer Brunch", a brand new fun, travel-themed Sunday brunch that will take you on a culinary journey around the world.
Choose your table either at the beach or dine al fresco at Arwana while listening to chilled-out tunes from our saxophonist, while the little explorers can enjoy a treasure hunt, face painting, bracelet making, and sweet surprises at our candy tree. After the brunch, you can get pool and beach access too!  What a great Sunday.
Arwana Restaurant, The Laguna a Luxury Collection Resort & Spa, Nusa Dua, Bali| +62 361 300 5635
The Best Sunday Brunch at Soleil, The Mulia Bali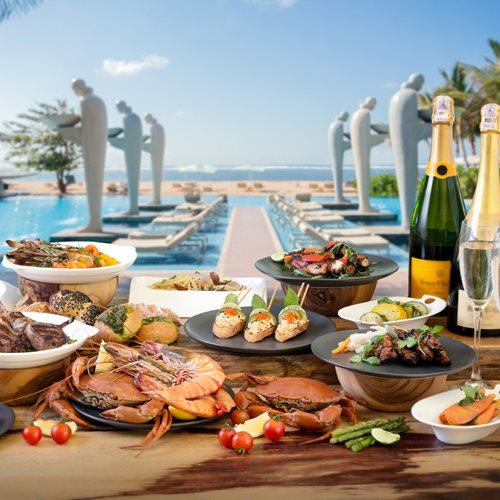 Soleil's Sunday Brunch is a long-established favorite gathering for those that appreciate great food, service and ambiance in the most stunning seaside setting. Beginning with an appetizer buffet that includes a wide selection including traditional Italian antipasti, Pan-Asian tapas, and small taster plates, then continue on to the decadent seafood tower and live grill stations with a selection of premium steaks & seafood. You may also indulge yourself with the breakfast a la carte selection that is made to order, or sit back and enjoy the daily chef's specials featuring innovative preparations of the best available seasonal ingredients. Finishing on a sweet note, highlights are the grand dessert buffet, the must-try melting tiramisu, or the frozen fruit sabayon. Enhance your Bali best brunch experience with free-flow bubbles, cocktails, or mimosas.
Soleil at the Mulia Bali| Call: +62 361 301 7777
Bali's Longest Brunch at Sundara Bali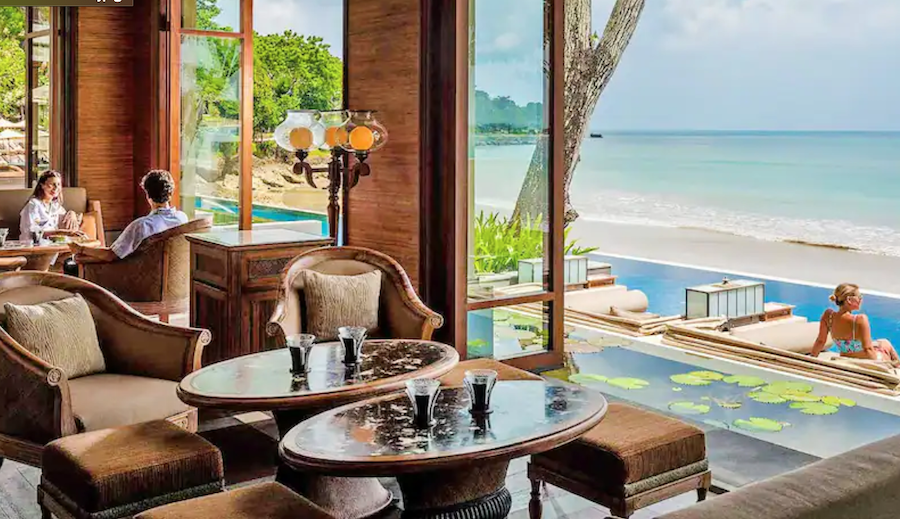 The Perfect Sunday begins and ends at Sundara with an all-day beach club lifestyle and cuisine. Take your time with unlimited orders of the entire menu, featuring the best of local ingredients, French technique, and international flair from Executive Chef Phillip Taylor and Executive Sous Chef Made Adijaya. Chill out with the showstopping Seafood-On-Ice Platter crowned with bamboo lobster, and indulge in foie gras sliders, confit duck ravioli, and sharing plates. Resistance is futile at the live rotisserie with Orange-glazed Roast Duck, Angus Beef Wellington, Salt-Baked Tasmanian Salmon, and more. Save room for freeflow desserts from Pastry Chef Thomas Bouledin, then recover at Bali's longest beachfront pool. Let the beauty and tranquility of Sundara wash over you – along with sustainable cocktails from Head Bartender Sufian Mahmoud, that add an extra glow to Jimbaran's magical sunsets.
IDR 750,000++ per adult / IDR 375,000++ per teen (13-17 years), Unlimited orders | Freeflow soft drinks, mineral water, coffees and teas, Complimentary pool access; daybed bookings available for Brunch guests, Freeflow alcohol packages from IDR 375,000++ per person
Kids IDR 150,000++ per child (12 years and below), Unlimited orders from Kids Menu | Freeflow soft drinks, ice cream, and desserts, Complimentary Kids Club 11 am – 5 pm
Sundara at Four Seasons Resort Bali at Jimbaran Bay| Call +62 361 708 333 | http://sundarabali.com
Floating Brunch at Ayana Resort and Spa, Bali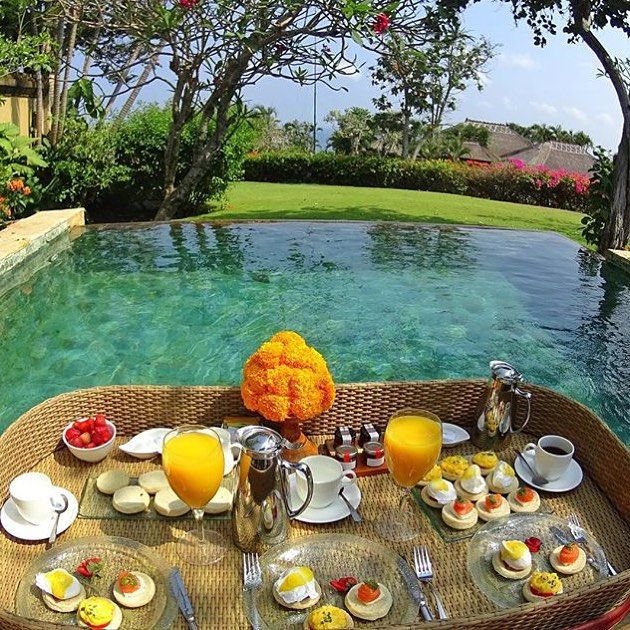 Discover the exquisite taste of AYANA's signature floating brunch, served on an elegant woven tray by a butler in your private pool at The Villas, or overlooking the treetops in Forest Pool at RIMBA.
Explore the signature lifestyle of AYANA, where the smallest details are most significant. For the ultimate A-list breakfast experience, your butler 'sets sail' to a magnificent three-course gourmet brunch in the comfort of your private pool at The Villas. Floating Brunch is also available for AYANA and RIMBA guests, who can enjoy the exclusive culinary journey in RIMBA Pool. In addition to fresh tropical fruit and European-style pastries, start your day in style with Indonesian arabica coffee, imported tea, and a perfectly chilled sparkling wine.
*) Floating brunch is available for AYANA, RIMBA, and The Villas in-house guests
AYANA Resort and Spa, BALI / call: +62 361 702 222
Seafood Brunch at Seasalt, Alila Seminyak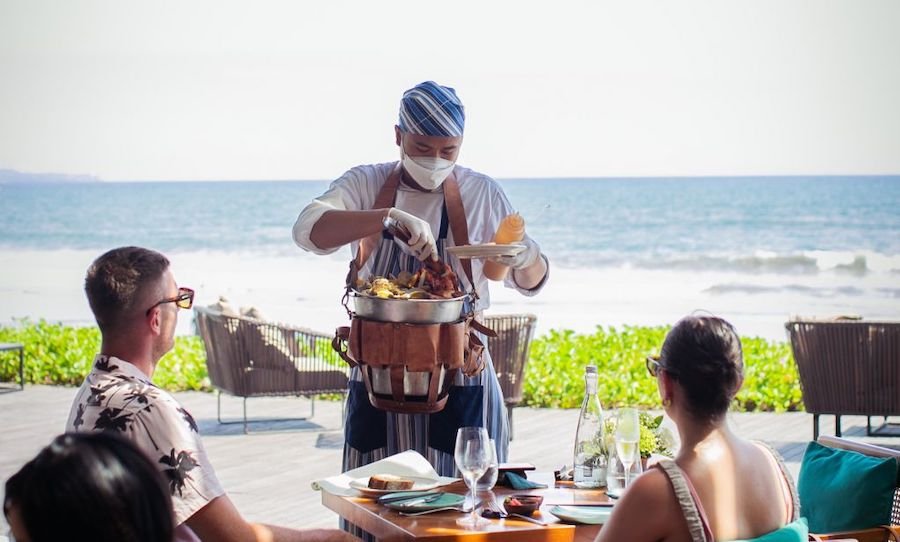 Enjoy Sunday brunch with the feel of the breeze, the sound of the waves, and a fresh taste of the sea. Begin with a baker's basket of bread served with delicious spreads, followed by our ceviche of the day. Then feast all you want on Seasalt's a la carte seafood dishes, as well as tastings from our smoked salmon station, chilled prawns, and succulent oysters shucked fresh at your table by our chef! The brunch is happening every Sunday, from 12 pm to 4 pm. Includes a glass of sparkling wine and a free flow of iced tea, soft drinks, and chilled juices. And oh, did we say we offer you access to Party Pool too?
Seasalt at Alila Seminyak| Call: +62 361 3021 888
Sunday BBQ Brunch at Azul Beach Club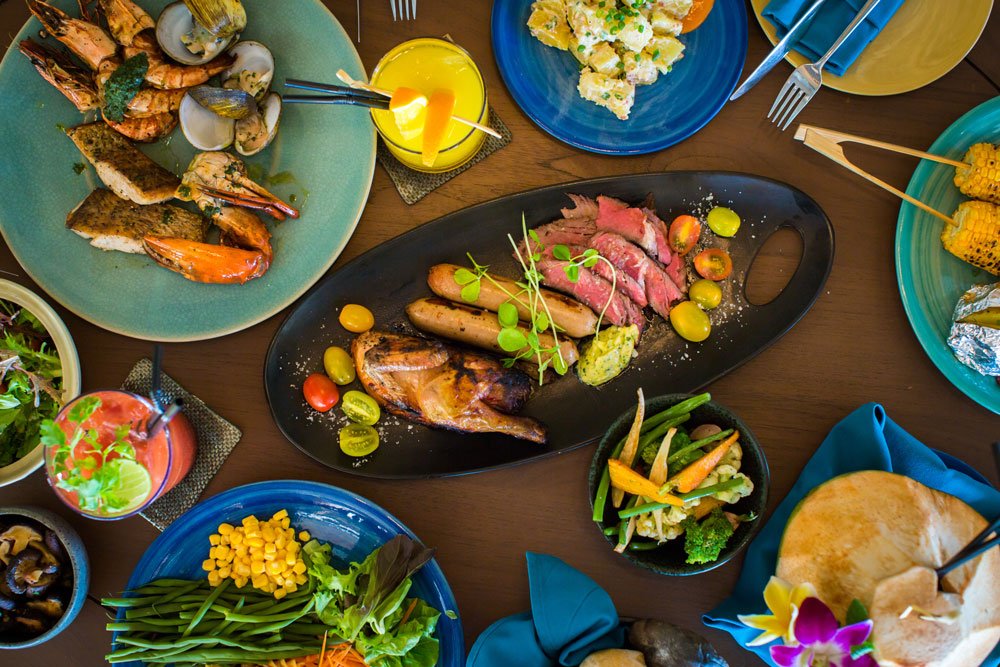 AZUL Beach Club is a beachfront bamboo tree house with Bali's First Tiki Bar, open-air restaurant, infinity outdoor pool with sun loungers, and private dining terraces overlooking Bali's most picturesque sunset views.
Brunch Sunday
IDR 225,000 ++/Person/Complimentary Pool Access/ All you can eat A La Carte Menu
Azul Beach Club / Call: +62 361 765 759
Kamandalu Ubud Floating Brunch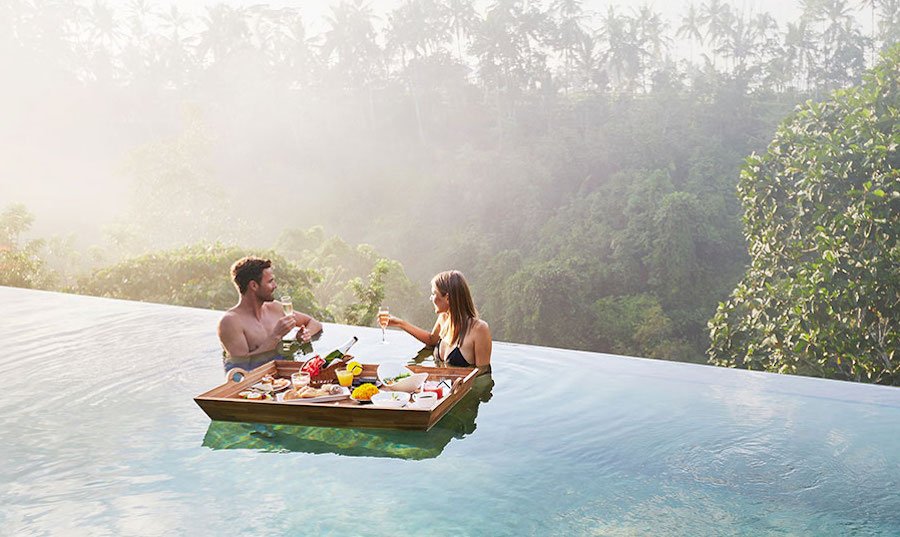 Begin your day in paradise on a positive note with a breakfast or brunch like no other. Relax in the comfort of your private pool and we will serve your preferred breakfast or brunch selections complete with a bottle of sparkling wine on a large floating tray. This is the ultimate indulgence for any couple celebrating the spirit of love. All you have to do is slip into your swimwear to enjoy your floating breakfast in a setting overlooking the breathtaking beauty of Ubud's terraced landscape.
Price
IDR 975,000++ per couple inclusive of a bottle of sparkling wine.
Venue
Your Private Pool or Awana Pool. This Floating Breakfast or Brunch is also available for non-staying guests at Awana Pool who wish to enjoy it.
Open every day
Breakfast: 07:00 – 11:00
Phone: +62 361 975825
IG: @kamandalu