These best sports bars get their vibe on the minute any sports seasons start to heat up, so it's great to find a good spot for watching a game, a thrilling race, or a battle of champions.
With the World Cup on the way, you can always root for your team without worrying about the bar getting too rowdy. All are meant for good sport and good times. Check out these top picks of the best places to watch sports games in Bali.
The Bench - Canggu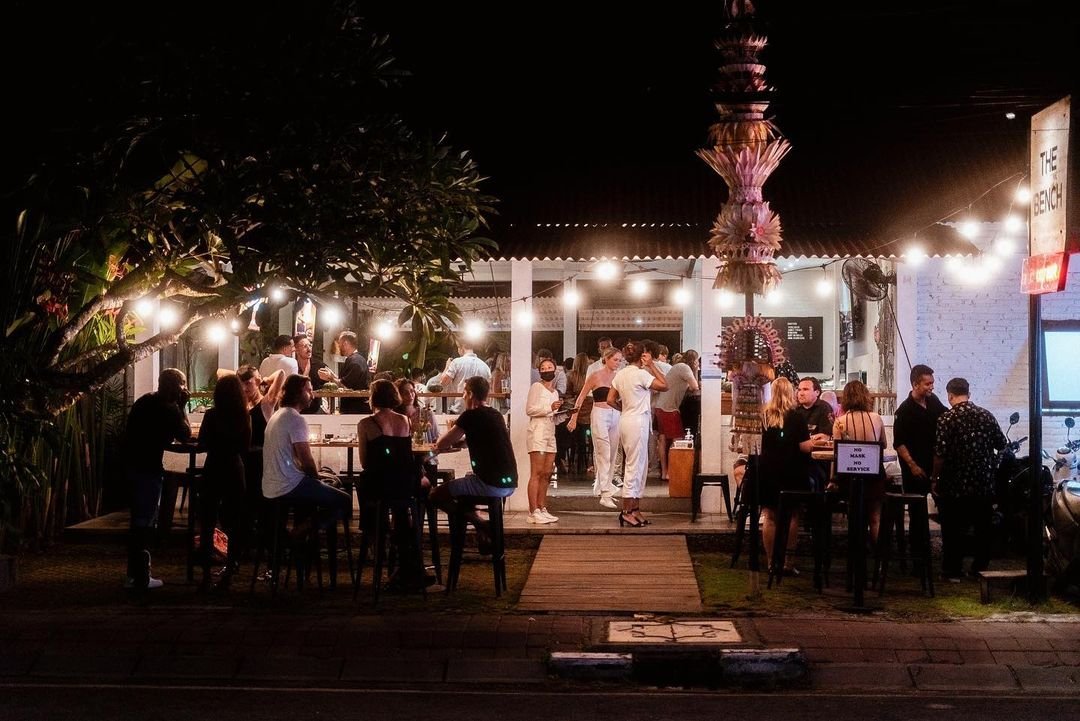 This new sports bar in Canggu is a member of The Brett Hospitality Group. This twist on the American tradition was dreamt up by sports and food enthusiasts Mitch Doumanis, Joel Singleton, and Dominique Brett. As an effort to unite the remaining foreigners on the island during the Covid-19 outbreak, The Bench was first welcomed as a pop-up. However, the outdoor bar quickly established itself as the go-to location for all significant (and minor) sporting events in Canggu, and in the middle of 2021, it acquired a permanent home.
Jl. Pantai Batu Bolong no. 99, Canggu
Open daily from 12 pm to 5 am
Phone: +62 812 3793 0213
Instagram: @thebenchcanggu
Stadium Cafe and Sports Bar - Kuta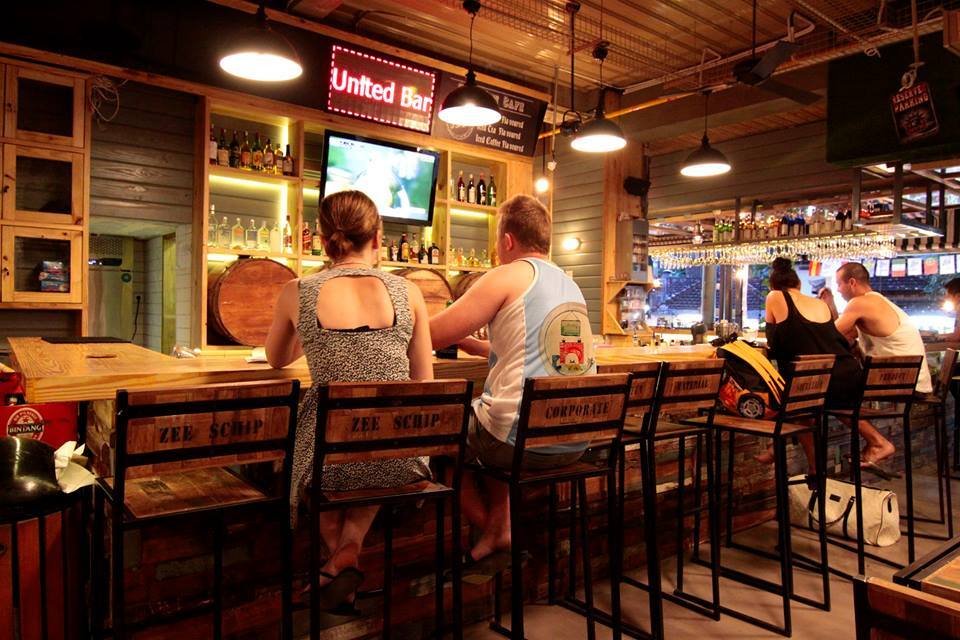 One of Kuta's most eye-catching bar, Stadium is located right on the famous 'Kuta Sidewalk' where you can easily take a glimpse of what's on the screens inside and the gathering crowd around the bar. You'll also spot guests watching in from the sidewalk with a beer in hand (or, you're probably one of them). Fans of Aussie car racing can also enjoy The Bathurst 1000 fed live from the Mount Panorama Circuit in New South Wales, as well as the Formula 1 series, the rugby leagues, soccer, and of course the anticipated Melbourne Cup.
Jl. Kartika Plaza, Kuta
Phone: +62 361 763100
Instagram: @stadiumcafebali
Y Sports Bar - Legian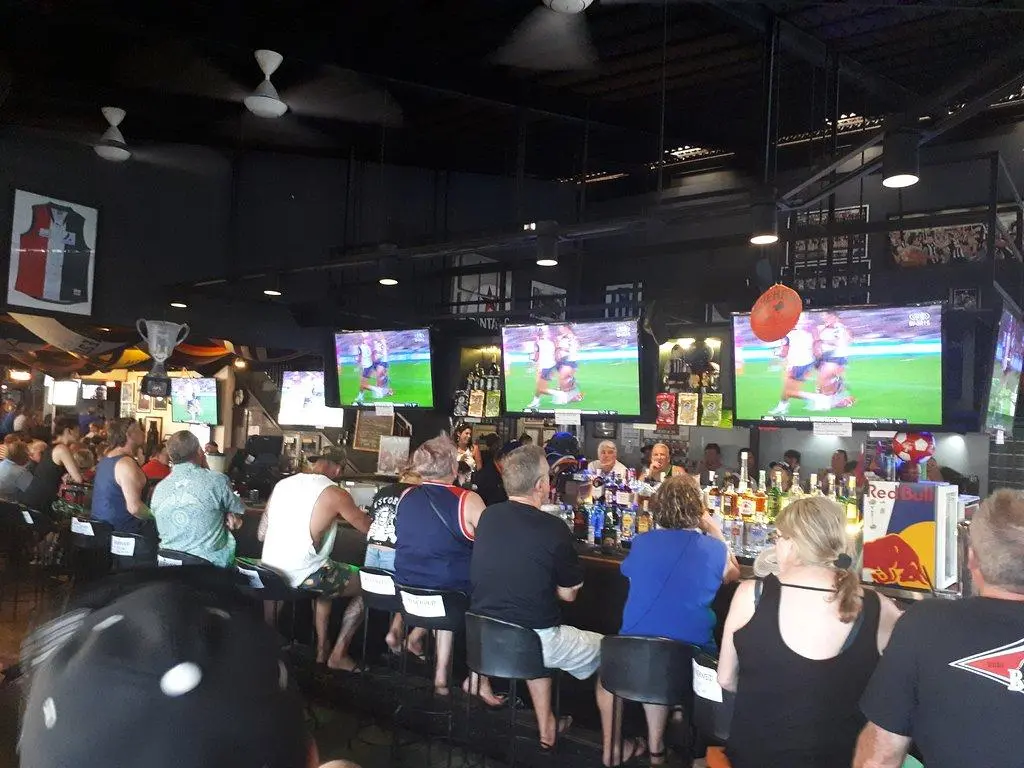 Part of the Garden View Resort, Y Sports Bar is tucked away on the northern end of Jalan Padma. The spot is a popular haunt among Aussie travelers in the area with a number of screens that shows various international sporting events. Expect a crowd when the rugby leagues and Euro soccer crazes are on. Other times, guests have their own preference for sports feed, and channels follow suit, creating a somewhat familiar and home-like ambiance.
Jl. Padma Utara no. 4, Legian
Open daily from 9 am to 12 am
Phone: +62 361 763 259
Instagram: @ysportsbarbali
James Cook Sports Bar - Kerobokan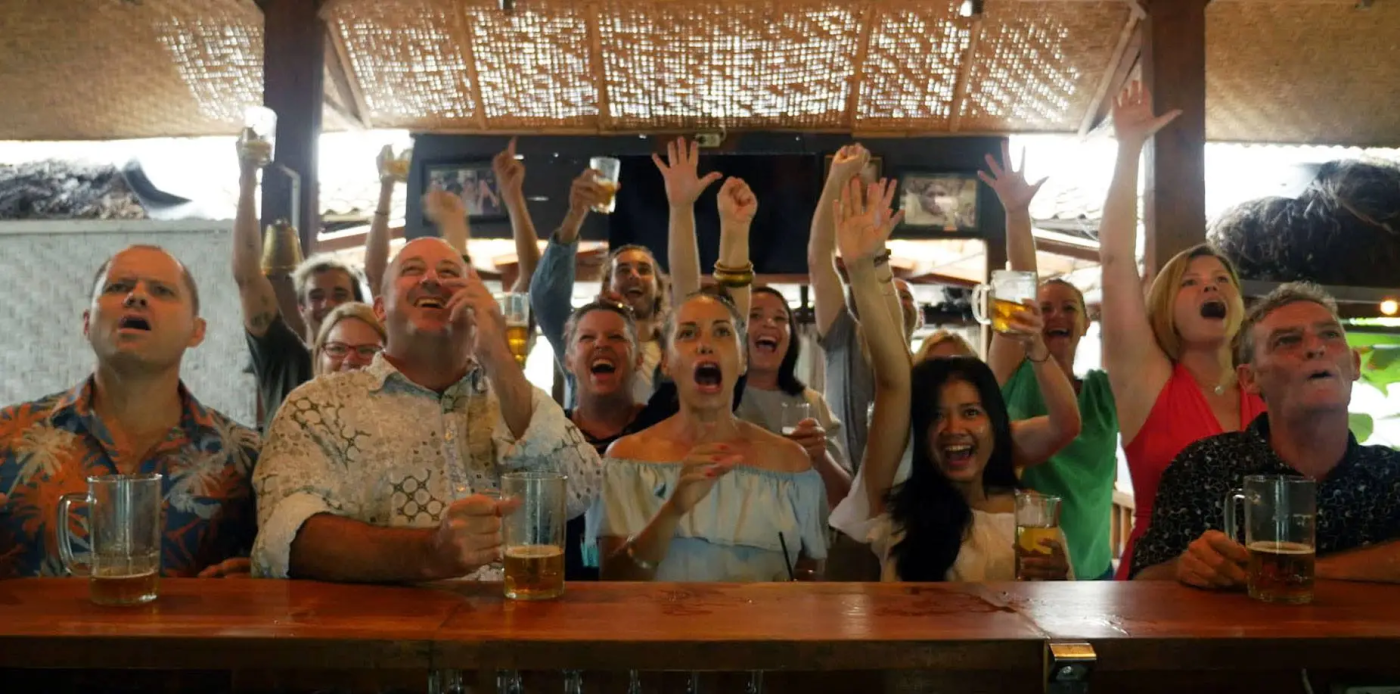 The James Cook Sports Bar is for all lovers of sports, drink & food. Come down, and watch your favorite team play, along with other Bali residents, while sipping your favorite glass of beer or cocktails.
Jl. Raya Semer no. 100, Kerobokan
Open daily from 10 am to 12.30 am
Website: www.jamescooksportsbar.com
Phone: +62 813 3892 0430
Instagram: @jamescooksportsbar
JL Legends - Tibubeneng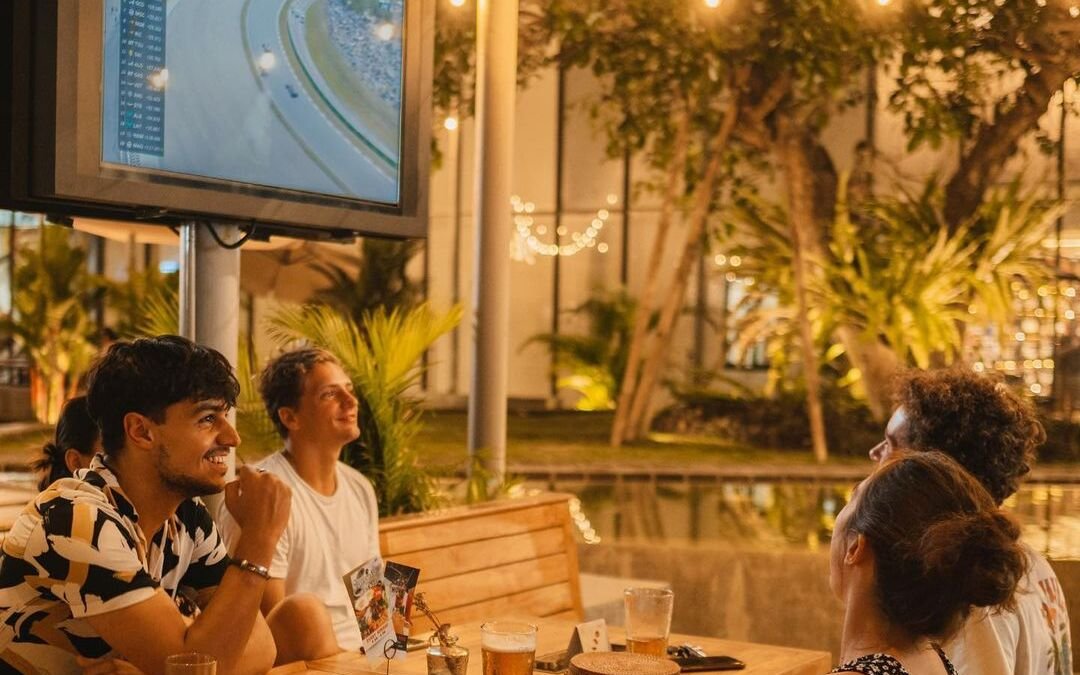 Enjoy the burst tap of beer and a good snack as a pairing as you are immersed in a laidback atmosphere with your friends. On Wednesday, take your friends for a Quiz Night or simply watch your favorite team on screen. The food here is sure to be perfect to accompany.
Tamora Square, Jl. Subak Sari no. 13, Tibubeneng
Open daily from 9 am to 5 am
Website: www.jllegends.com
Phone: +62 812 3771 4497
Instagram: @jllegends.bali
Arena Pub & Restaurant - Sanur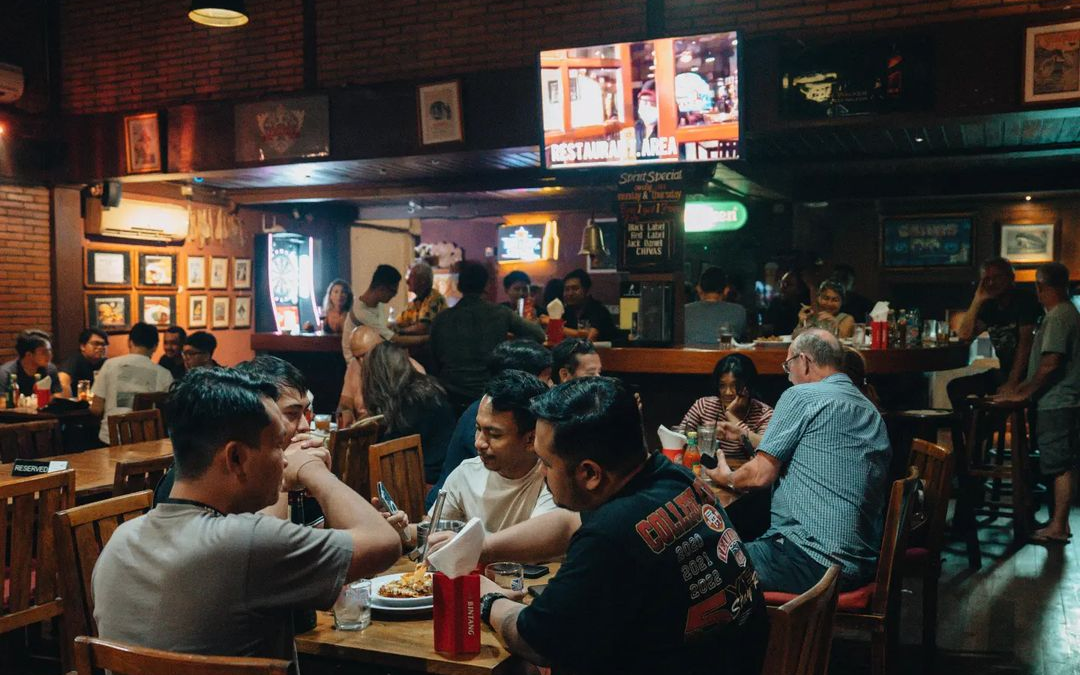 The popular Sanur hangout Arena has a good number of people come to the bar to play pool and darts and have some beverages, especially during Happy Hour. Sports aficionados can watch live sporting events on a big screen that has been set up close to the dining area.
Jalan By Pass Ngurah Rai No.115, Sanur
Phone: +62 361 287 255
Website: www.arenabali.com
Instagram: @arenabali
The Melting Pot - Ubud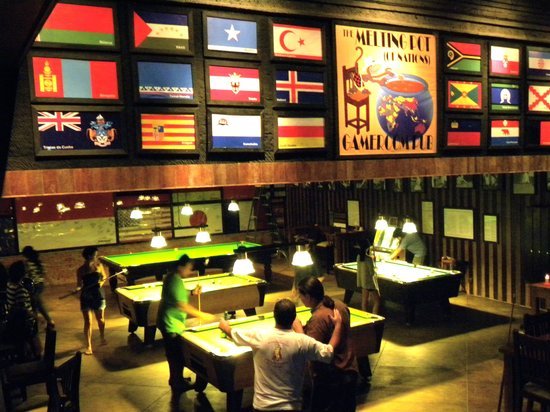 The Melting Pot, Bali's own Western-style bar, usually broadcasts live international sporting events on large screens and plays wonderful old classic American rock. They boast that they have the greatest sports viewing in Ubud, and their fiber optic cable installation makes sure you never miss a Premier League goal. You can always challenge your pals at the pool tables when your favorite team isn't playing, or you can play a game of table football, ping pong, or electronic darts while enjoying cold beers, pizza, and Tex-Mex food.
Jl. Raya Pengosekan, Ubud
Phone: +62 858 574 802 30
Website: www.meltingpotbali.com 
Instagram: @themeltingpotsaloon
Adrenalin Sports Bar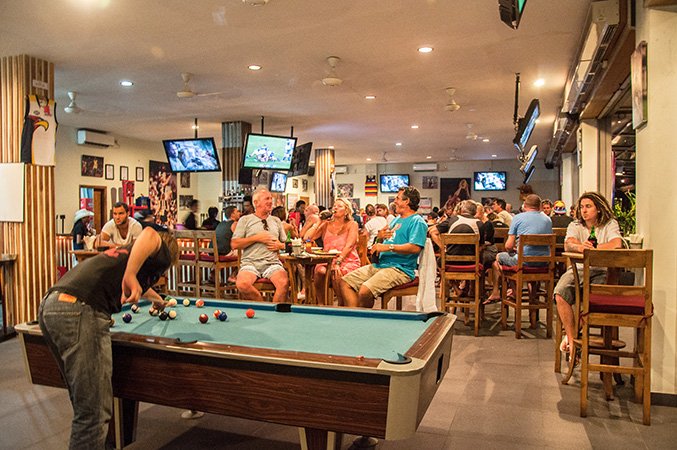 Adrenalin is a great stopover for a cold beer whenever you want to escape the heat of the day on your shopping walks down Seminyak's main hub. It is located right upstairs from the bakery and art shops at Seminyak Square, featuring dedicated sports bar screens sporting events from around the globe, from major leagues baseball tournaments, premier soccer, NRL, AFL, NBA. Best thing about this place? If you happen to miss a live event or just wanted to see a great game again, you can ask the staff for a possible 'game on demand' rerun.
Seminyak Square Lt. 2, Jl. Kayu Aya
Open daily from 10 am to 10 pm
Phone: +62 812 8059 9057
Instagram: @adrenalin_sporstbar