Welcome to the ultimate gastronomical adventure on the island of the Gods! Bali is known for its pristine beaches, stunning sunsets, and spiritual energy. But did you know that the island also boasts some of the best themed restaurants and cafes in the world? If you're tired of the same old dining experiences and want to indulge in a unique culinary journey, then buckle up and get ready to explore the most Instagram-worthy, mouth-watering, and downright fun themed eateries that Bali has to offer. Let's dive in and find out where to go for a truly unforgettable dining experience!
Where Cuisine Meets Imagination: Bali's Best Themed Café and Restaurants
Frankenstein Laboratory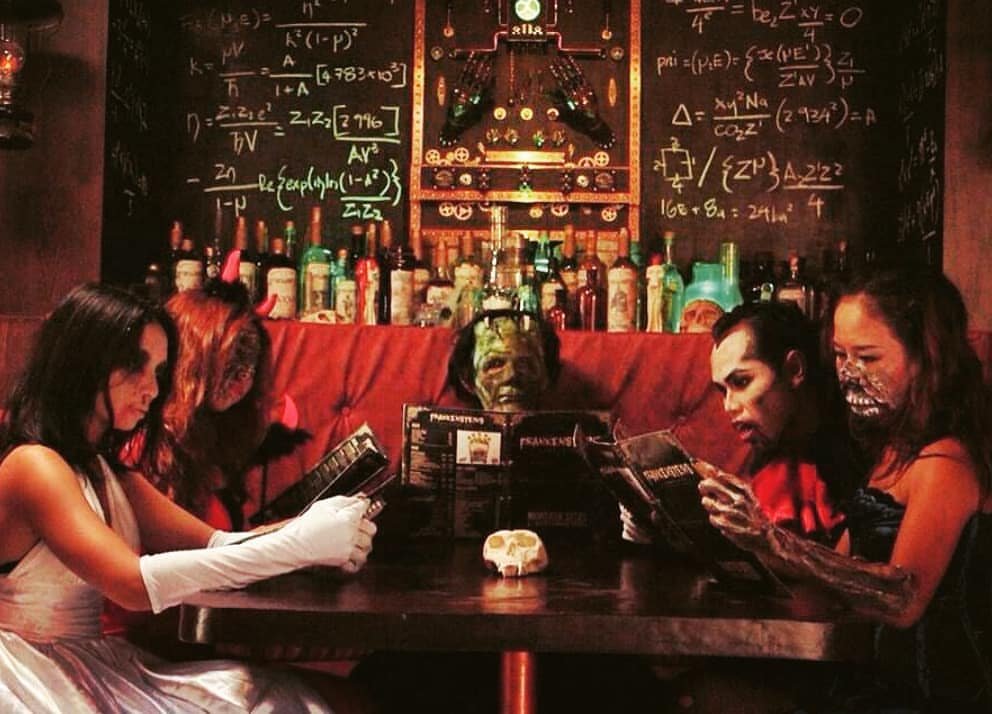 Step into a world of science fiction and gastronomy at Frankenstein Cafe Bali, where every corner of the cafe is filled with eerie charm and quirky details. From the vintage and industrial decor, to the signature Monster Burger to spooky cocktails served in syringes, this one-of-a-kind cafe pushes the boundaries of culinary creativity. The immersive experience is heightened by the staff dressed in lab coats and wigs, and the eerie soundtrack featuring classic horror movie themes. Perfect for a spooky date night or a fun night out with friends, Frankenstein Cafe Bali is the place to indulge your inner mad scientist and experience a truly unique dining adventure.
Jl. Camplung Tanduk No.6, Seminyak, Kec. Kuta, Kabupaten Badung, Bali 80361
Phone: +62 361 731 622
Website
Instagram
Keramas Aero Park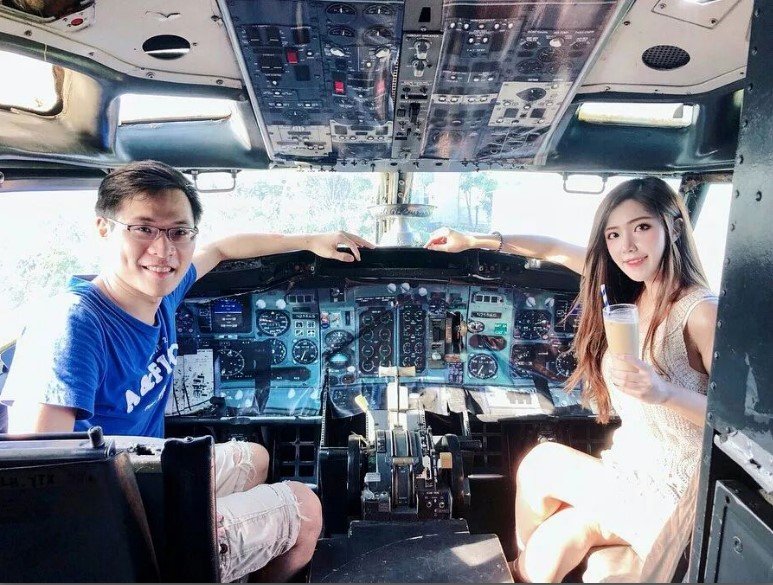 Nestled amidst the tranquil paddy fields of Gianyar, Keramas Aero Park boasts a truly unique dining experience - an abandoned plane that has been transformed into a restaurant and bar. This unconventional setting has become a popular spot for locals and tourists alike, who are drawn to the novelty of dining inside an airplane. The origins of the plane remain a mystery, but after undergoing reconstruction and a fresh coat of blue paint, it now serves as a trendy backdrop for diners enjoying Indonesian and international cuisine.
Jl. By Pass Ida Bagus Mantra KM. 28 Keramas, Medahan, Kec. Blahbatuh, Kabupaten Gianyar, Bali
Phone: +62 878 6228 3008
Website
Instagram
Komeda Coffee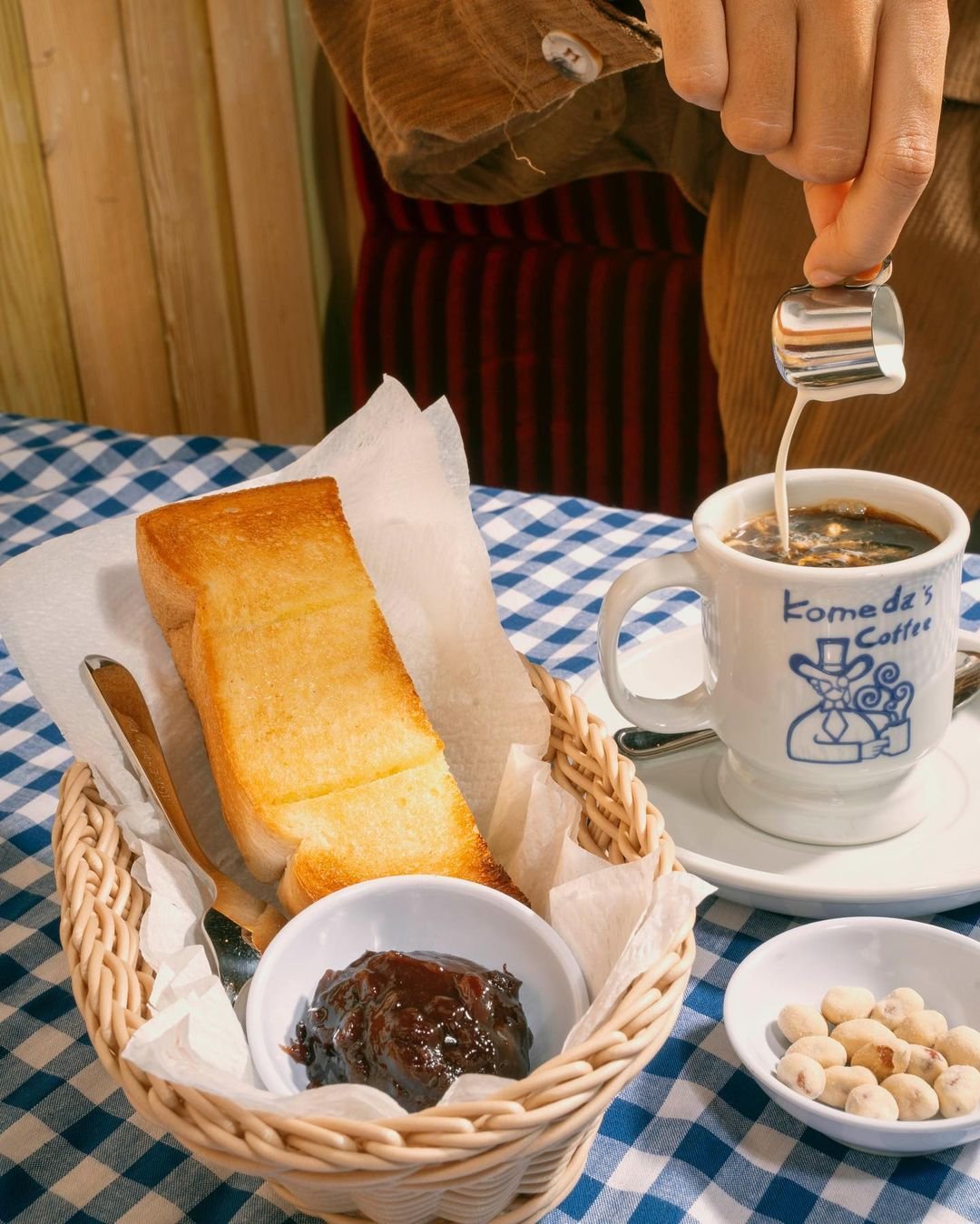 One of Japan's most sought out coffee chains, Komeda finally expanded into Southeast Asia through its very first flagship store in Bali, Indonesia. Situated in the popular Kuta District, the store will offer both Indonesian and Japanese food and drinks with a focus on "Komeda-style hospitality". Their Bali flagship store maintains its signature interior design; dominated with wooden materials to create a convenient space to relax, work or dine in convenience. The menu of Komeda consists of Japanese light bite goodness served in generous portions; from toast, dango, cake, to a variant of black coffee.
Jl. Dewi Sri, Kuta, Bali
Instagram
Kohaku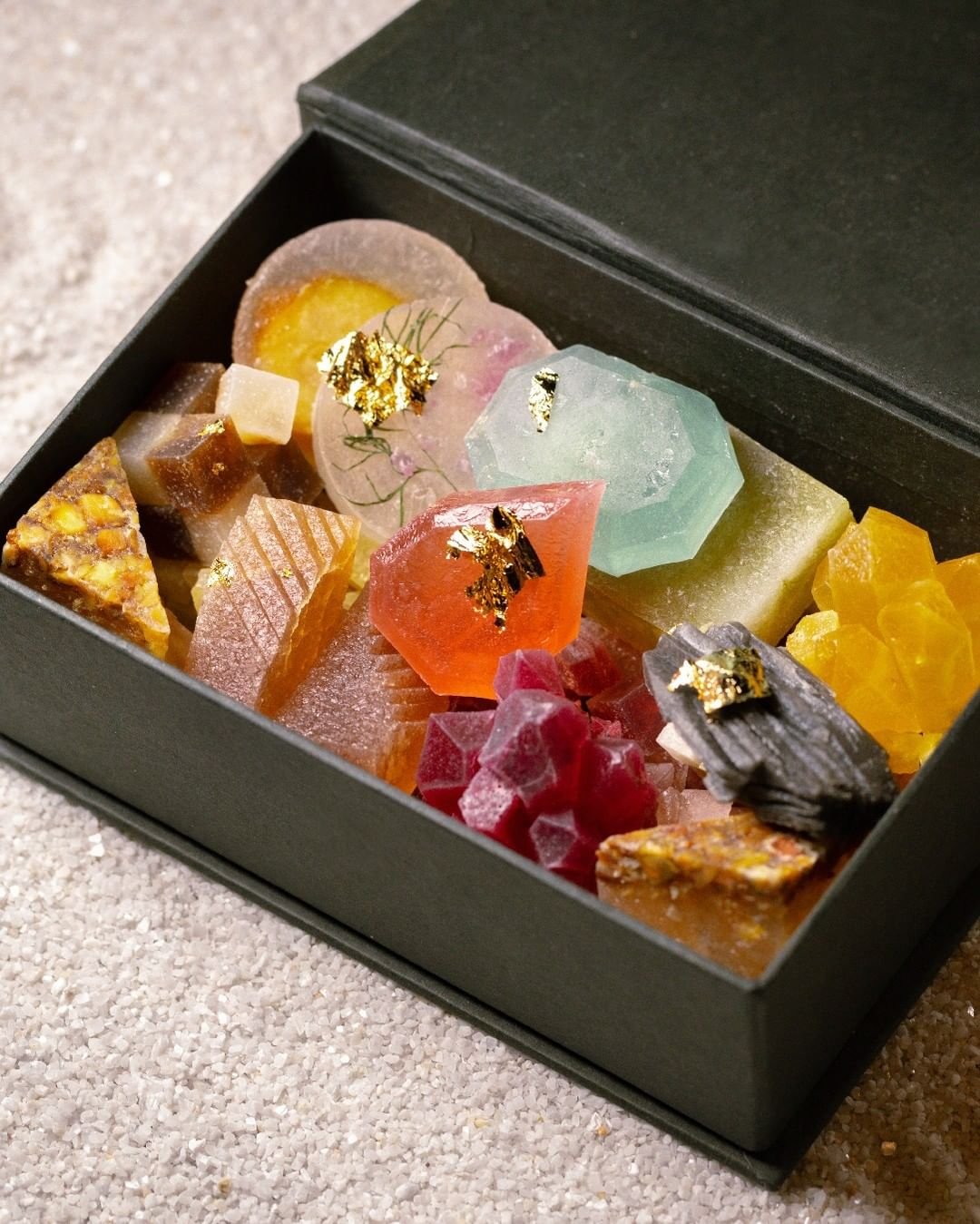 Another unique Japanese themed cafe in Bali, Kohaku serves signature dishes like no other; edible crystal. Yes, Kohaku introduces a traditional Japanese dessert called 'kohakuto', made from jelly and sugar, and transformed into a luxurious Japanese sweet dish with an aesthetic form. Each piece is intricately carved with a variety of color options resembling crystals and gemstones. The crispy and brightly colored outer part leads to a soft and amazingly sweet core. Made with various dried fruits, herbs, spices, flowers, and tea, each crystal has a different combination of flavors. You will experience the luxury of taste with aesthetic beauty that at a glimpse looks just like real, vibrant precious stones!
Jl. Pantai Berawa No.88, Tibubeneng, Kec. Kuta Utara, Kabupaten Badung, Bali 80361
Phone: +62 813 3710 3936
Website
Instagram
Kyoto Country Club
Strategically located at Arjuna Street, Denpasar, Kyoto Country Club is an intricate cafe made resembling a Japanese building of feudal era. The two-stories restaurant boasts indoor and outdoor instagrammable space for guests who would like to dine in style and take fine pictures for their social media. The menu of Kyoto Country Club consists of arrays of Japanese goodness, from yakitori, ramen, sushi, rice bowl and many more. It has recently become one of the most sought-out destinations for locals who would like to have a feast or hangout with their beloved friends. 
Jl. Arjuna No.25, Dauh Puri Kaja, Kec. Denpasar Utara, Kota Denpasar, Bali 80111
Phone: +62 823 3999 9988
Instagram
Merlin's Magic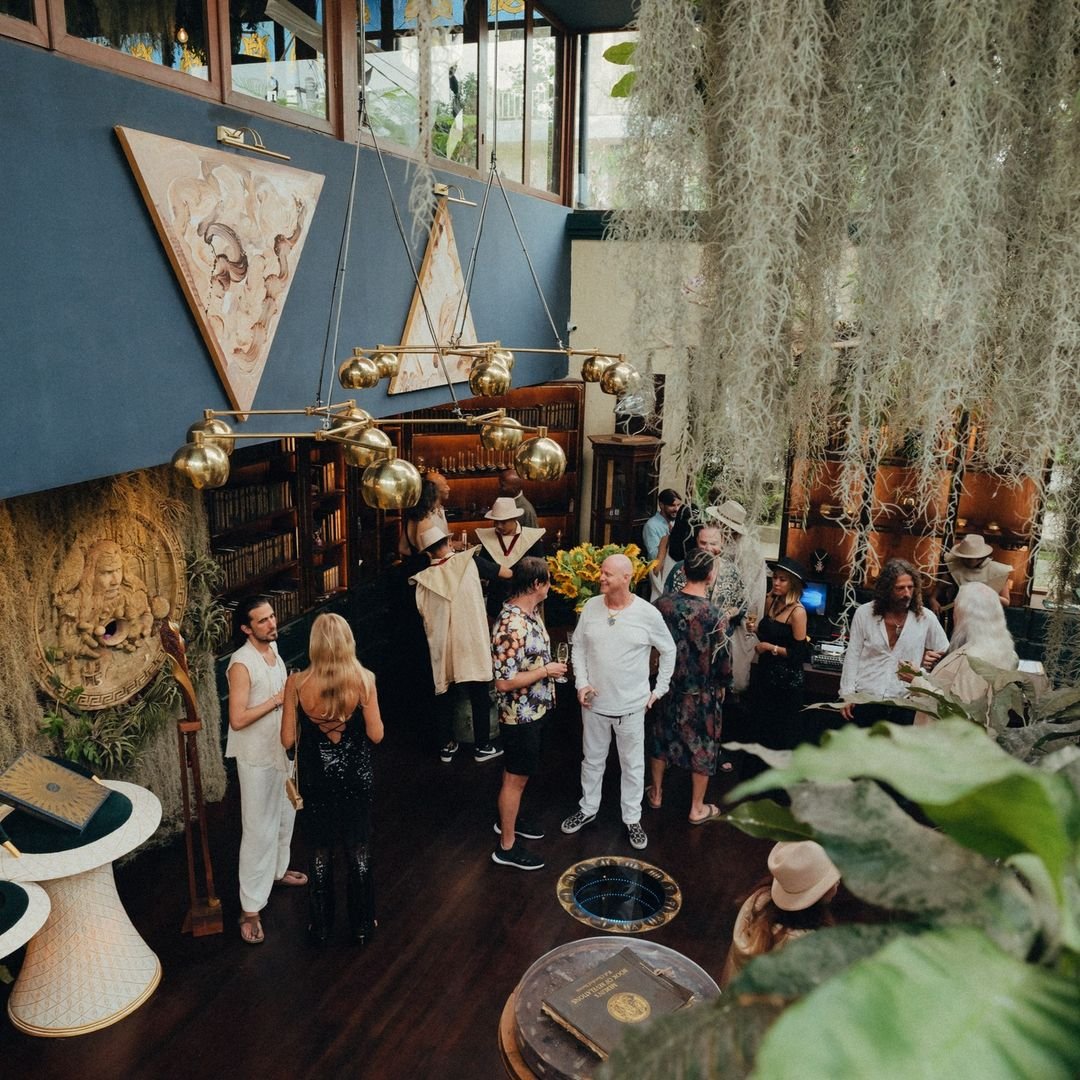 Merlin's Magic is a one-of-a-kind restaurant in Ubud, Bali, born from the creative mind of aspiring chef Ramiro Auat. The restaurant offers a unique experience where the 'food chooses you', and boasts a highly conceptual interior design which resembles a lavish 'wizard hut'. Merlin's Magic Kitchen is based on the Herbal Correspondence Method, using different herbs to represent each human archetype. Merlin's Magic aims to be 100% sustainable, driving environmentally-friendly activities in Bali while supporting the local economy, and choosing ingredients with a story behind them for transparency. Beside distinctive, tantalizing food, Merlin's Magic also has a series of shops divided into 6 sections, each with its own function; from library to altar. This is a definite place to go on your next Bali holiday.
Jl. Raya Pengosekan Ubud No.108, Ubud, Kecamatan Ubud, Kabupaten Gianyar, Bali 80571
Phone: +62 813 7310 1037
Website
Instagram
Noir Cafe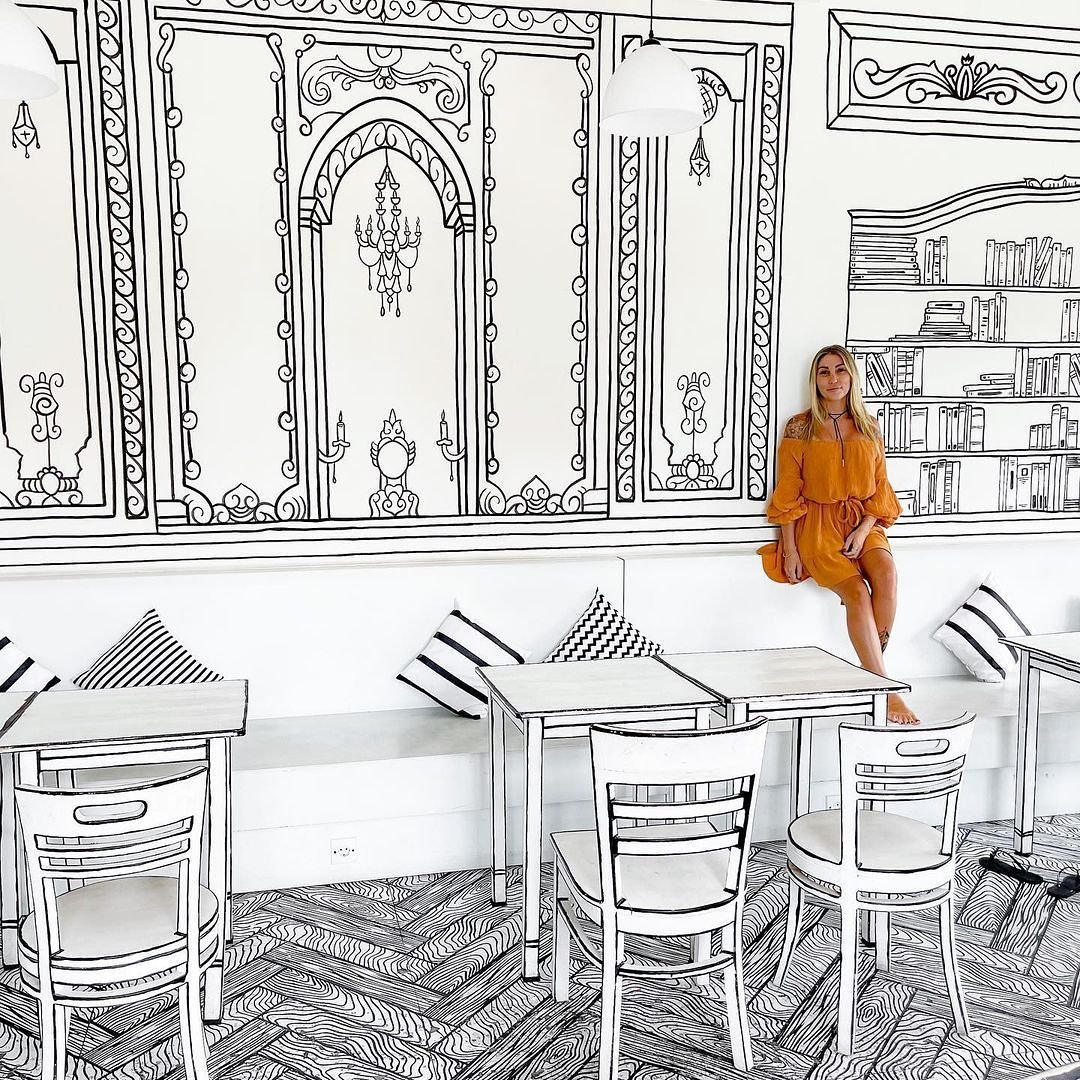 Noir Cafe is the first (and maybe only) 2D-concepted cafe in Bali. The interior is intricately painted with black and white color, with outlines that make it resemble a 2D comic book page. This restaurant is acclaimed and frequently visited by many local youngsters who wish to have an instaworthy dining moment with their besties. The menu consists of a variety of Western and Indonesian comfort food, from pancake, bakso (Indonesian-style noodle and meatball soup), chicken Cordon Bleu and many more. Don't worry, although the interior is crafted with 2D style, all of their menus are vibrant, tasty, and definitely edible!
Cokroaminoto St No.465, Ubung Kaja, Denpasar Utara, Denpasar City, Bali 80116
Phone: +62 895 7014 59090
Instagram
Shooters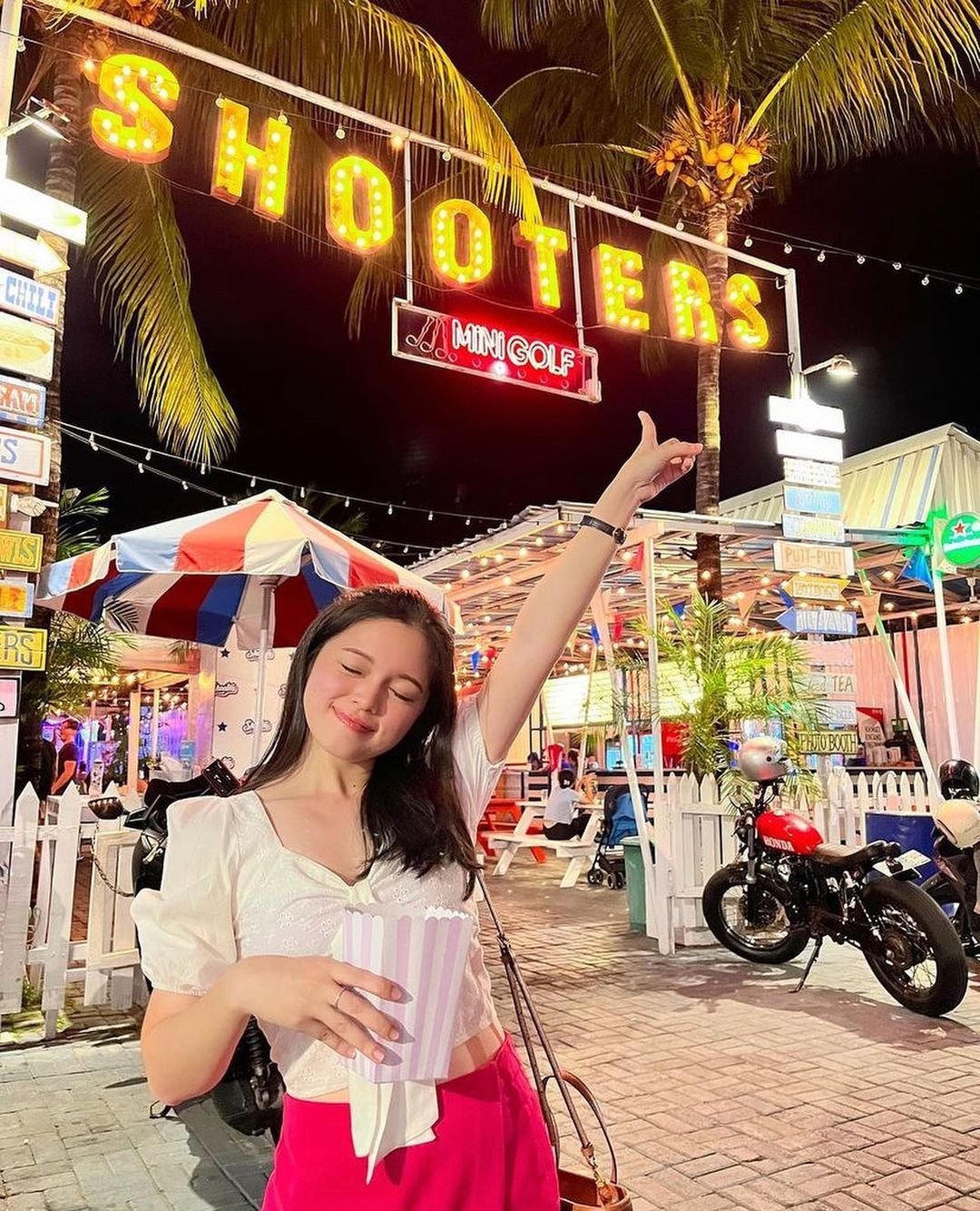 At Shooters, you won't just watch the game on TV, you become a part of it! This fun-filled restaurant / venue boasts a mini-carnival concept with several entertaining games for guest to try; including an outlandish mini-golf course designed to make you smile, hoops for perfecting your axe throw, giant Jenga, shooting range, and even ping pong for the more relaxed. The décor is reminiscent of sideshow alley and the fair, with a playful blend of blue, red, and white. Enjoy a few drinks and snacks while you indulge in hours of exciting games that cater to everyone's interests. Come and build your backyard mini-olympics dream at Shooters!
Jl. Petitenget No.43D, Kerobokan Kelod, Kec. Kuta Utara, Kabupaten Badung, Bali 80361
Phone: +62 813 3774 7863
Website
Instagram