Iconic sculpture by artist Brian Donnelly, also known as KAWS, has made its appearance in Indonesia. The colossal statue is now on display at the Prambanan Temple Complex in Yogyakarta, starting from Saturday (August 19).
Iconic KAWS Sculpture Arrives at Indonesia's Prambanan Temple Complex
The sculpture is part of the KAWS: HOLIDAY series, a global touring exhibition by Donnelly. Visitors can now admire the massive 45-meter-long and 15-meter-tall pink vinyl figure named "ACCOMPLICE" for the next two weeks. This sculpture was initially released in 2002.
According to KAWS' Instagram account, "KAWS:HOLIDAY Indonesia," the exhibition is set to run from August 19 to 31, 2023. This statue adds an additional attraction for visitors to enjoy at the Prambanan Temple Complex from 8:00 AM to 5:00 PM.
To experience this iconic sculpture, visitors only need to purchase the regular admission ticket for the Prambanan Temple Complex.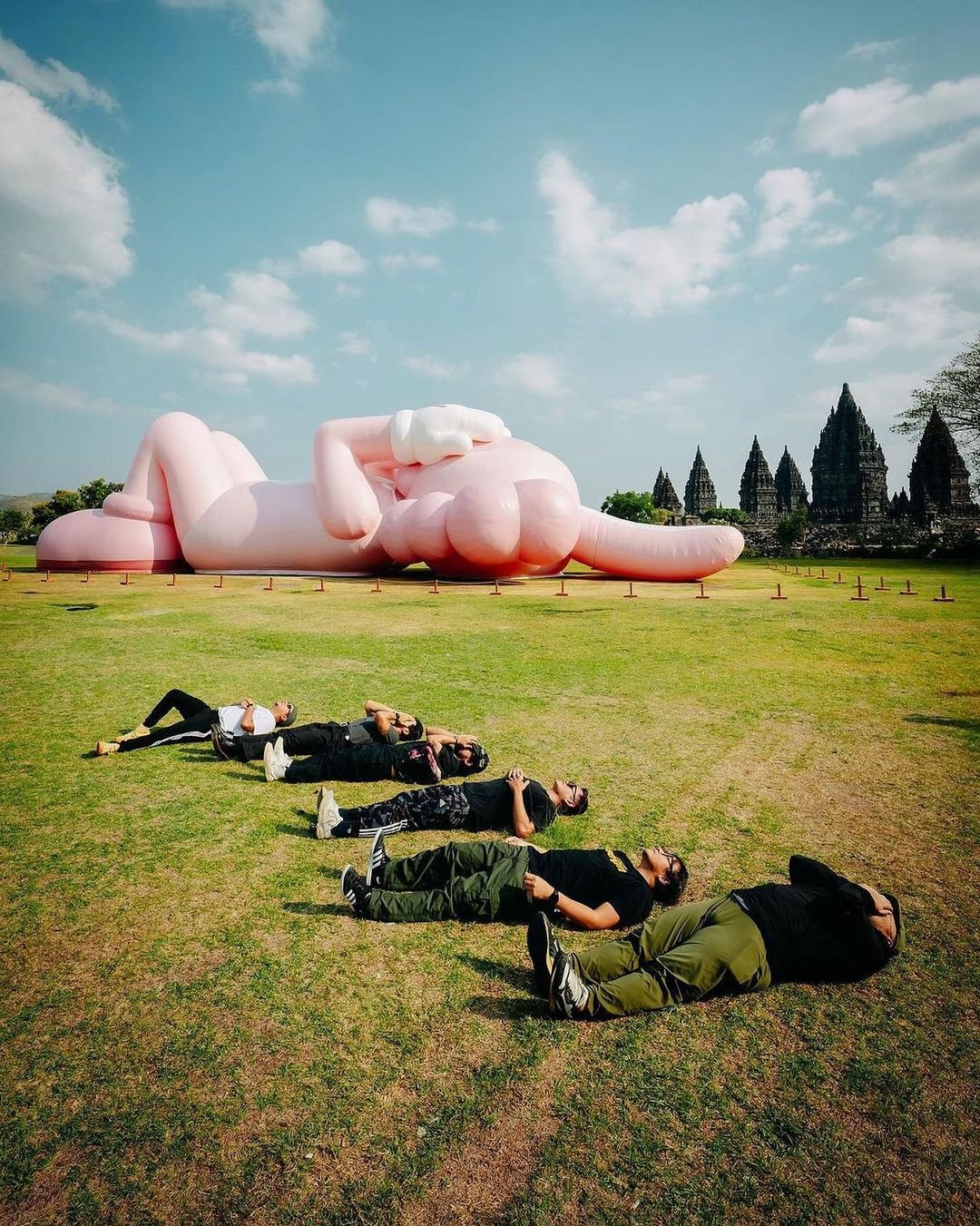 For the tenth stop of this tour, KAWS collaborated once again with his long-time collaborator, AllRightsReserved, to bring this monumental statue to Prambanan. Prambanan itself is the largest Hindu temple complex in Indonesia and is one of UNESCO's World Heritage Sites.
This artwork also marks KAWS' first art piece to be showcased at a UNESCO World Heritage Site. The sculpture, which resembles Mickey Mouse, is seen reclining with its eyes closed. During an interview, Donnelly mentioned that he has had a fondness for the color pink for a long time. That's why the sculpture "ACCOMPLICE" appears in pink.
Axton Salim, a Board Member of AKG Entertainment, stated that the color pink was intentionally chosen by the AllRightsReserved and AKG Entertainment teams as the local partners. This color contrasted with the landscape of Prambanan and the greenery of the surrounding trees.
"For a monumental statue like this, the preferred pink color provides a contrast. This color has been used in previous works. But for me, it looks nice against the green and black colors of the temple," he commented.
Launched in 2018, the KAWS:HOLIDAY global exhibition tour commenced in Seoul, South Korea. Since then, KAWS has traveled to Taiwan, Hong Kong, Tokyo, the UK, Singapore, and Australia.
This art installation brings an intriguing blend of modern art and historical heritage to the Prambanan Temple Complex, offering visitors a unique experience of contemporary creativity against the backdrop of ancient architecture.