It's time to experience your once in a lifetime love story in JW Marriott Hotel Surabaya's "Romance In The City Wedding Fair" on the 25th and 26th of March 2023.
Located in the heart of the most romantic cities in Indonesia, Surabaya, JW Marriott Hotel Surabaya presents its yearly luxurious wedding event, partnering with over 55 professional wedding vendors that are experts and well-experienced in orchestrating numerous celebrations of love. Guests are able to openly converse with various wedding experts ranging from photographers, event organizers, tailors, as well as participating in exclusive food-tasting and securing their wedding venue in JW Marriott Hotel on the spot. As such, this enchanting Romance In The City Wedding Fair brings a seamless and hassle-free one-stop wedding planning experience. With everything in one place, it is a perfect destination for soulmates who wish to realize their dream wedding into a reality with ease and convenience.
JW Marriott Hotel Surabaya's Wedding Fair takes place in the Royal Ballroom that has been magically transformed into an aesthetic garden. Guests will be pleasantly surprised by beautifully crafted nature-themed installations and breathtaking, fresh floral arrangements as decor pieces, surely transporting them back to nature in the most elegant way possible. It is because JW Marriott Hotel Surabaya deeply believes in the rejuvenating power of nature, a definite way to 'nourish the soul'. Through this event, they aspire to share this romantic ideal with guests, as they embark on a blissful journey of tranquility and serenity amidst the lush embrace of nature, escaping the monotonous concrete jungle and rush of a busy city.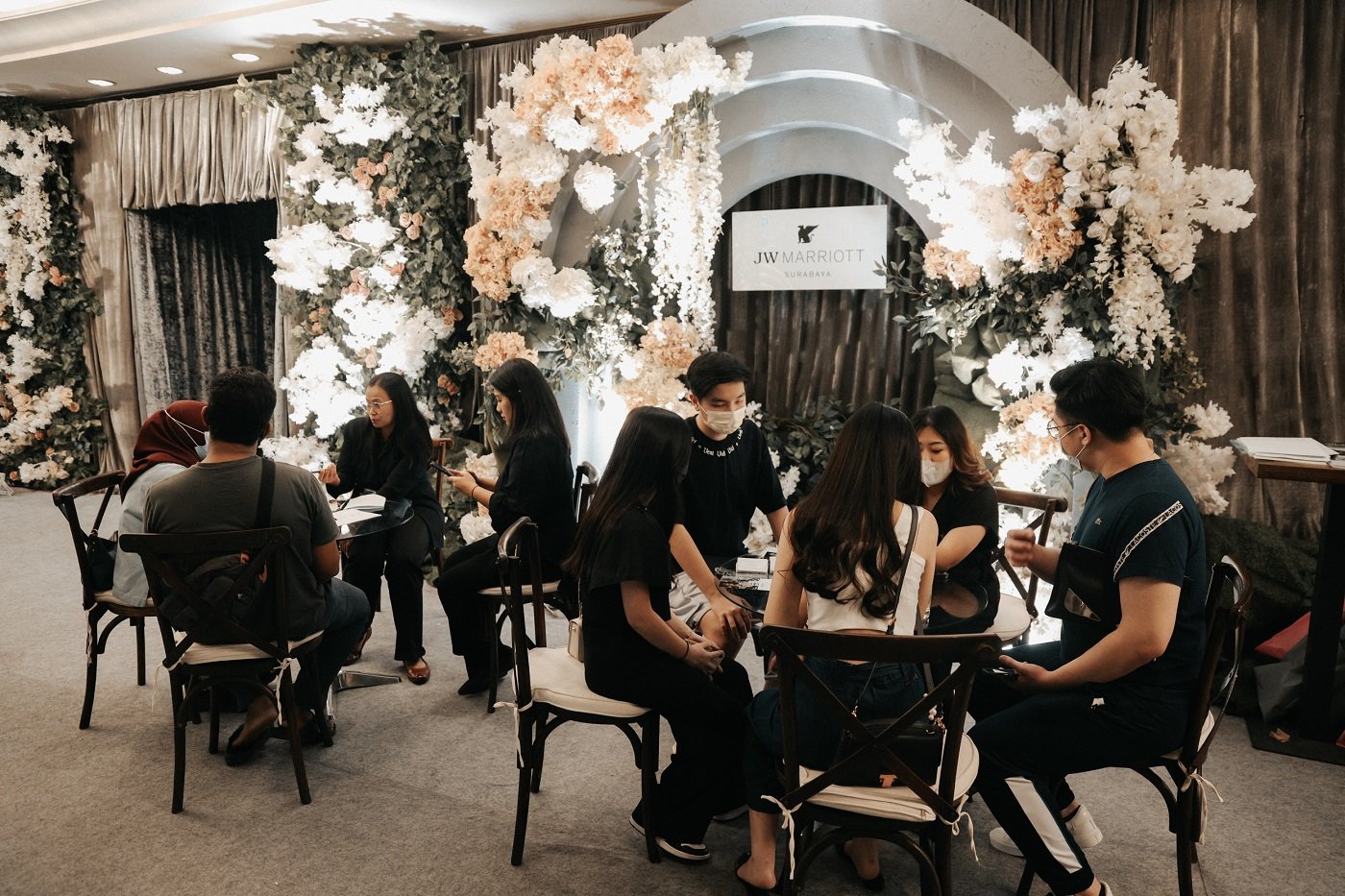 Lovebirds who visit the Wedding Fair are welcome to explore this aesthetic garden at their leisure from 11 AM to 9 PM for two days, all free of charge. Enhancing the lovely atmosphere with beautiful neo-classical acoustic music, blending the tunes of modern guitars and classical violin, Jam or Jet! and Seraphim Orchestra will serenade lovebirds to accompany them browsing for the perfect vendor to craft their dream wedding. There are also live shows hosted on Instagram everyday, where each vendor is interviewed to discuss current food and wedding trends of 2023, hoping to provide guests with a spark of on-the-go inspiration during their planning. JW Marriott Hotel Surabaya's "Romance In The City Wedding Fair" will also be broadcasted in Instagram Live @jwmarriottsby
The ballroom is further divided into 4 breathtaking sections, each to their own theme and painstakingly designed by different organizers. 
Project Art Plus and PF Decoration adorn the halls with magical touches of hanging greens, with delicate whites and a touch of glass to exhibit their concept of 'Intuition', reflecting a wondrous ability to understand both the bride's and groom's specific needs. Taking a different approach, Poetyque Events & Steve's Decor presents a creative amalgamation of an elegant Japanese zen garden with the beauty of modern, minimalistic design elements. The white melamine and gray velvet drops display elegance, surrounding miniature islands with intricate sand patterns and attentively placed stones that mimics the serenity of zen gardens.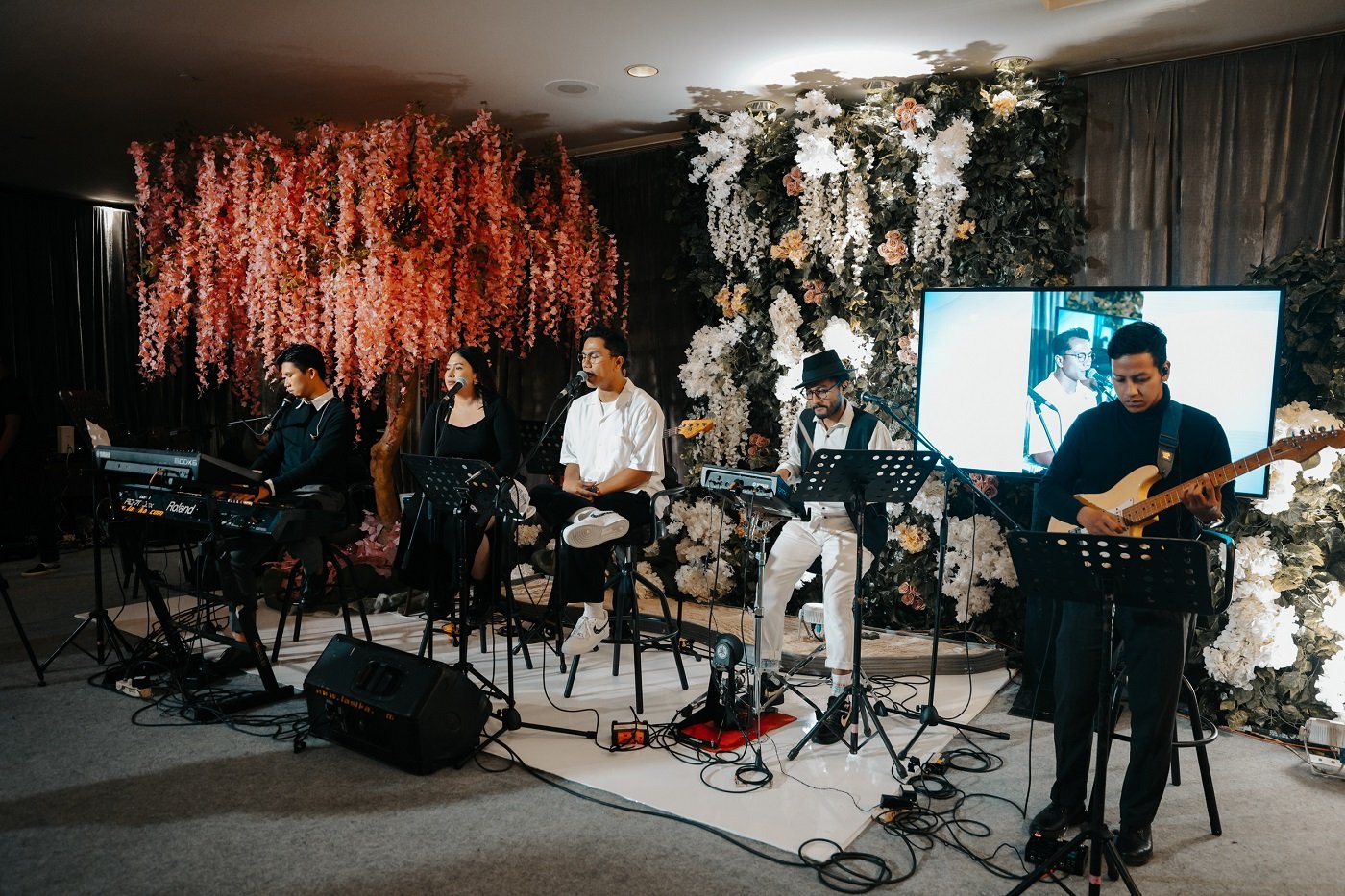 Inspired by the historic renaissance era, Majestic and Daydreaming Works invites guests to rediscover wedding concepts and designs through their open-space museum themed art exhibition. Towering stone pillars and artistic renaissance-like statues will transport couples into a museum date full of love and imagination. Last but not least, Fairytale Organizer & Sion Decor presents 'Blanc de Noir', decorating the ballroom with warm peaches, terracotta, and brown embellishments.
As the world awakens to a new season of love and promise, JW Marriott Hotel Surabaya has partnered with marvelous partners to spoil lucky couples with prizes that will leave them breathless. Voila has graciously prepared a limited edition pair of Manolo Blahnik Lurum 90 satin heels in cream for future-brides and a B-Buckle belt for grooms-to-be as door prizes for every couple without a minimum purchase required. JW Marriott Hotel Surabaya has also prepared 20 vouchers for couples who seek to enhance their love story with a romantic and luxurious stay and dine-in for two. This unforgettable experience will bring you closer together, creating memories that will surely last a lifetime.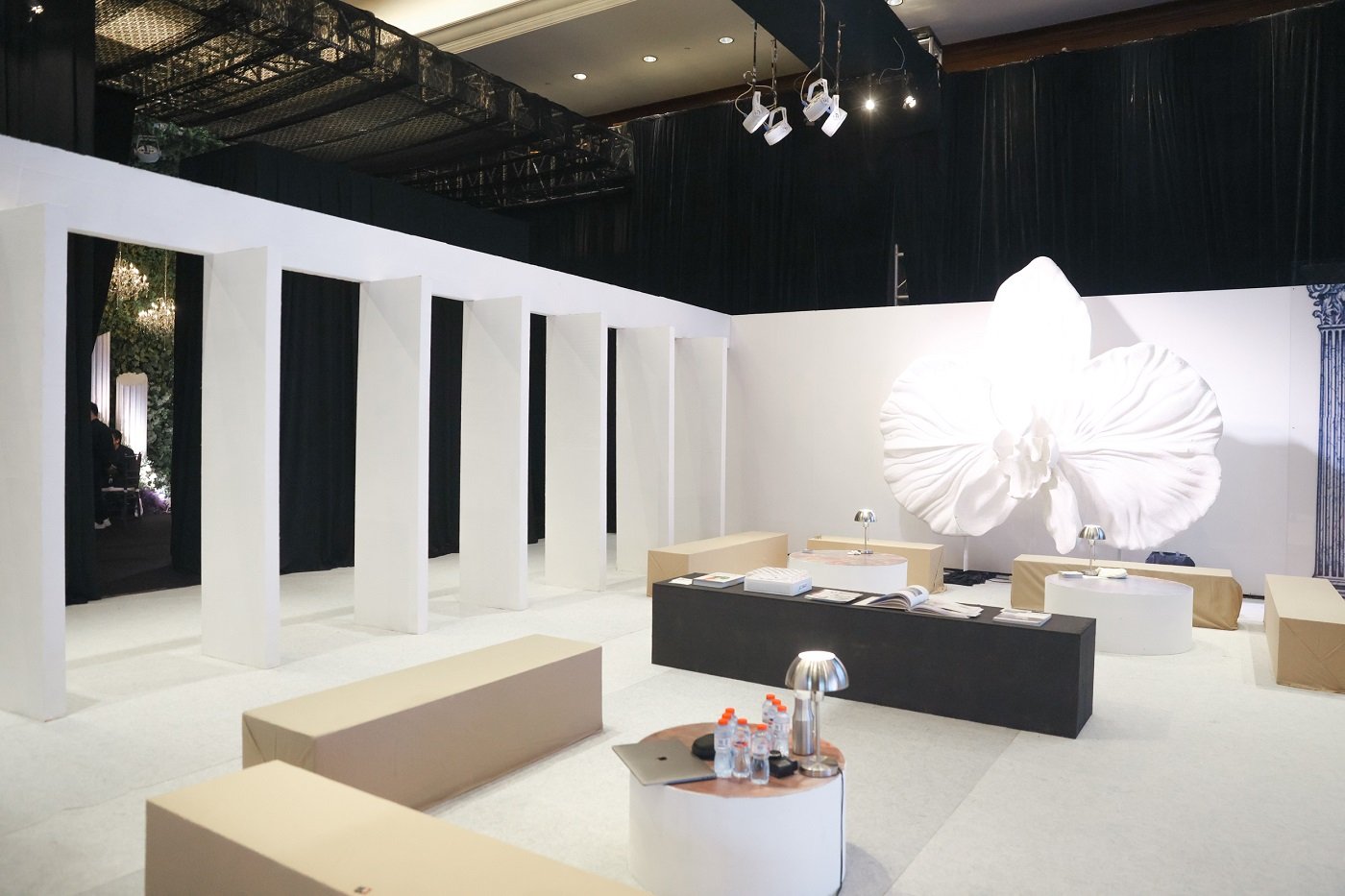 Celebrating this month of love, top spending couples with a total of IDR 8.5 billion in the Wedding Fair were granted an exclusive opportunity to win a grand prize that will undoubtedly elevate their love story. Humbly supported by the Resorts World Cruises, these lovebirds are presented a chance to embark on a 3 days and 2 nights journey from Singapore to Kuala Lumpur in the lavish Resort World Cruise worth IDR 90 million. 
Additionally, the illustrious JW Marriott Hotel Surabaya is also pleased to spoil lucky couples with other extraordinary prizes to complete the ultimate love story. Among other surprises, these include a two night stay in the opulent Presidential Suite, complimentary offer for Holy matrimony (excluding F&B), and double Marriott Bonvoy points. This once-in-a-lifetime opportunity will surely be a great beginning of your incredible journey together filled with love and extraordinary moments.
For more information and/or attractive deals, contact us via WhatsApp at 0811-3529-258 or 0822-3488-9176, or visit our Instagram @weddingsatjwmarriottsby, or visit our website at www.jwmarriottsurabaya.com.
JW MARRIOTT SURABAYA
Jl. Embong Malang 85-89 Surabaya, Indonesia 60261
Tel 6231.545.8888