InterContinental Residences Jakarta Pondok Indah, the latest scintillating glass high-rise nestled within the vibrant commercial area of Pondok Indah, South Jakarta, is quickly becoming known as Jakarta's emerging residential extraordinaire. As the first InterContinental Residences in Indonesia, the luxury residential building becomes the premier home away from home for business executives or families on an extended stay in Jakarta.
A Touch of Elegance and Sophistication
Designed by the award-winning Hirsch Bedner Associates Singapore, the residences' 193 superbly designed apartments boast contemporary interiors featuring modern and classical touches including artworks from renowned Indonesian artist Haryanto Gunawan. Based on the theme of "journey of life and love", these artworks add richness and vibrancy to the ambiance of each apartment unit. Overlooking the South Jakarta skyline, the fully furnished luxurious apartments are equipped with a contemporary kitchen and a spacious separate dining area.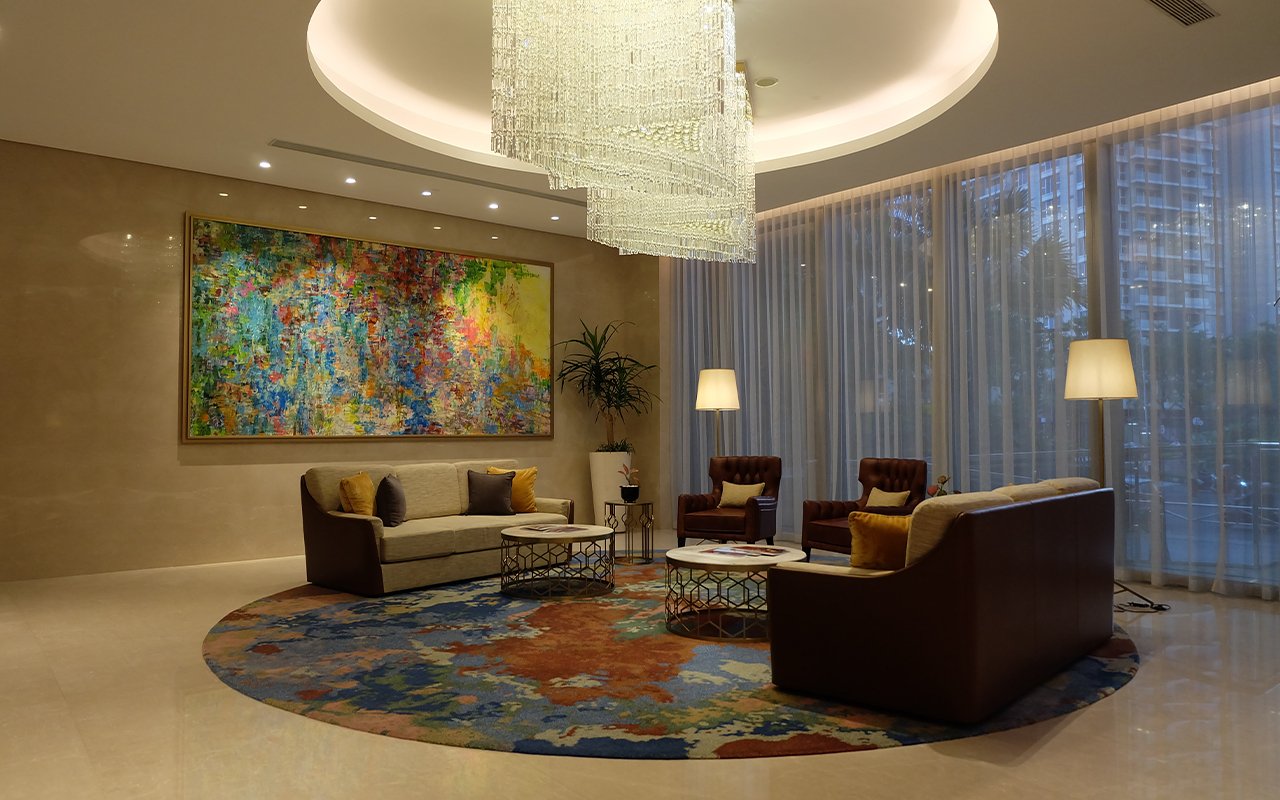 The luxurious serviced residences consist of 1 to 3-bedroom apartments and 4-bedroom penthouses which are elegantly furnished with a fully equipped kitchen. With an unparalleled living experience in this bustling city, each unit features timeless design details, light-filled living spaces, and spectacular city views, creating an ambiance of ultimate luxury.
Comfortable, practical, and incredibly luxurious, residents of InterContinental Residences Jakarta Pondok Indah enjoy warm, spacious living spaces with detailed chandeliers to add a remarkable living atmosphere. All the details offer its residents a distinctive and unmatched living experience.
The Bedroom Embodies the Epitome of Stylish Design and Modern Comfort
The newly launched 2-Bedroom Signature offers a choice of view overlooking South Jakarta or Pondok Indah golf course. Boasting an abundant space of 136 square metres, the spacious room elements are positioned in an effortless flow to highlight its modern sleek design as well as functionality. The 2-Bedroom Signature features 2 bedrooms with 2 bathrooms adorned by picture-perfect windows. Each bathroom also provides a sleek and sophisticated living experience with a bathtub and walk-in rain shower for relaxing.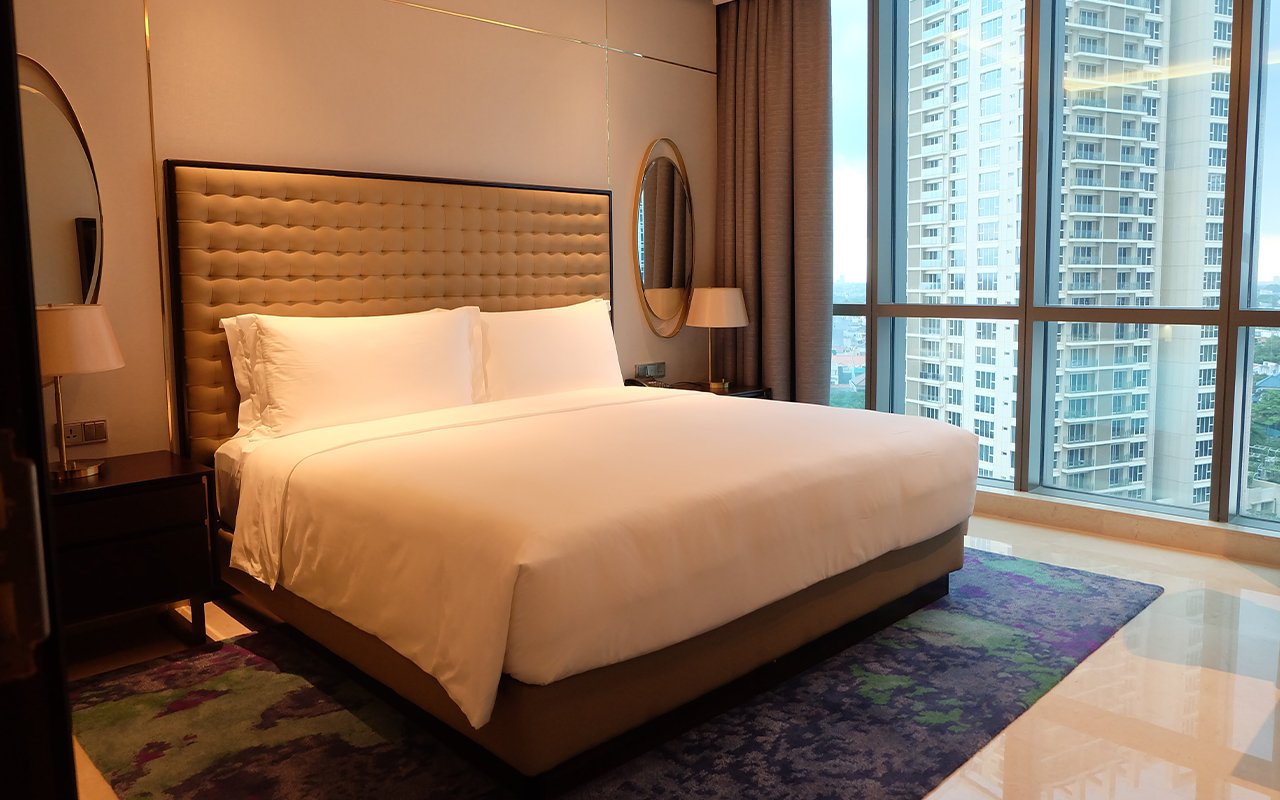 The residence's distinctive design allows for the living and dining rooms to have open views toward the serene Pondok Indah area, bringing in plenty of natural light and gleaming lights during nights. The furniture exudes modern and luxurious with marble and wood finishes. They are fully equipped with home and kitchen appliances allowing the residents to do the daily chores with ease. The giant LED TVs are all installed on the both bedrooms and living room. Other amenities include designated laundry room with washer/dryer, storage room, and a bar.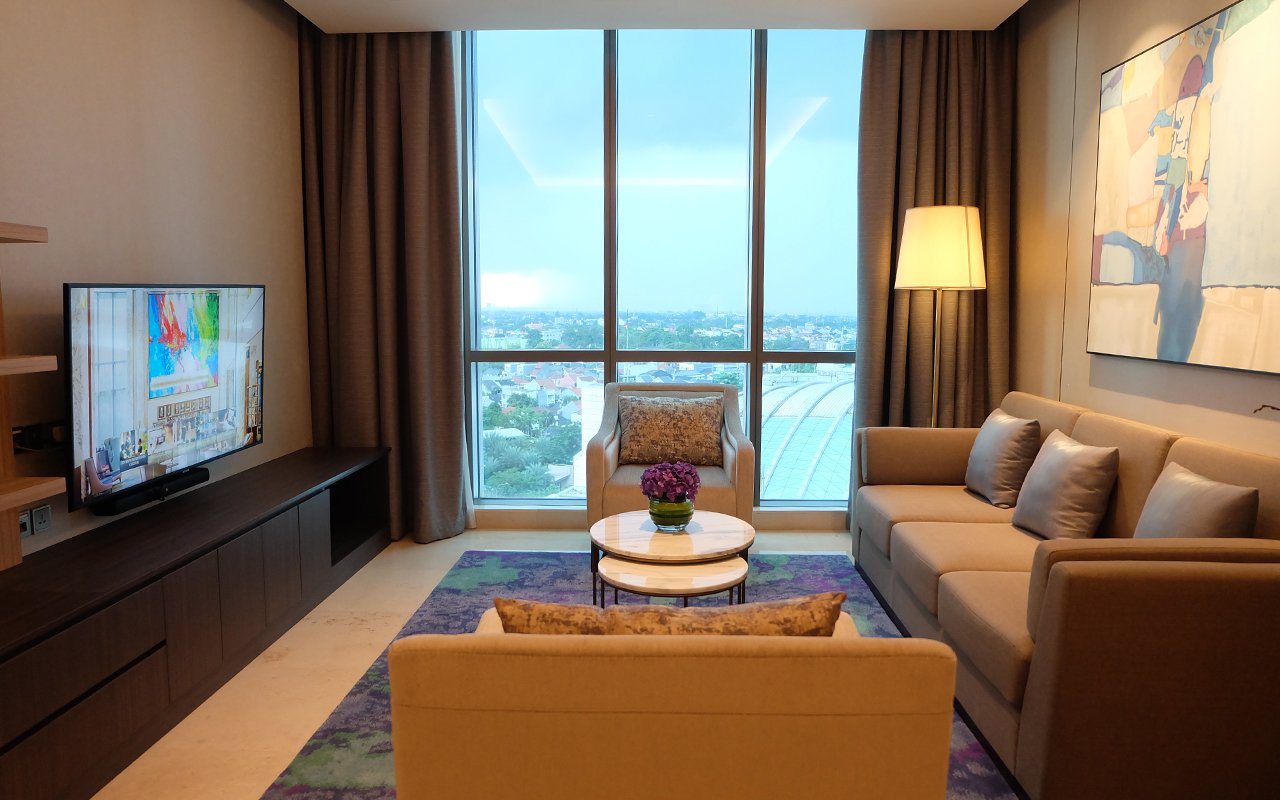 InterContinental Residences Jakarta Pondok Indah has something for everyone, from One-Bedroom Apartments, Two-Bedroom Apartments, and Three-Bedroom Apartments to the 4 Bedroom Penthouse. Each type has been meticulously designed to cater to modern luxury while also meeting the needs of urban lifestyle. Alongside exclusive features including private laundry access, personalised dining area and an elegant living area integrated with a smart flat screen TV and a stylish bar counter. The fully equipped kitchen is furnished with microwave ovens, dish washer, washing machine with dryer and refrigerator to entertain families and colleagues.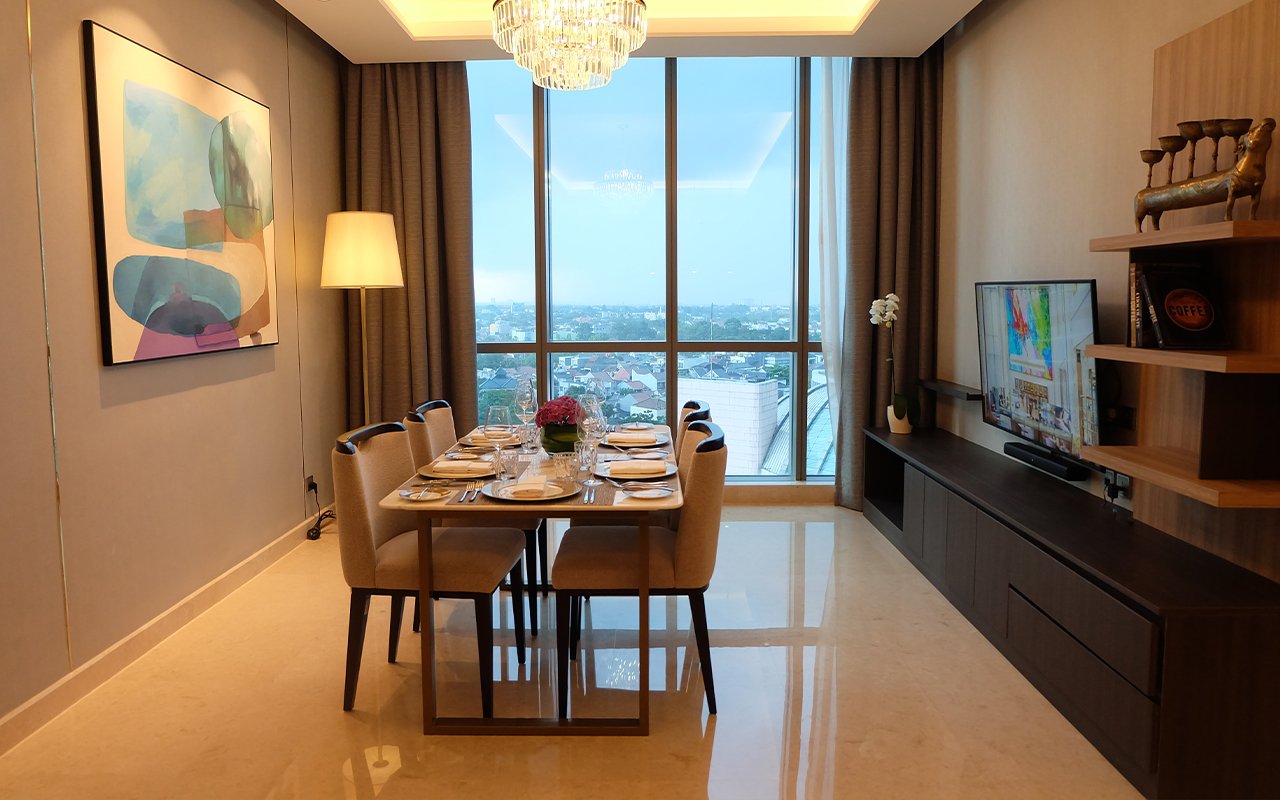 Prominent Location
Located in the business, shopping, and entertainment district of South Jakarta makes InterContinental Residences Jakarta Pondok Indah easily accessible for daily routine. It is within minutes of the capital's collection of world-class healthcare facilities, and international schools, as well as integrated into Pondok Indah's large array of shopping malls with upmarket boutiques and over 200 dining options. This connectivity provides the residents of InterContinental Residences Jakarta Pondok Indah with the luxury of still being able to move around to go shopping much more freely than most of everyone else in the capital.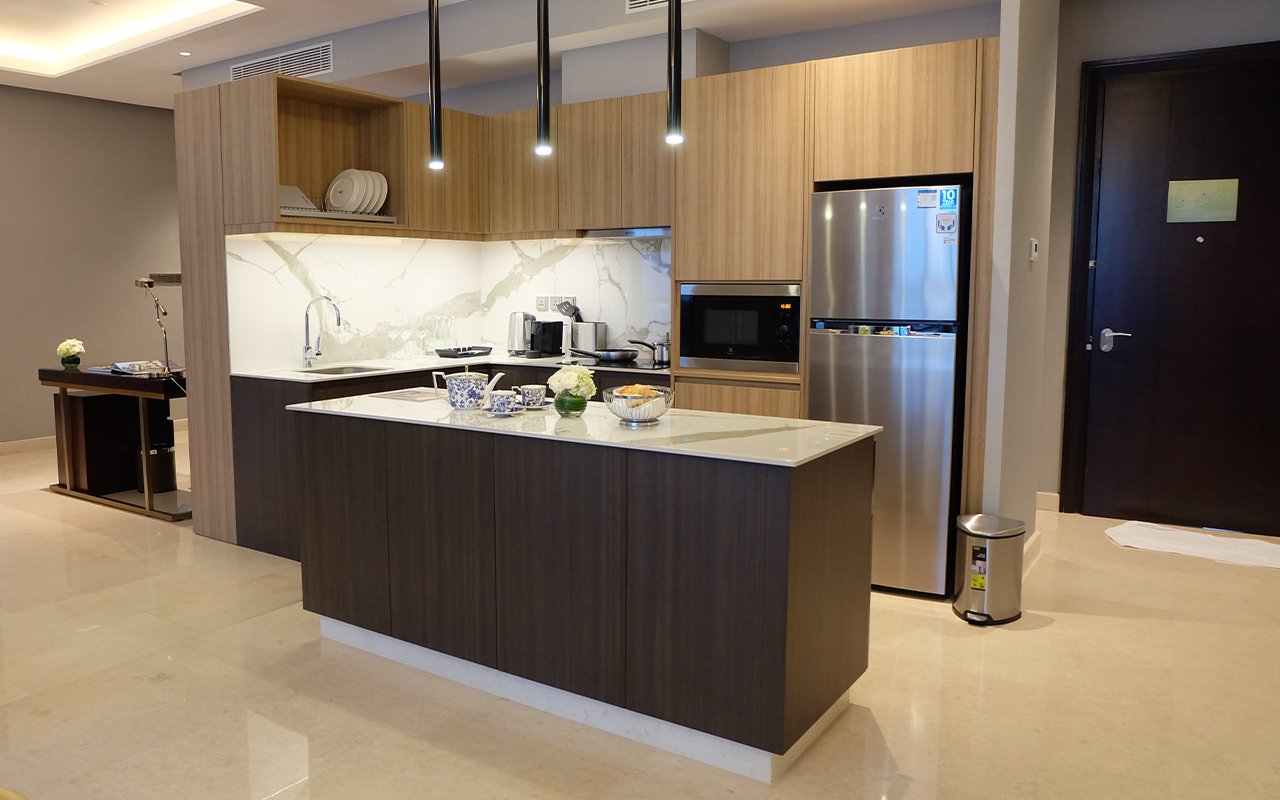 Private entrance directs to the residence lobby is also available to ensure comfort and privacy. The state-of-art lobby welcomes you to a world of luxury and comfort with dangling crystalized chandelier that beautifully combined artfully touch with modern style. Either way, the connectivity between the residence and hotel provides its residents with a remarkable choice of remote-work friendly facilities both on-site and nearby, while maintaining a sense of privacy with its own driveway and residence entrance.
Moreover, the residence is strategically integrated within an upscale complex like Pondok Indah Office Towers, leisure facilities including Pondok Indah Water Park, Trampoline Park, along with easy access to the international airport, highways, and the central business district.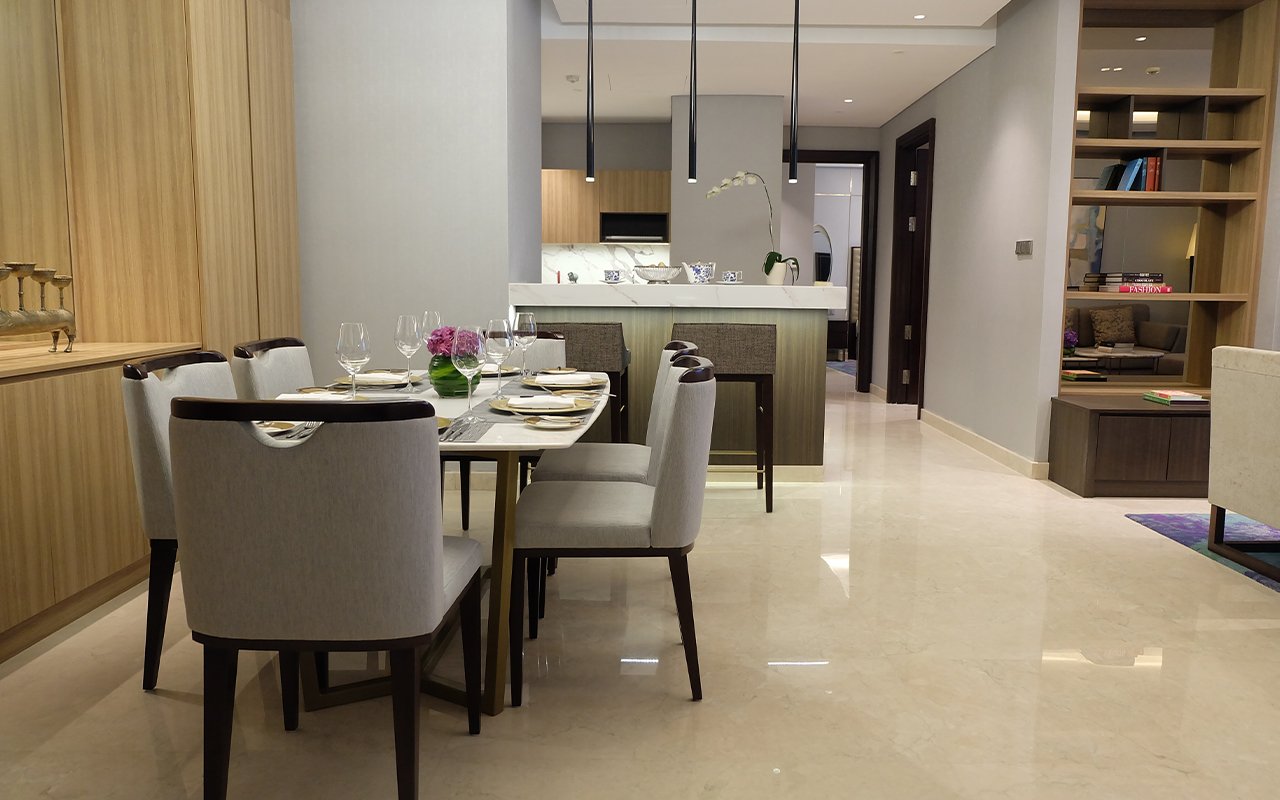 Another important part of this connectivity is the world-class Pondok Indah Golf Course. Established in 1976, this Robert Trent Jones Jr-designed golf course is one of the best in Indonesia. Living next door to a playground designed to even still be challenging for world-class professional players is undoubtedly an attraction for golf aficionados, but even for those who are not keen players of golf, this easy access to a vast amount of fresh air and beautifully manicured greeneries translates into a luxury of exploring the outdoors.
Facility Services with Distinctive Details
This magnificent building also offers an array of amenities to its residents. Set amongst an intricately designed and lush garden area with views over Pondok Indah, the 25m outdoor swimming pool is the perfect place to relax. Guests can enjoy cocktails or mocktails at the Aqua Lounge, and the poolside event space is the ideal venue for a gathering under the stars.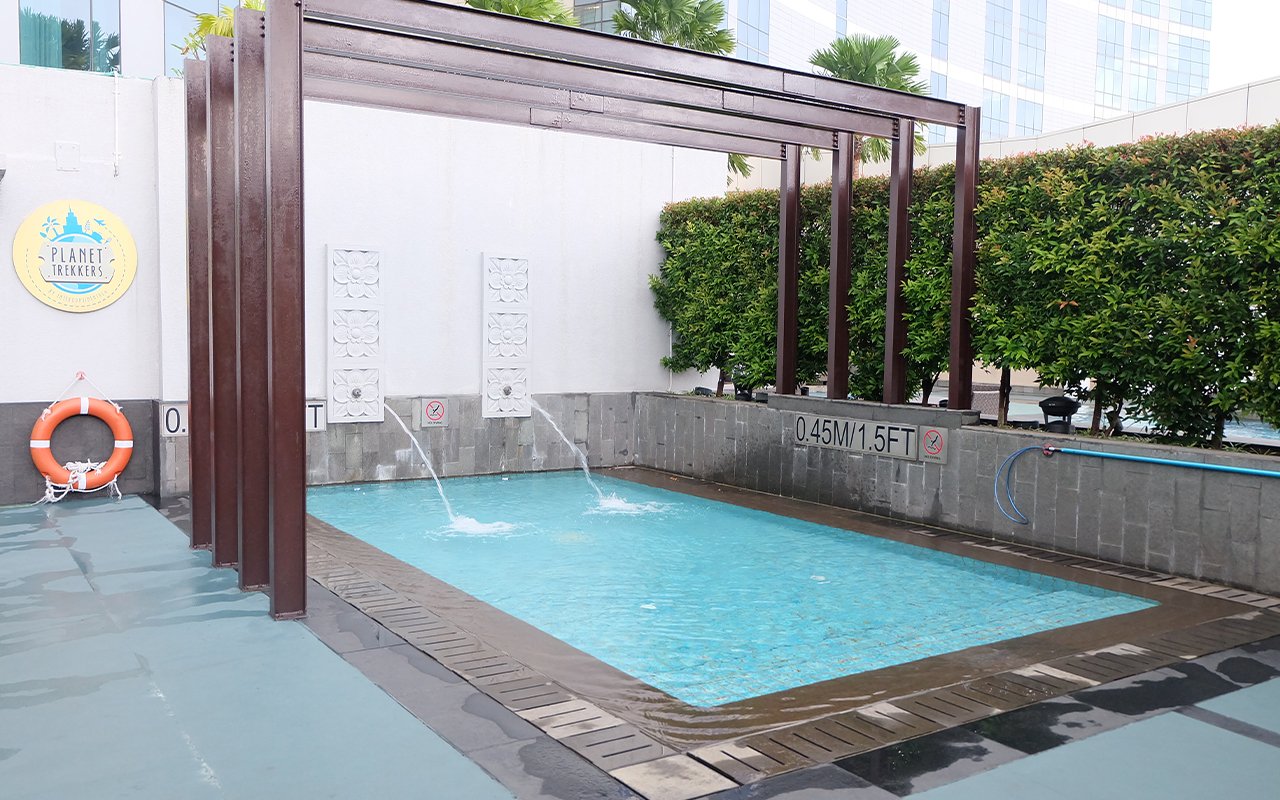 The exclusive Fitness Centre offers the latest in electronic cardiovascular machines, along with a breathtaking view of the Pondok Indah area. Guests can work out with the assistance of professional trainers on hand to ensure they get the best advice. This exclusive space opens for 24 hours and is equipped with a steam bath and sauna separated for gentlemen and ladies, perfect to keep fit and stay healthy.
InterContinental Residences Jakarta Pondok Indah
Jl. Metro Pondok Indah Kav. IV TA
Jakarta 12310, Indonesia
Phone: +6221 3950 7356
email: [email protected]
www.InterContinental.com/residencesjkt