The fifth edition of Art Moments Jakarta (AMJ) will come to the city in November. One of the country's biggest art fairs will be taking place from 4-6 November 2022 at the Grand Ballroom of Sheraton Grand Jakarta Gandaria City and Gandaria City Hall. The fifth edition of Art Moments Jakarta marks the return of the art fair to the bigger venue as a big-scale art event. The first Art Moments Jakarta was held at the same hotel ballroom before continuing its second, third, and fourth editions in the hybrid format (a combination of online and small-scale offline events) due to the COVID-19 pandemic.
Art Moments Jakarta is an art fair that supports the development art ecosystem comprising galleries, artists, collectors, and art communities in SouthEast Asia. The fifth edition of Art Moments Jakarta will go under the theme of Continuance which carries the meaning "to continue is to evolve, to not lose the sense of self and circumstances."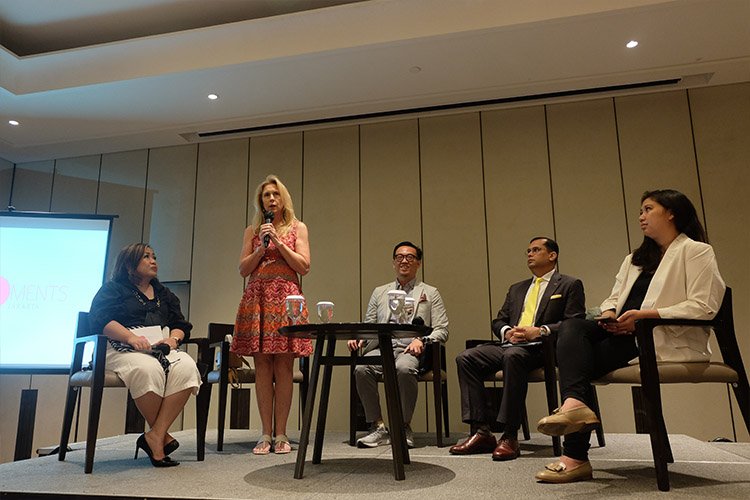 "Every day, with faith and knowledge, we advance toward futures as meaningful as our pasts. Art is our companion. When beautiful, they bring delight, but when disconcerting, they demand introspection. We are determined believers of moments
lived. Our journeys are empowered by the kaleidoscopic reflection of ideas," said Sendy Widjaja, Co-Founder and Fair Director of Art Moments Jakarta, on this year's theme.
The fifth Art Moments Jakarta will highlight several artists, such as Miwa Komatsu, Andrey Ostashov, Made Wianta, Handrio, and Nyoman Nuarta. Celebrating the uprising of NFT art, Art Moments Jakarta also highlights digital art artists like Arya Mularama - Indonesia, Diela Maharanie - Indonesia, Tommy Chandra - Indonesia, Sarisa Kojima - Thailand, Marion Olmillo - Philippines, Hamlatul Arsy - Brunei.
Art Moments Jakarta in collaboration with 'Johnnie Walker: Scotch Whiskey Blue Label' provides a medium for three-dimensional works with the image of Striding Man Johnnie Walker as high as 50 cm which will be responded to by the artists, becoming a unique expression of new works. The next work will be exhibited and sold (through a closed auction system) during the implementation of Art Moments Jakarta 2022. Together with the Women's International Club (WIC), Art Moments Jakarta will raise funds from the auction proceeds to be donated to the Women's International Club (WIC) programs.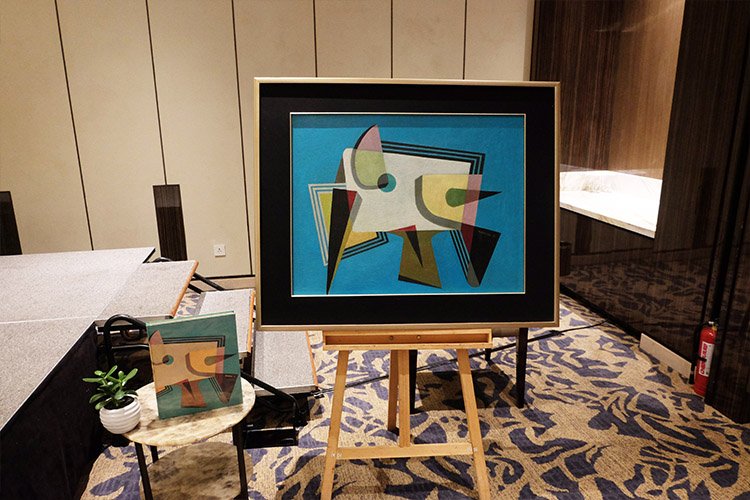 Art Moments Jakarta will feature a series of exciting public art programs featuring renowned artists. Some of the programs include intriguing talk shows about Art and NFTs, like HANDRIO: Dari Abstrak Geometris Menuju Komposisi Musik, The Future of NFTs, and Sometimes You Don't Need to Speak to Be Heard: Art and Autism. The fifth edition of Art Moments Jakarta will present hundreds of artworks from more than 35 art galleries worldwide. Art Moments Jakarta will also give 18,000 free NFT artworks from Tezos to visitors to the art fair.
The art fair is open to the public with entrance fees of IDR 150,000 for one day pass and a limited VIP Pass (3-day pass) of IDR 300,000. The tickets can be purchased at Lifestyle fitur at BCA Mobile or www.artmomentsjakarta.com and on the spot. Discount 20% for BCA Credit and Debit Card users. Art Moments Jakarta Community Partner also gets a 20 % Community Discount for the first 100 people per community. Art Moments Jakarta, together with Bank Central Asia (BCA), will also facilitate BCA Credit Card holders for Artworks purchase payment option of 0% interest monthly installments for 3, 6, 12, and 24 months.
Art Moments Jakarta is sponsored by BCA, Sheraton Grand Jakarta Gandaria City, and Gandaria City Mall as its main sponsors and is fully supported by the Ministry of Tourism and Creative Economy and Wonderful Indonesia.
Art Moments Jakarta 2022 is also sponsored by:
Official Blockchain Partner : Tezos
Official Beverage Partner : Johnnie Walker Blue Label
VIP Mobility Partner : Mercedes-Benz
Official Show Partner : JIS Event
Official Logistic Partner : Bowo Logistic
Official Public Relations Partner : Prefinite Communication
Supporting Partner : FIREFLY LED, Diton Paint, Studio P&N, Rocket Buzz, Pita, A+A Architecture Interior, PT. Hometherapy Design Indonesia, SEKAYU, BStudio Florals, Anigré, Jakarta Philharmonic Orchestra, Motion Blue Jakarta, akaSwap, PHILLIPS Auction.
Community Partner : JakPreneur, Jakarta Kolaborasi, Enjoy Jakarta, Metarupa, IDNFT, NFT Asia, Satu Sekte, Women's International Club, Ikatan Keluarga Alumni Bina Nusantara, Art Moments Meta, TZ APAC ID, Marriott Bonvoy, Mercedes Benz Club Indonesia