ISMAYA Group presents a spectacular three-day chef collaboration featuring Italian culinary masterpiece themed Ti Amo Toscana, Italian Culinary Venture by Osteria GIA. Executive Chef Osteria GIA, Tommaso Gonfiantini together with Executive Chef - Owner of Olio Kensington Street, Lino Sauro on 23 February 2023, at Osteria GIA Plaza Indonesia and 24-25 February 2023 at Osteria GIA Pondok Indah Mall 2 for visitors and loyal customers. With the experience of Chef Lino Sauro who heads a Sicilian restaurant and Chef Tommaso who always serves Italian delights for his customers, each dish of this special menu has been carefully selected to enhance a tempting culinary experience.
Chiara Salim, Marketing Manager, Osteria GIA said, "We are constantly trying to create an extraordinary and memorable experience every time customers try the classic and simple Italian food available at Osteria GIA. This collaboration underscores our second Ti Amo series which will take you on an "adventure" to beautiful destinations in Italy through our dishes. Ti Amo, Toscana and Ti Amo, Sicilia present a unique combination of ideas from two maestros to explore flavors that you have never tasted before. Through the collaboration of these two renowned chefs and our team, we have the opportunity to create a unique and interesting experience using different cooking techniques, unique ingredients and unforgettable tastes. We will ensure every guest has a memorable Italian dining experience at Osteria GIA."
About Ti Amo, Sicily!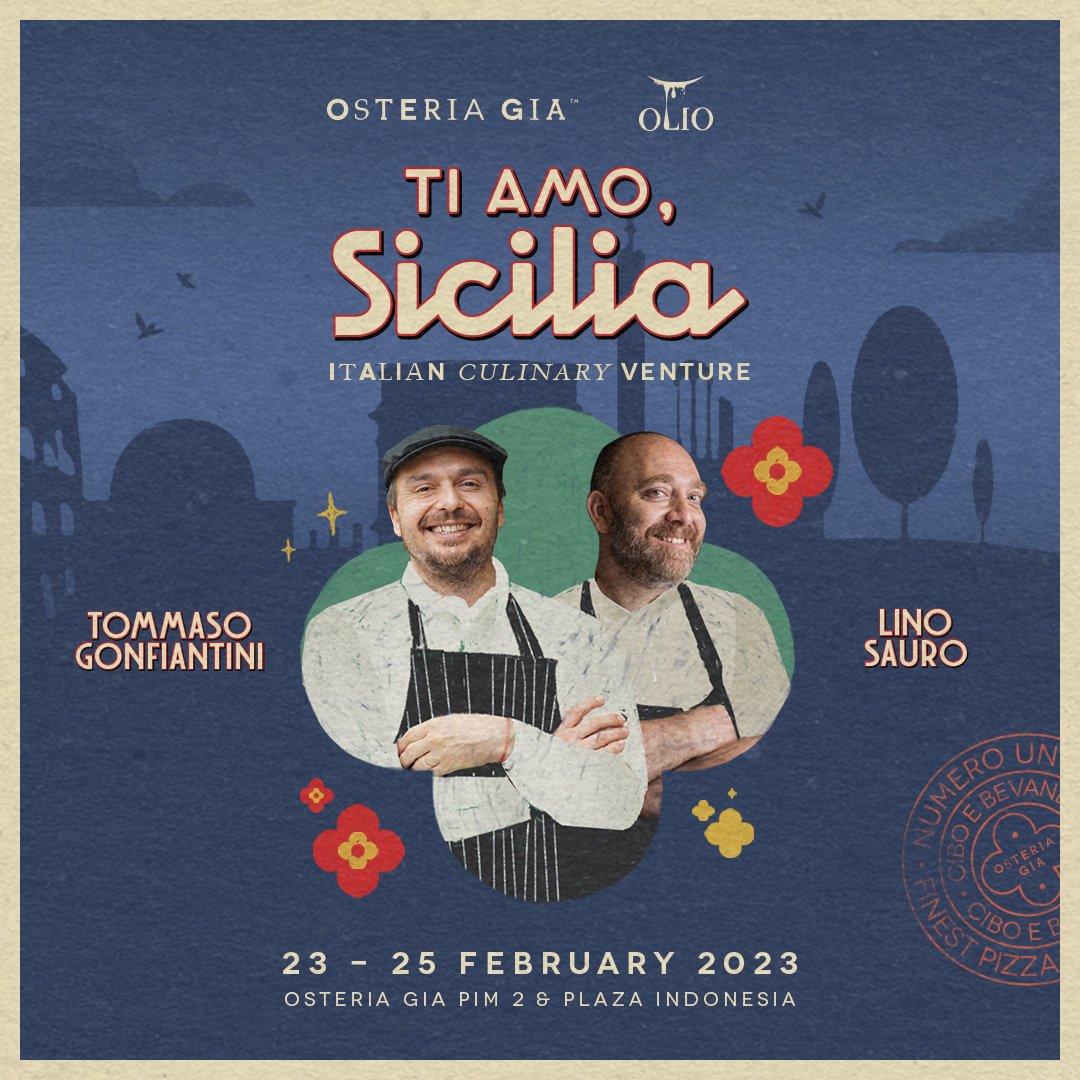 Osteria GIA invited Lino Sauro, a culinary maestro known for his achievements in winning awards during his profession as a chef. The Sicilian-born chef founded Olio in early 2017 to show Sydney foodies why Sicily is being called the new Italian. Olio is located in The Old Rum Store, an architecturally beautiful setting with a contemporary style dining area plus a lush roof terrace overlooking beautiful Chippendale views. Sauro, who grew up in Sicily, always enjoyed food made with fresh ingredients directly taken from his own plantations, which are the inspiration for his current menu creations. Continuing the secrets of family recipes and cooking, Sauro uses olive oil as the basis of all his delicious dishes. The hallmarks of Sicilian fine cuisine are seafood, wild fennel, raisins, saffron and couscous, which are key ingredients on the menu at Olio.
These two famous chefs are so excited to collaborate and present interesting menus starting from Burrata (smoked buffalo burrata with sicilian almond cream, nectarine), Tonnarelli (homemade squid Ink spaghetti, spanner crab and spicy pork nduja sauce), Rigatoni (mussels sauce, lemon & roasted pistachios). For main course, enjoy Dentice (red snapper filet, harissa butter, broccolini, currants, scallions) and Cassata (sicilian cassata and orange sorbet) for dessert. A special menu that is ready to whet your appetite!
With years of experience in the Food and Beverage industry, ISMAYA Group has operated through various restaurant, lifestyle and entertainment concept concepts. With the desire to bring 'The Good Life' to all of its customers, ISMAYA Group continues to provide innovative culinary and lifestyle experiences for everyone throughout Southeast Asia (including Indonesia) and the Middle East.