In line with the flavorful dishes' taste and cooking techniques of Latin America and Asia, Kilo Jakarta, Chef Jethro Vincent revives back Kilo Jakarta's most coveted classic and signature dishes
Gunawarman street's intersection may have seemed like the lifestyle hub main street which is abundant with places to eat and drink. The appearance is really catchy, but almost all of the options are really great. Kilo Jakarta, at the base of mini staircases leading up to a sunny corner house that blends well with plants, is among the best of the bunch.
The name Kilo comes from the phonetic name of the half-blue, half-yellow nautical flag for 'K', which signals the message, "We wish to communicate with you". Kilo aims to communicate moments defined by hearty food, soulful music, warm conversations, and unforgettable occasions. A place that feels like home for people from all different walks and circles of life, Kilo welcomes you for a sharing experience amongst family and friends, both old and new.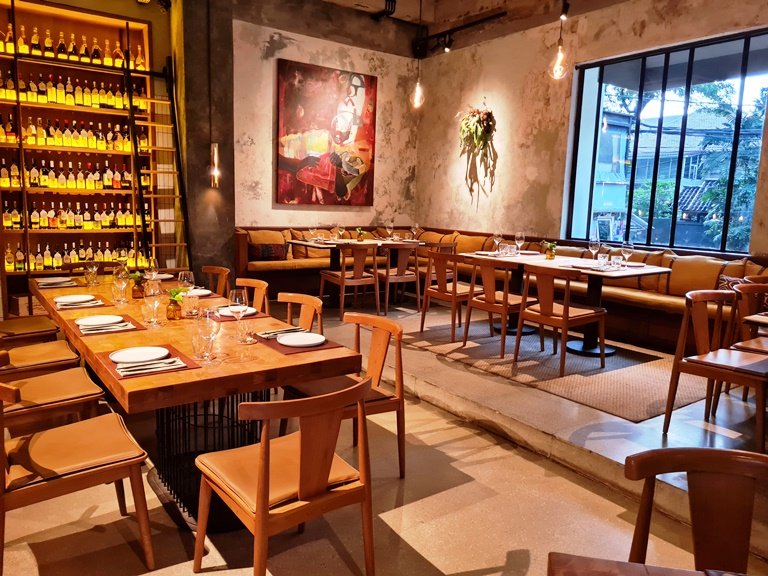 The interior embodies a humble homey settlement with invigorating corners, a verdant porch, and small standing bookshelves as a separator between dining spaces. High windows open the scenery into the street for watching the street pass by. There's also a more tangible element, the exposed and industrial aesthetic together make loyal patrons stay a little longer. The space is anchored in a rejuvenated rawness that is tempered with utilitarian, domestic elements. Hand-sanded concrete walls, natural stone, and brass finishings exude confidence. While polished marble, Italian ceramic tiles, and vintage snazzy rugs inject warmth.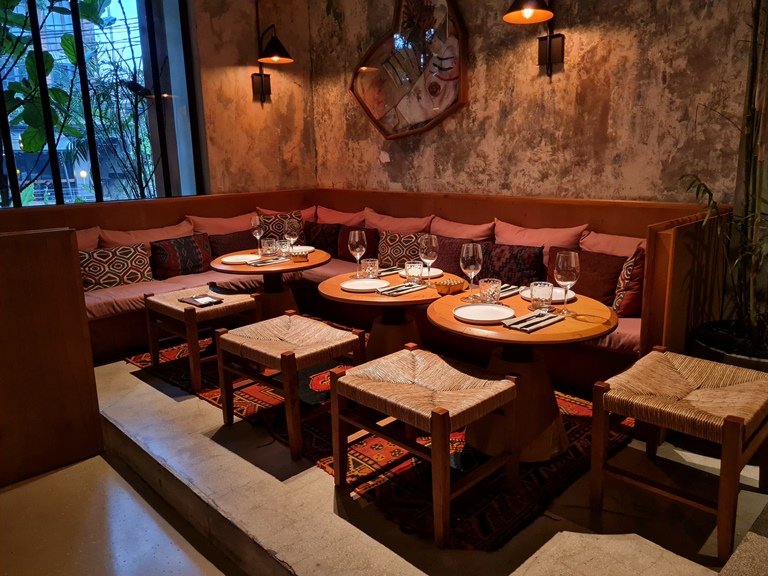 In line with the flavorful dishes' taste and cooking techniques of Latin America and Asia, Kilo Jakarta, which is now helmed by Culinary Director, Chef Jethro Vincent revives back Kilo Jakarta's most coveted classic and signature dishes and of course, Chef Jethro's special creations you can't miss.
The quick freshness of Smoked Tomato Tart Jelly will be delivered to your table, a nice complimentary as a palate cleanser that can be enjoyed between meals if needed. In a sight that is so apparently pleasing and attractive, the fresh jelly is rightfully clear food residue lingered allowing us to more accurately assess a new flavor.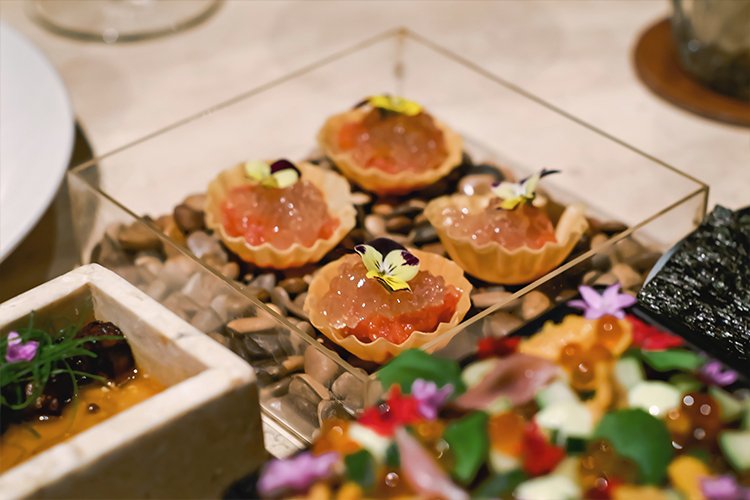 To start, the generous-plated Charcuterie Platter might be the first deli you should try. Served with assorted homemade breads and crackers, the platter is abundantly catered ranging from mortadella, iberico chorizo, jamon iberico, and coppa leoncini, plus pistachio, mint, manchego custard, green olives, confit pepper gel, and blood vein sorrel creating juxtaposed flavors that are nicely balanced in each bite.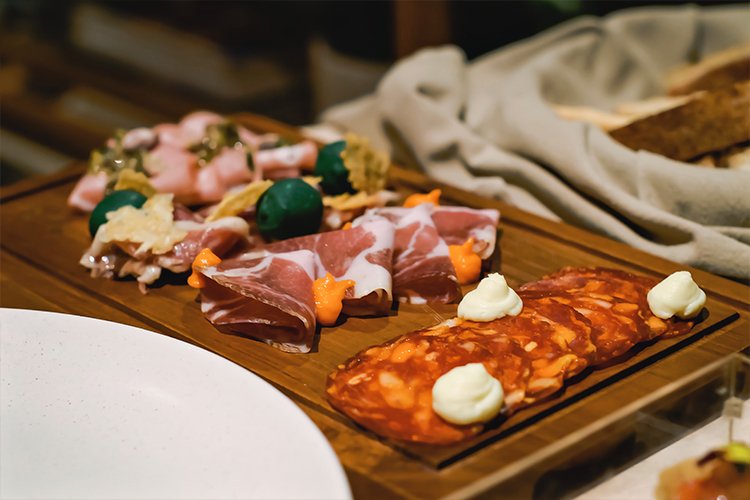 Believe us, Kilo Jakarta's food is very scrumptious. A lot of its magnetism and the quality that make it worth returning to comes from the combination of preparation, details, ingredients, and the modest presentation from the skillful team of chef in the kitchen.
Salmon Tuturuga is one of the finest examples to indulge in. Filling a large bowl with a big chunk of salmon that is so crusty outside and tender interior, it's perfectly constructed to maintain their integrity against the weight of the savory and thick creamy from Manadonese-style curry topped with corn quinoa urap. This could easily stand for a main.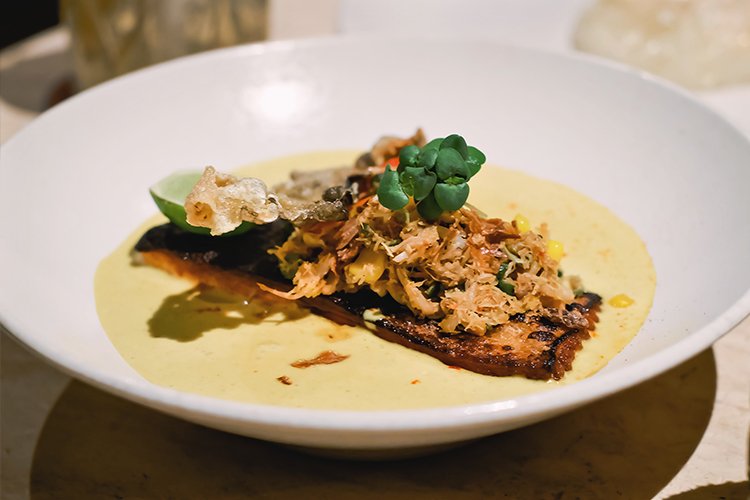 The Black & White Prawn Ravioli is wonderfully comforting, served with lovely fresh ravioli stuffed with fresh prawns closely resembling a nicely-plated formation on the plate. It gets richer with a touch of sake butter sauce, and the addition of arugula, parmesan, and foam.  What a delightful interpretation demonstrates that simplicity is important but each bite makes you always keep coming back.
When flipping the menu, you'll notice there's a special section titled 'Chef Creations by Chef Jethro Vincent' listed by a series of tantalizing menu showcasing Chef Jethro Vincent's real showpieces that actually deliver both on their appearance and taste.
Truffle Cauliflower Éclair makes it one big eclair filled with cauliflower puree and doused with triple cheese sauce. Then it is topped with a generous amount of grated fresh truffle that will come together as a solid dish you won't forget. Foie Gras Chawan Mushi is terrific! It's plated inside as pretty as a quaint marble box, bursting with titular chawan mushi, foie gras, smoked eel, and dashi.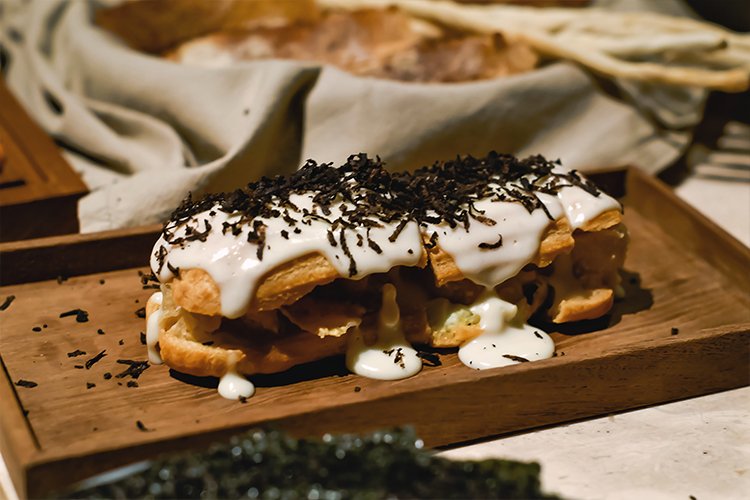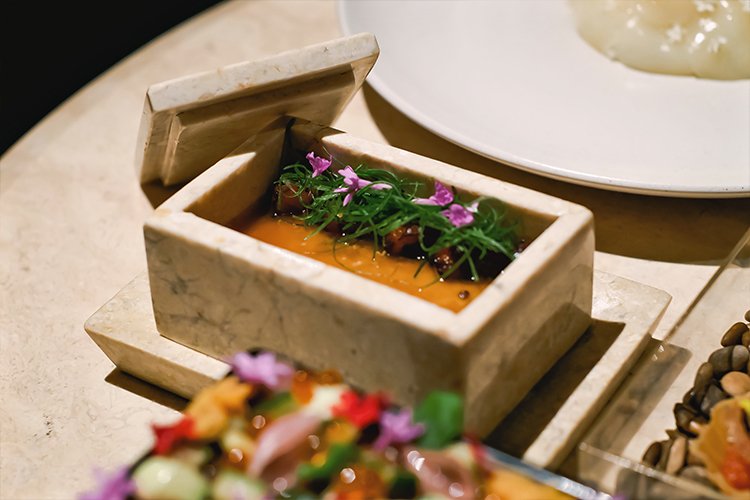 Hokkaido Scallop, with snow crab, seasoned sushi rice, chili tofu crema, and truffle yuzu got us ever closer to wide acceptance of the word "white and bland". The dome-shaped scallop looks just like it is, white and bland with no personality. However, they prove us wrong once they poured the truffle yuzu creating an intricate and satisfying dish. The combination of the fresh scallop, shredded sweet snow crab, and sushi rice is refined with the exact amount of sweetness and punch from the truffle yuzu.
For a Japanese influence, Chirashi Don is admirably prepared to perfection. It's vibrant, colorful, exquisite, and fun to eat. Take a huge dollop of the chirashi, and spread it on the nori. The whole decadent is light and crisp until the union of wagyu beef tartare, uni, wasabi mayo, and fresh sushi rice inside are standing out to the spritely down to the last bite.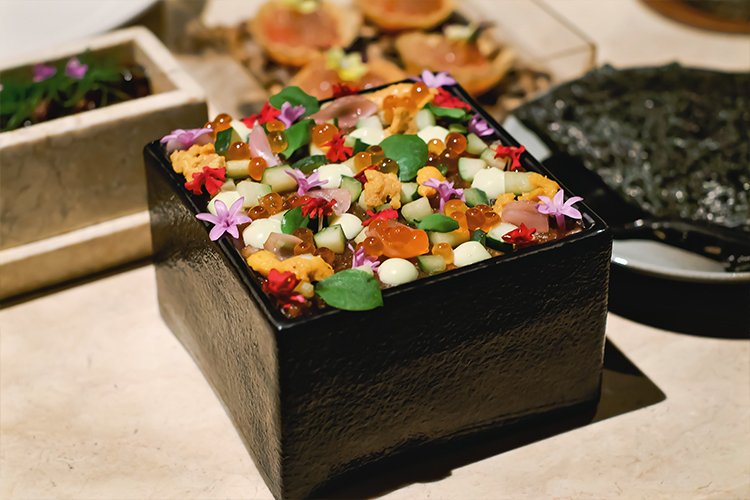 Kilo Jakarta just happens to do seafood particularly well, a great destination for those who have particular addition to well-curated high-end seafood. Close to the bar, there's a line of fresh seafood bar that showcases the freshest catch they can get daily. Items like fresh oysters from Japan and Lombok, rock lobster from Lombok, barramundi, Alaskan king crab, and many others can be ordered. Prices are subjected to the gram weight.
One increasingly exquisite dish to try is Octopus A la Plancha. The crusty exterior, which is nori crackers on top shattering and blending with the tender octopus mixed with savory potato puree, capsicum chimichurri, and ink mayo, showcasing the dish with attitude and flair.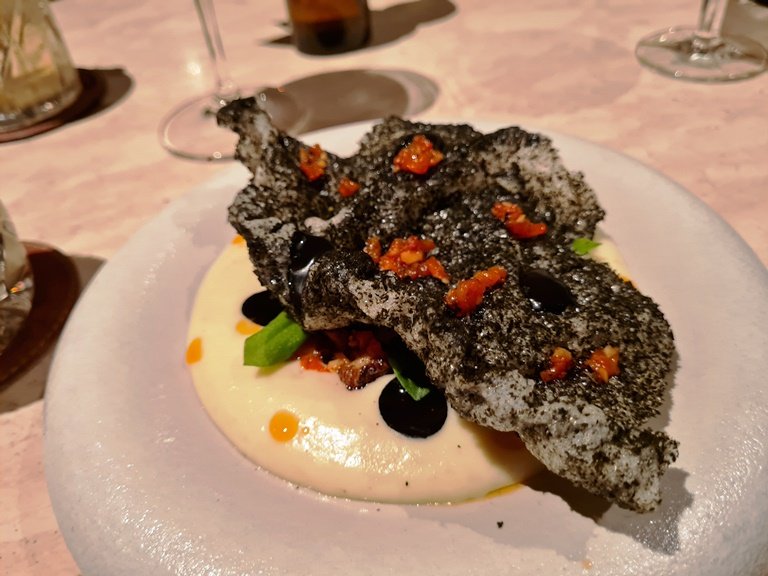 Aside from the tempting seafood bar, there's a dry aging chiller where you can obtain the top and prime dry-aged beef that can be prepared well over the desired doneness. The options are Australian Black Tyde Wagyu, Australian Full Blood Wagyu, Miyazaki A5 Wagyu, Tomahawk, and USDA Prime from 30 to 45 Day Dry-Aged are also available.
One dessert, Passion Fruit looks monochromatic like a balanced tone of Yin & Yang. A huge capsule-shaped ice cream sits on a pool of black shaved coconut sands. Once, the magic happens, by the magic we mean the server dropping another egg-shaped pebble directly on the plate. The yellow color of passion fruit and mango swirled beyond the plate turning into one wonderful sum fulfilling dessert for your sweet ending.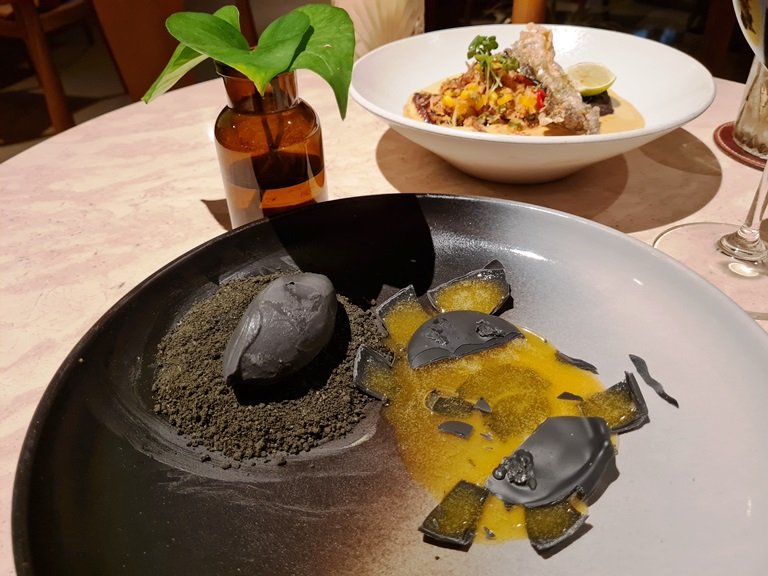 Fans of the grape can head to Kilo Jakarta's wine bodega near the bar. A wide range of the finest wines can be found ranging from red wines, white wines, champagnes, and even organic wines from premium brand wines. The price starts from IDR 500,000 and it's a perfect way to inspire your own squads over a great feast.
If you're more into dynamic concoctions to end your bustling night, Head Mixologist Haris Mahendra has vast choices to offer. The cocktail menu illustrates some of the classics and signatures.
Clear Colada mixed from pineapple rum stirred with coconut water, clear lime, and smoke agave, served with toasted coconut foam really takes you to the tropical setting. Its freshness is clearly apparent. Pandan Martini made from gin sous-vide with pandan leaf shaken with fresh lime juice, pandan syrup, and lychee juice tastes sublime. A slight hint of pandan fruit is surprisingly pleasant.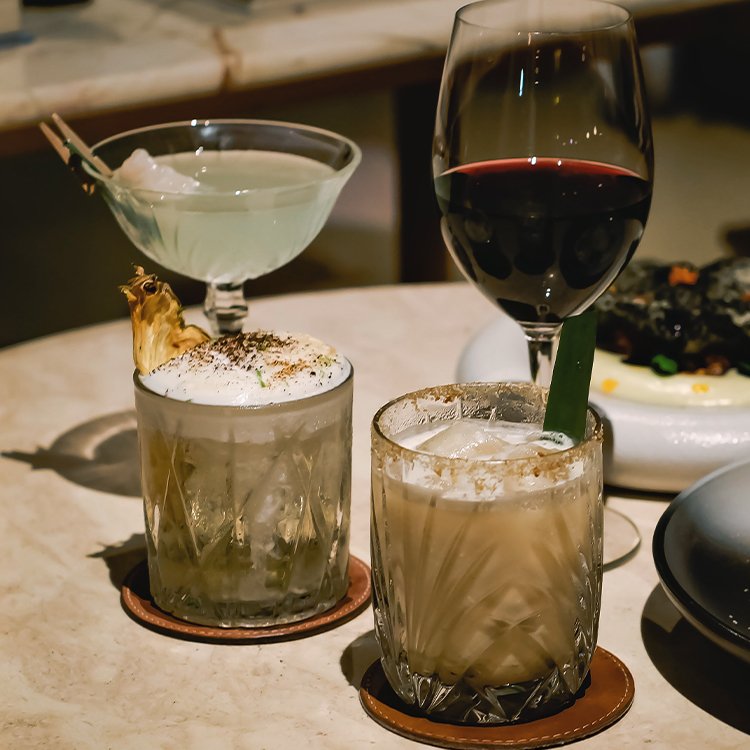 For a traditional approach, Ice Kacang Ijo can be your ideal option. The spiced rum is mixed with dark rum and shaken with mung bean powder, brown sugar, coconut, pandan milk, and ginger. The concoction is very well-executed, hovering around mung bean taste but totally unpretentious and comfortable.
Kilo Jakarta
Jl. Gunawarman No. 16, Jakarta Selata 12110
Phone: +6281299752522
Open: 05:00 PM to 12:00 AM (Sunday to Thursday), 05:00 PM to 01:00 AM (Friday to Saturday)
Instagram: @kilo_jakarta
https://kilo-collective.com/en/