When you're at InterContinental Jakarta Pondok Indah, every day is a day for a new experience. Right at the grandeur lobby area of the hotel, you will soon notice The Lounge where it becomes the ideal place to meet clients or spend time with friends. The Lounge pays homage to the quality and variety of coffee and tea produced in Indonesia, featuring an array of single-origin coffees and delectable teas from around this sprawling archipelago.
Afternoon Tea that features some edible arts can be taken at The Lounge every day of the week, and throughout the day guests can enjoy a variety of local and international snacks and meals. The Lounge is also a popular spot in the evening as guests enjoy a selection of, cocktails, craft beers, wines & champagnes while enjoying the live entertainment.
When it comes to creating a special concoction, InterContinental Jakarta Pondok Indah certainly has it in the bag. At its best, The Lounge has prepared special well-crafted cocktails, mocktails, and coffees by the handful of talented mixologist and barista making The Lounge the best drinking spot and a destination for quick leisure in their own right.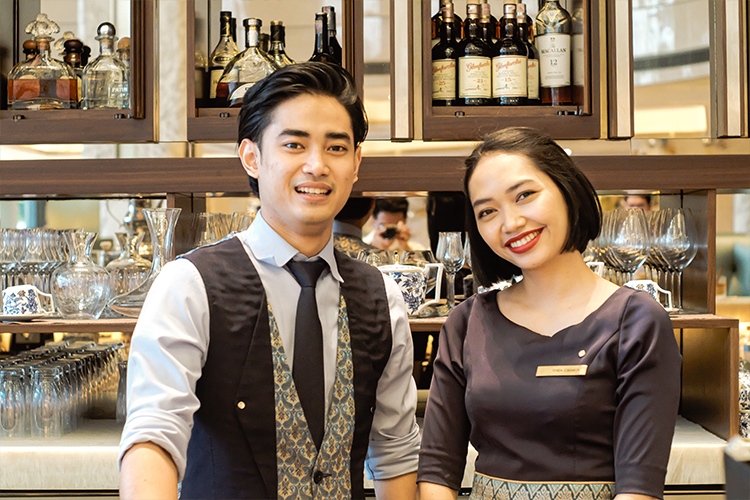 Bill Wismoyo and Thea Cahaya
Starting with the cocktails and the mocktails. Bill Wismoyo, Mixologist of InterContinental Jakarta Pondok Indah created a series of drinks that are inspired by the elegant and fashionable figures in the past. As the hotel leading up to the Jakarta Fashion Week event, these limited concoctions really fit the occasion and exude elegance for fashionistas.
First is Genova, which is inspired by the Genoese province in Italy which pioneered jeans in the 1500s, this stylish drink is rich in texture and excellent in quality. "This cocktail is also sustainable, made from the rest of the premixed cocktail itself using the petrified punch method which in turn resembles leather and looks like denim for the top garnish," added Bill.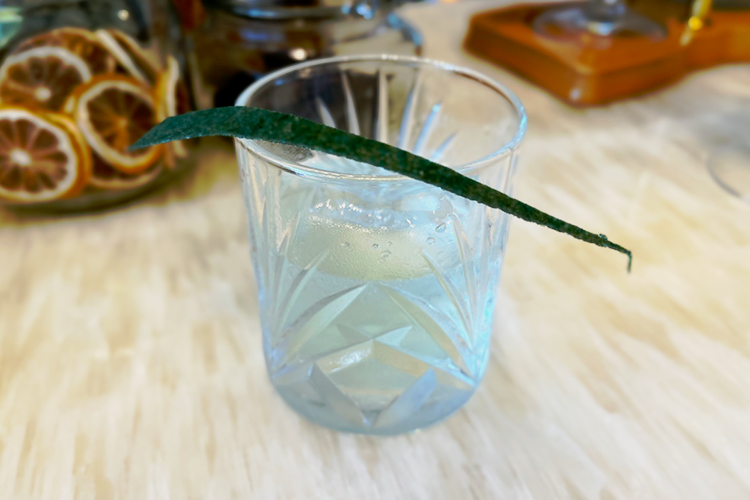 Genova
The Empress will leave you mesmerized. With a bright and clear salmon color, this cocktail is the liquid form of a famous fashionable royalty. Sip it and savor the elegant taste of contemporary fashion. This is made of gin, champagne, red berry compote, and, lemon. The name behind The Empress is inspired by the queen in France who was an influencer in the fashion world at that time. Eugénie de Montijo, the wife of Napoleon III, the last monarch to rule over France was known for her penchant for high fashion as well as her vigorous advocacy for equality for women.
The third one is Marie Vernet, where you can sip and have a taste of what it felt like to be the first woman to model a fashion design. All supermodels in the world owe their stardom to Marie "Augustine" Vernet who was known as the first-ever fashion model. "If you look at old photos of Marie Vernet, she's more famous for her signature silhouette, so this Marie Vernet cocktail is also served in a cocktail glass with the same silhouette. As a dessert cocktail that tastes like black forest, you can taste a bit of sour cherry and dark chocolate," stated Bill.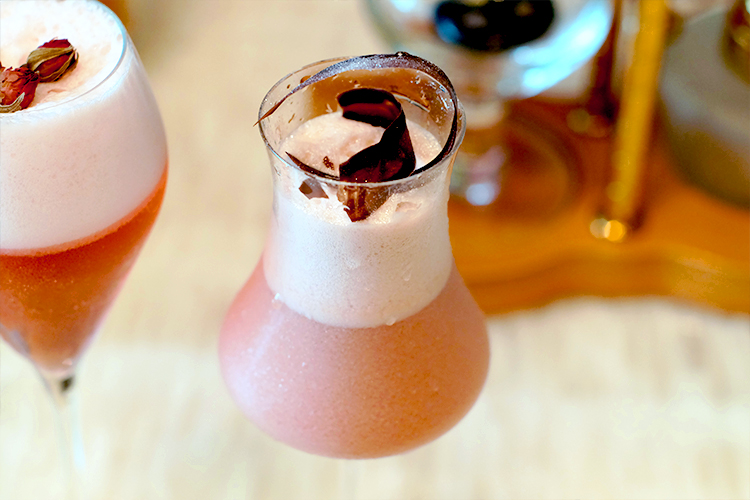 Not only cocktails, Bill Ismoyo has also crafted special mocktails. This series of mocktails were once served during Biyan's Spring Summer 2023 Collection Fashion Show. Now loyal patrons can enjoy the exclusive mocktails like Kolase Keanggunan (lychee, rose water, lemon), London Haze (lemon-lime soda, tangerine, and pineapple foam), and From Firenze to Surabaya (blackberry, mint, Moroccan tea, lemon) at The Lobby.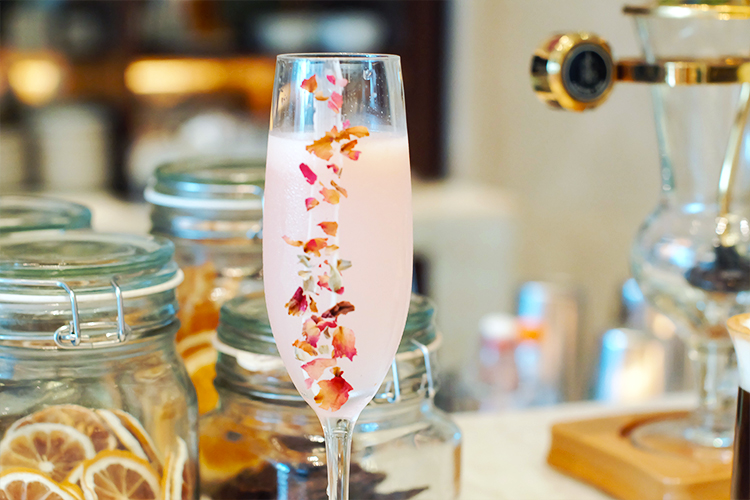 Kolase Keanggunan
For the coffee, Thea Cahaya, Lady Barista of InterContinental Jakarta Pondok Indah has created exclusive coffee creations that will take you on an unforgettable coffee journey. Java Expressino for instance is inspired by a legendary energy drink hailing from the highlands of West Java called Bajigur. "This rejuvenating drink perfectly combines the best properties of two magical plants, coffee and coconut. There are also cream and a hint of burnt cinnamon to give an earthy tone to the palate," added Thea.
For a perfect little kick of coffee, A Gentle Irish can be your savior. This becomes a lite version of potent Irish Coffee, you can call it without Irish Whiskey imbued. This drink packs less of a punch but still delivers enough caffeine goodness to satisfy your thirst for a strong coffee. "Here, you will feel a slightly foamy sensation and the floater on top that create a body of coffee that is delicious to sip," said Thea.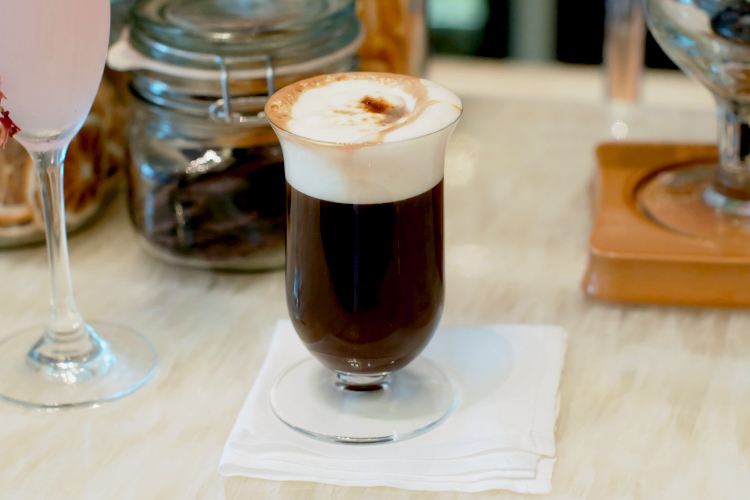 While you're lounging here, you just can't miss the taste of exquisite Madame Rose. It offers a delicious iced coffee imbued with the magical properties of roses. It is a coffee drink that is both refreshing and beautiful at the same time. Sprinkled with healing dried rose petals on top, this singular coffee drink is indubitably a great way to start your productive week. "This drink is inspired by the very icon of true beauty herself, Queen Cleopatra of the magical Egypt," stated Thea.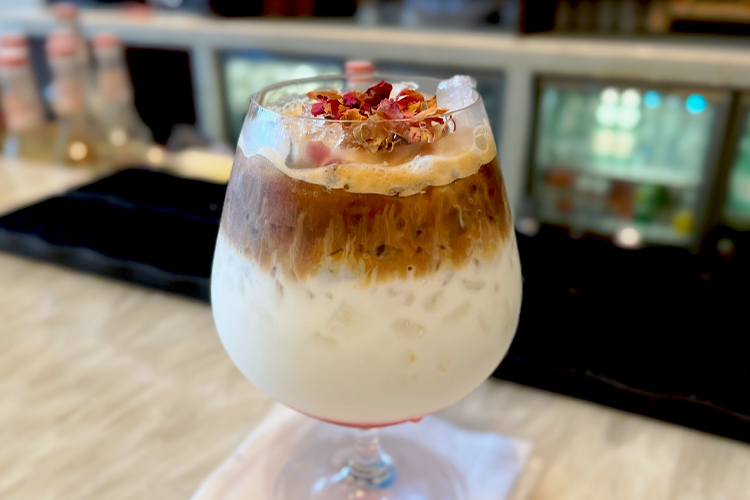 Madam Rose
These well-crafted cocktails, mocktails, and coffees are available only at The Lounge, InterContinental Jakarta Pondok Indah from 10:00 PM to 09:00 PM. Let's be a part of Jakarta's latest stylish hub for those with truly impeccable fashion sense.
The Lounge, at InterContinental Jakarta Pondok Indah
Jl. Metro Pondok Indah Kav. IV TA, Jakarta 12310 Indonesia
Phone: +62 21 3950 7355
Instagram: @intercontinentaljakarta
Website