If you want to have a different dining experience, you can try a Live Teppanyaki, where you can watch the chef cook on a metal plate and immediately eat the freshly cooked menu. This experience is even more exciting with the Chef's attraction to juggling spatulas and eggs, fire shows, and other exciting attractions while cooking to enliven the atmosphere.
Good news, you can enjoy this whole experience at Maison Tatsuya Pakubuwono, which just opened on October 13, 2022. The opening of the new Maison Tatsuya Pakubuwono outlet completes a row of other Maison Tatsuya outlets located in Kebon Sirih, Gatot Subroto, Central Park Mall and Aeon Mall BSD.
Maison Tatsuya Pakubuwono is located at Jl Pakubuwono VI no 2, South Jakarta, right next to Penang Bistro Pakubuwono. For its outlet in Pakubuwono, Maison Tatsuya features the facade of a Japanese House with a light-colored wooden grid.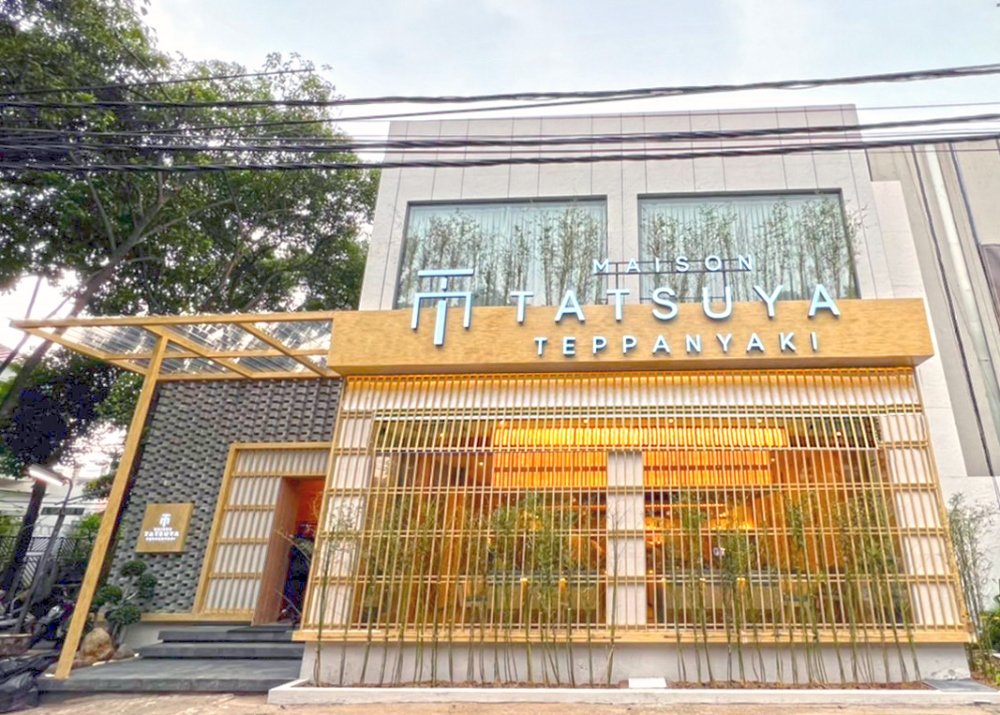 Upon entering the outlet, you will be greeted by 4 large teppanyaki tables in the main dining area with a total capacity of up to 30 people. The room feels fresh with the large windows that allow sunlight to enter the room. While ordering the menu, you can hear the sound of metal spatulas colliding, the hiss of food on the hotplate, and the excitement of visitors when they see Chef's action. For those of you who want a private setting, Maison Tatsuya also provides a private room with a capacity of 8 people with views of the Japanese garden.
Maison Tatsuya serves 8 choices of teppanyaki set menus, including chicken, seafood, AUS Sirloin, AUS Ribeye, US Prime Striploin, Wagyu Ribeye, Wagyu Tenderloin or Wagyu Sirloin; which comes with tofu, vegetables, salmon, shrimp, yakimeshi and miso soup. Apart from this Teppanyaki set, visitors can also order an a la carte menu as an additional menu, such as the seasonal Lobster menu that is currently being presented. All materials used are selected quality ingredients.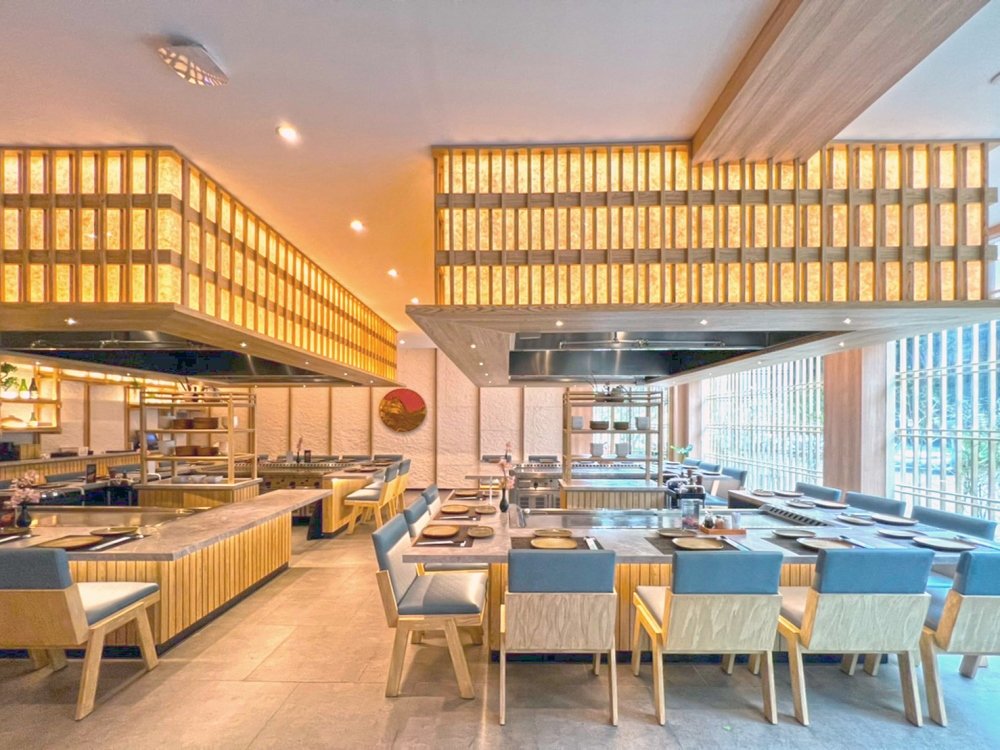 After selecting the set menu, the Teppanyaki Chef will start cooking one by one ingredient starting with tofu, vegetables, seafood, chicken or meat, and yakimeshi. Each time the ingredients are cooked, you can immediately taste them while watching the Chef cook the next ingredients, accompanied by a variety of choices of Maison Tatsuya Specialty Drink, juice, beer or Sake. You can enjoy Teppanyaki menus with 3 Maison Tatsuya sauces, namely goma tare sauce for vegetables, reddish sauce for seafood, and brown sauce for beef.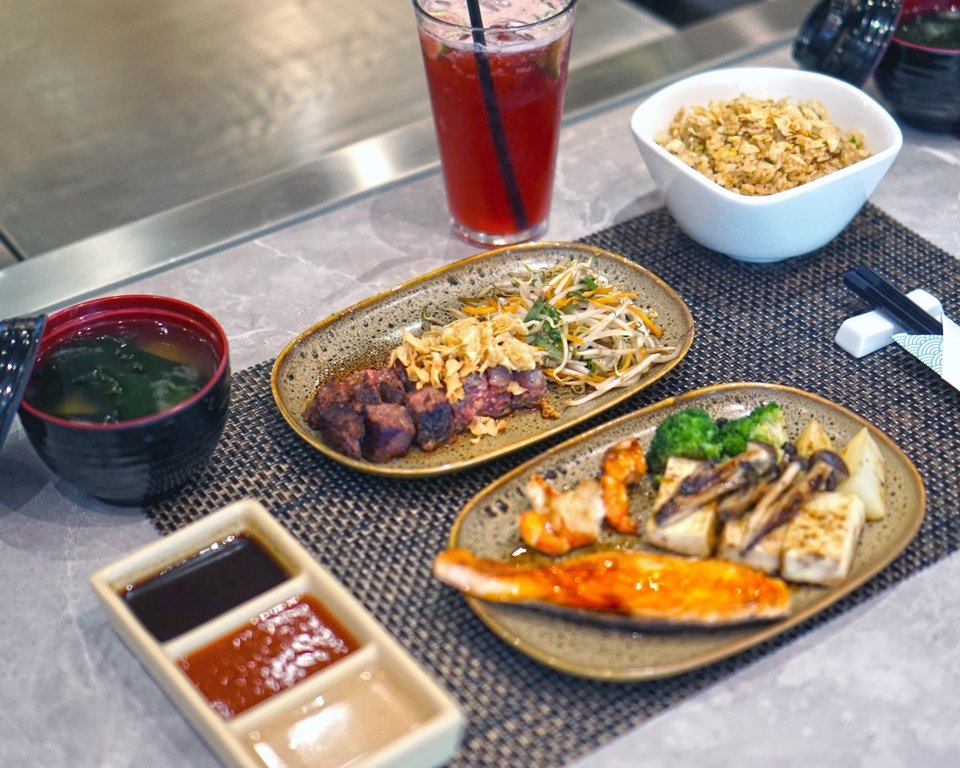 Don't forget to prepare your camera to record Chef's attractions, from juggling the spatula, to throwing eggs, and the fire show. In addition, you can also try cooking Teppanyaki or take a photo in the style of Chef Teppanyaki with yakimeshi that has been made into a picture. Immediately upload a video of your experience at Maison Tatsuya to your Instagram or Tiktok reels, because you will get free Banana Flambe by showing your post.
Besides Banana Flambe, Maison Tatsuya also provides various other desserts, such as Baked Apple Crumble, Matcha Creme Brulee, Choco Lava, Matcha Ice Cream with Red Bean, and Milk Pudding with Coffee Sauce.
On this special occasion, Maison Tatsuya held a special promo discount of up to 30% using Mandiri Credit Cards, BNI Cards, BRI Cards, and BTN Visa Debit Cards until December 15, 2022.
Jl Pakubuwono VI no 2, Jakarta 12120
Phone: +62821-3800-0869
Instagram: @maisontatsuya
https://www.arenacorp.com/maison-tatsuya