There is nothing like the warm and loving atmosphere of Ramadan. In honor of the Holy Month, Luxury Hotel The Ritz-Carlton Jakarta, Pacific Place invites its Guests to experience a variety of special offerings designed to elevate the divine moment. Guests may delight in the exquisite Iftar Buffet Dining at PA.SO.LA Restaurant, share love with Ramadan Hampers Collections, and spend quality time with family with Ramadan Staycation and Wellness Packages.
IFTAR BUFFET AT PA.SO.LA RESTAURANT
Every year, Ramadan brings a sense of renewal, reflection, and togetherness. To commemorate this momentous occasion, PA.SO.LA Restaurant is ready to serve an extensive array of Iftar Buffet spreads, featuring sumptuous Indonesian and Middle Eastern delicacies throughout the month. 
Authentic Egyptian cuisine will be brought exclusively to the Hotel by two passionate chefs from The Nile Ritz-Carlton, Cairo. They will be present at the Restaurant serving their signature dishes from 23 March – 23 April 2023. 
The Executive Chef of The Ritz-Carlton Jakarta, Pacific Place, Willmer Colmenares and PA.SO.LA Culinary Team will also prepare a thematic Middle Eastern and Indonesian cuisine. Guests may break the fast with Short Ribs Maranggi, Nasi Liwet, Pepes Barramundi, as well as Pita Bread, Kibbeh and Falafel, Baklava, Mahalabia and Basbousa North African Chicken Tagine, Roasted Lamb shoulder with Saffron Rice, and sweet treats from Egypt.
The Iftar Buffet at PA.SO.LA Restaurant will be available for the whole month of Ramadan, starting at IDR 518,000++/persons. To begin the Iftar dining experience, each Guest will receive a selection of Tea, Coffee, and Ta'jil.
Guests can find more information on Instagram @pasolajakarta and make reservations by contacting (021) 2550 1993.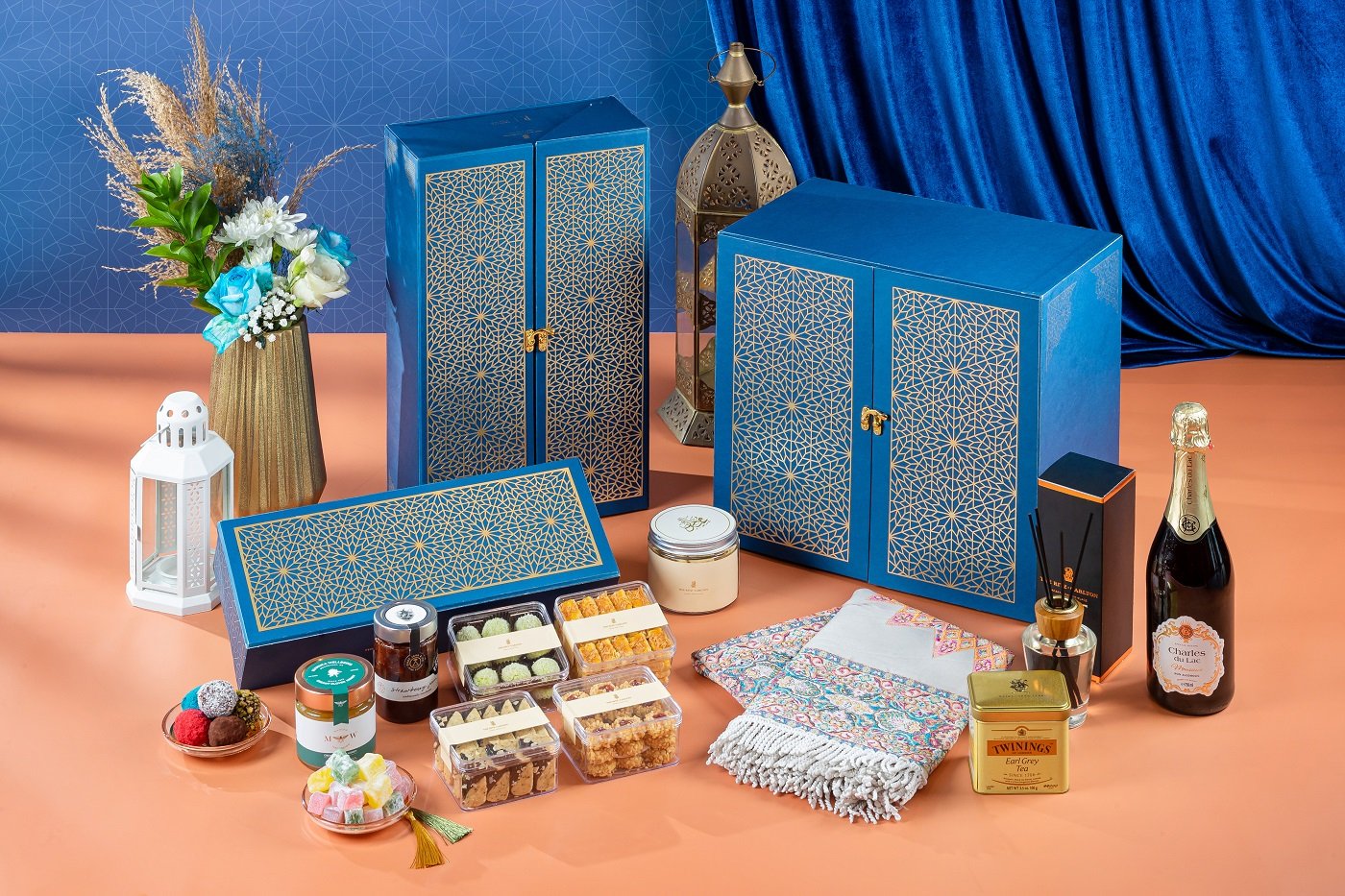 RAMADAN HAMPERS COLLECTION
Sharing love and blessings with friends and family is a wonderful tradition during Ramadan. This year, The Ritz-Carlton Jakarta, Pacific Place collaborates with Prolite Design to create special hamper boxes, which will add a touch of happiness to Ramadan. 
These stunning hampers contain an assortment of artisanal cookies, sparkling juices, premium tea collections, and a traveling prayer mat, starting at IDR 888,000+. To create the most thoughtful gifts, Guests can also personalize the hampers with their own-curated products. The Ladies and Gentlemen of The Ritz-Carlton Jakarta, Pacific Place will assist the Guests with their requests. 
RAMADAN STAYCATION
For a memorable Ramadan with family, Guests are welcomed to stay in one of the country's most luxurious accommodations. Highly regarded for its impeccable service throughout Asia-Pacific, The Ritz-Carlton Jakarta, Pacific Place presents Ramadan Staycation in the Residences, inclusive of Iftar Buffet at PA.SO.LA Restaurant and Sahoor for 2 (two) persons to complete the memorable experience. 
Located in Sudirman Central Business District (SCBD), The Ritz-Carlton Jakarta, Pacific Place offers direct access to Pacific Place Mall where Guests can find a variety of family activities. The Residences are available in 1 bedroom, 2 bedroom and 3 bedroom units, which can accommodate a family of two, four, to six people in one unit. Equipped with a spacious living room, private kitchen, and balcony, the accommodation creates the ideal space for families to enjoy their intimate quality time in the joyous season.
For reservations and more information, Guests can visit www.ritzcarltonpacificplace.com. 
A GLOWING EID 
The Ritz-Carlton SPA Jakarta, Pacific Place offers Thesera treatments to help guests celebrate Eid with glowing skin. Guests can expect youthful, rejuvenated skin and a radiant glow on the visage from this facial treatment. The rejuvenating and regenerating treatments follow the TDN Cell Lifting Technology and Water Channel 4Way System that respectively lift and moisturize the skin. 
'Thesera L' treatment is the total solution for lifting and minimizing the appearance of wrinkles. THESERA Research team has developed a revolutionary, non-surgical lifting kit containing melting thread combined with TDN Cell Lifting Technology. Beneficial technology is also to be found in the 'Thesera H' that deeply moisturizes, strengthens the skin's water barrier, and improves skin texture and complexion for that extra youthful glow. The Thesera Treatments starting from IDR 1,300,000 net. 
The Ritz-Carlton Jakarta, Pacific Place 
Sudirman Central Business District (SCBD)
Jl. Jend. Sudirman Kav. 52 – 53
Jakarta 12190
Phone   : +62 21 2550 1888
Fax       : +62 21 2550 1995
Web      : www.ritzcarltonpacificplace.com id.ritzcarltonpacificplace.co