Warm, inviting ambiance, cherished moments with family and friends, and delicious  food are some of the things that come to mind when celebrating Ramadan. It is when every  meal means more delightful, each connection is more meaningful, and all hearts are warmer  through togetherness. To honor the Holy Month of Ramadan, Fairmont Jakarta welcomes guests to share exquisite dining experiences to break the fast in the heart of the city.  
"Fairmont Jakarta has prepared an array of extraordinary gastronomy experiences to  suit all tastes for breakfasting with loved ones and celebrating Ramadan this year. For  Indonesian food lovers, special delicacies by culinary experts, Sisca Soewitomo at 1945  Restaurant are ready to pamper your taste buds. Meanwhile, for those who want to explore  flavours of the world, especially Middle Eastern dishes, a diverse menus selection will be  available at Spectrum Restaurant," said Malinda Yasmin, Director of Marketing and  Communications at Fairmont Jakarta.  
KAMPOENG RAMADAN WITH SISCA SOEWITOMO 
Authentic Indonesia meets Fairmont finesse would describe the offering at 1945 Restaurant.  This Ramadan, Indonesian culinary legend Sisca Soewitomo returns to 1945 Restaurant to work  alongside the restaurant's Sous Chef, Vicko Hadisatrya in presenting exclusive Ramadan buffet. Ibu Sisca has released more than 150 Indonesian recipe books, and has been actively involved  in educating and promoting Indonesian gastronomy. The public has given her a title as the Queen of Indonesian Gastronomy.
"Indonesian cuisine is very diverse, full of colors and flavours. Since I was a little girl, I have loved  breaking the fast with Angsle -the traditional dish from Malang. It brings warmth and has various  flavors and textures in one bowl. The warm ginger coconut broth is combined with other  delicious elements such as sticky rice, mung bean, sago pearls, slices of bread, and topped with  crunchy peanuts - so delicious," said Ibu Sisca. 
This Ramadan, 1945 Restaurant's Buffet will take the taste buds for a ride venturing back to the  classic times – featuring numerous live cooking stations. Ibu Sisca explained, "Chef Vicko and I  have prepared a range of Indonesian specialties that will bring guests to relish in the elements  of nostalgia with a tasteful spread of dishes from their hometown. And most importantly, all the  food served is Halal because 1945 Restaurant has received Halal certification from the LPPOM  MUI". 
Amongst the wonderful buffet spread and live cooking stations, Ibu Sisca will have her own "Nasi  Campur" section, capturing the most flavorful dishes of the all-time favorite authentic  Indonesian delicacies. Nasi Campur by Ibu Sisca consists of a variety of aromatic rice such as Nasi  Kunyit (Turmeric), Nasi Mentega (Butter), and Nasi Jeruk (Lime and Orange), and complemented  by seven side dishes such as Sautéed Winged Beans, Beef Tongue with Soy Sauce, Duck in  Madura style, Squid in black sauce, Terik Daging Sapi, and various sambal selections. The buffet  also feature carving station, grilled seafood, succulent satay, noodles and soups, cold salads,  fritters, and wonderful dessert selection and takjil.  
For guests seeking a more private dining experience, the restaurant features a range of private  dining rooms that accommodate 6 to 30 people.  
The Iftar Buffet at 1945 Restaurant is available daily and priced from IDR 550,000++ per person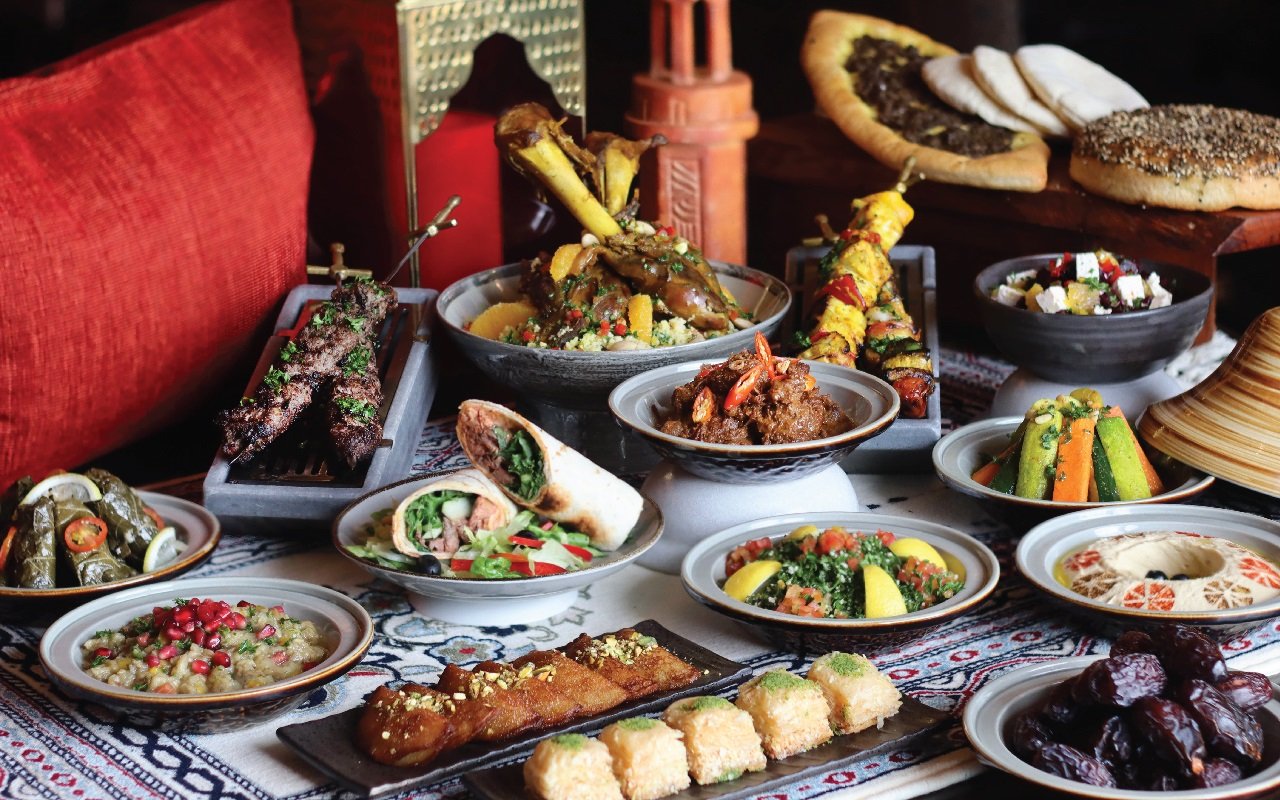 A ROYAL IFTAR BUFFET  
Iftar is served within a transformed Arabian haven at Spectrum Restaurant. An inspired band playing classic hymns and a fantastic selection of Arabic and international dishes are set to impress guests. With a rotating menu of mouthwatering global cuisine each week, Spectrum will highlight unique flavors from different countries including Lebanon, Saudi  
Arabia, Morocco, and Egypt. 
Guests can break their fast with a wide range of delicious iftar offerings spanning from Arabian  culinary richness with classics such as Chicken Mandi and Saffron Rice, a live handmade kebab,  and a shawarma station with a range of hot and cold mezze. An array of live cooking stations,  including a grill corner offering premium meat selection from steak and satay to seafood  delights, are available. International favorites include sushi and sashimi, Italian and Chinese  station, fresh seafood, and more. Dessert lovers can delight in Turkish ice cream, Baklava, and  other heavenly treats.  
The Iftar buffet is available daily from 6 pm to 10 pm and priced from IDR 528,000++ per person.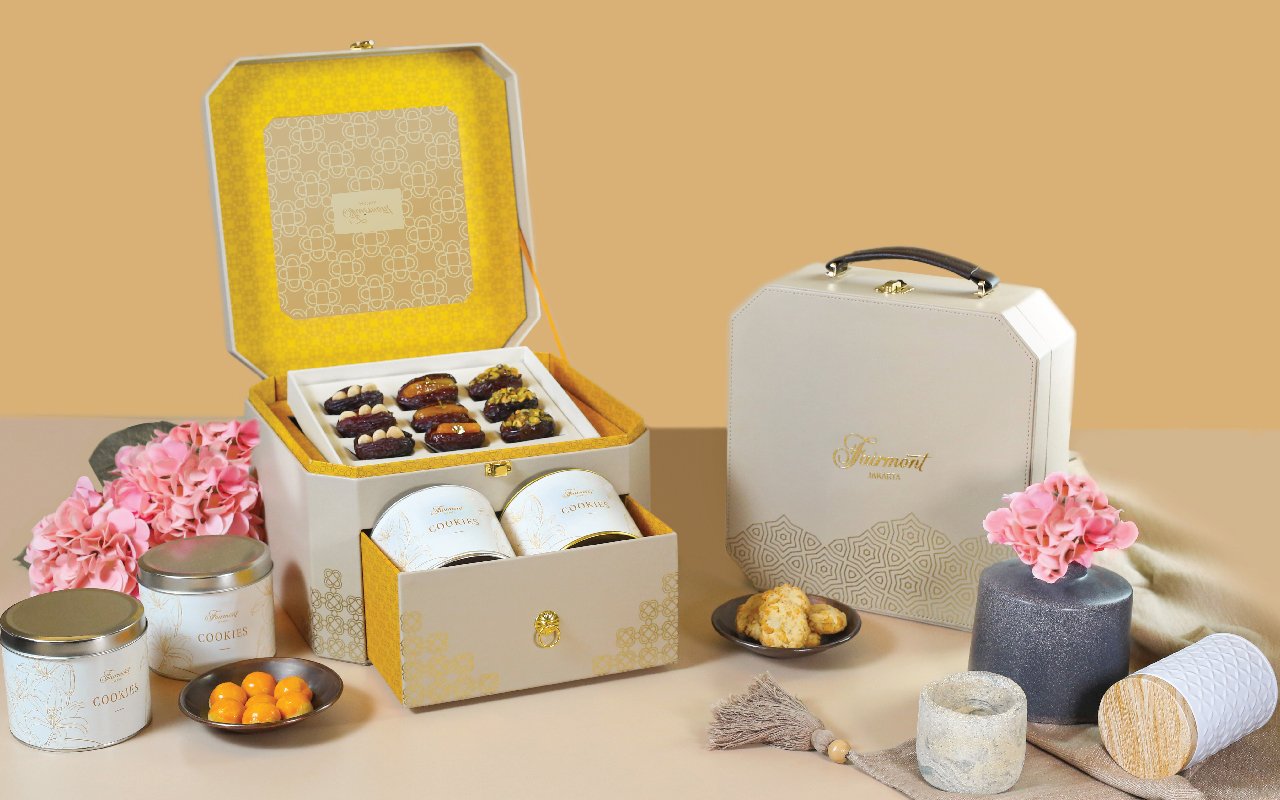 THE PERFECT RAMADAN GIFT  
Fairmont Jakarta has prepared elegant and meticulously craft hampers to share the joy of Ramadan with family and  business associates. The Ramadan hampers come in two options. The Iconic Ramadan Hamper includes four selections of all-time favorite Lebaran cookies like Nastar, Kastangles, Putri Salju, and Spiced Cashew Nuts, priced at IDR 888,000++. 
Meanwhile, the Signature Ramadan Hamper includes four Lebaran cookies, and a box of premium almond-stuffed Medjool dates. The Premium hamper is priced at IDR 1,688,000++. 
Guests can take advantage of a 20% discount when placing an order before 21 March 2023.  
For more information or reservations on Fairmont Jakarta Ramadan offer, please visit  https://www.fairmont.com/jakarta/dining/ramadan-at-fairmont-jakarta/ or chat WhatsApp at 0815-9159-247 or email [email protected].  
Fairmont Jakarta
Jl. Asia Afrika No. 8, Jakarta Pusat
Indonesia 10270
T + 62 21 2970 3333
fairmont.com