Four Seasons Hotel Jakarta welcomes Ramadan with curated offerings all through Holy Month. Reconnect with loved ones over warm celebrations, traditional cuisine and memorable stays at this glamorous urban retreat; situated in the heart of Indonesia's vibrant capital. A thoughtful selection of hampers and celebration cakes showcases the finest flavours of La Patisserie for gifting.
"The sacred month of Ramadan to us is a time for contemplation and gratitude, a time to strengthen our bonds with those who are nearest and dearest," says General Manager Simon Barnett. "Gather with family and friends for our joyful festivities, inspired by Indonesia's rich heritage and infused with the timeless warmth of Four Seasons."
Iftar Buffet at Palm Court
Guests are invited to break their fast with a superb Iftar buffet at Palm Court restaurant, decorated in resplendent blue and gold. Begin at the special Ta'jil Corner, featuring break-fasting favourites such as Dates, Kurma, Indonesian Kolak and Banana Fritters, followed by a sensational array of appetizers, mezze and main courses.
Crafted by a trio of local talents, Chefs Tri Priyanto, Asep Hamdani and Darius Tjahja have created this Ramadan feast filled with beloved Indonesian flavours. Must-try specialties include Grilled Chicken with Lemongrass and limau, South Minang Style Braised Beef with Indonesian Spices and Herbs, and Pan Seared Turmeric Marinated Fish with Roro Jongrang Sauce.
Watch Four Seasons chefs in action at the live-cooking counters, offering freshly made delights such as Lamb Shawarma, Mie Ayam with Meatballs, and Roti Cane. The dessert selection brings the night to a perfect sweet finish, with indulgences such as Es Dawet Ayu, Mini Pisang Ijo, and Mango Sago with Vanilla Gelato.
March 23 to April 21, 2023
5:30 to 9:30 pm
IDR 580,000 net per adult, IDR 290,000 net per child
Ramadan Hampers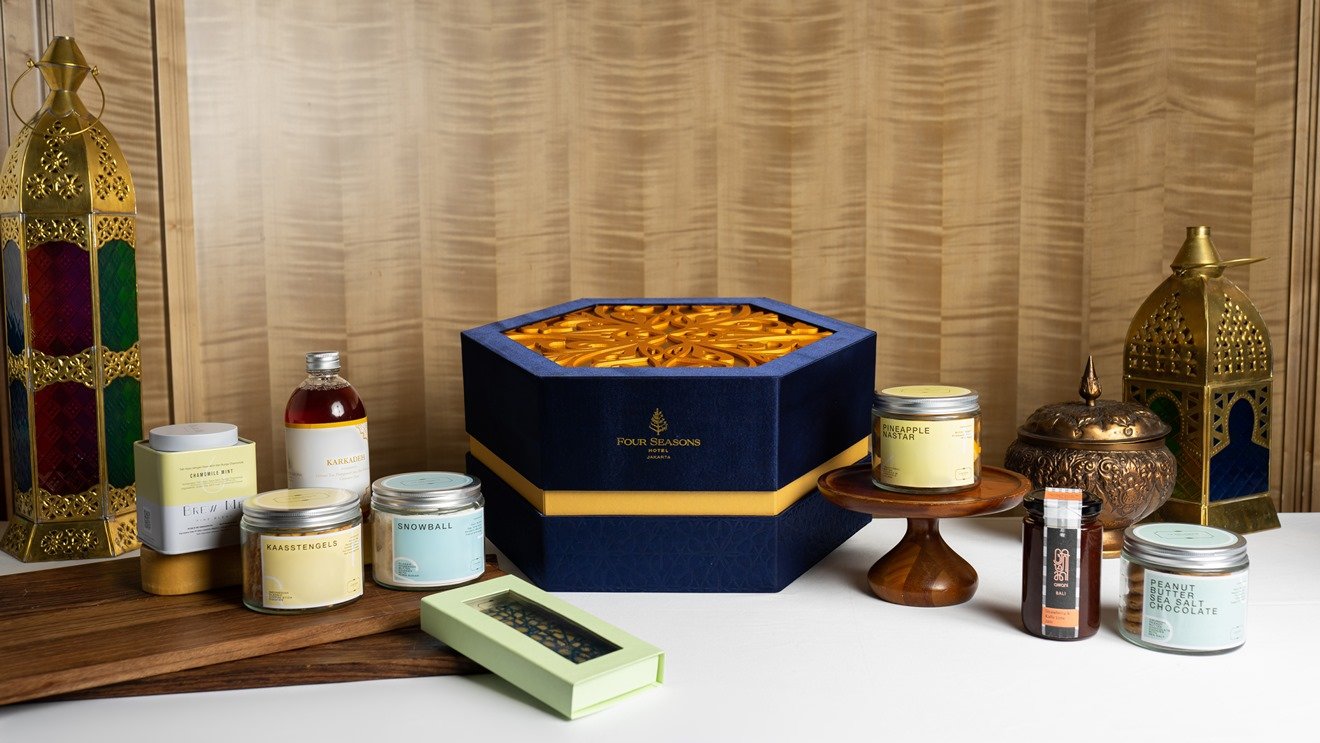 Beautifully packaged in a royal blue box, each Four Seasons hamper includes a curation of delectable treats and artisanal products. Convey heartfelt appreciation for close family, dear friends and valued business partners with these meaningful gifts.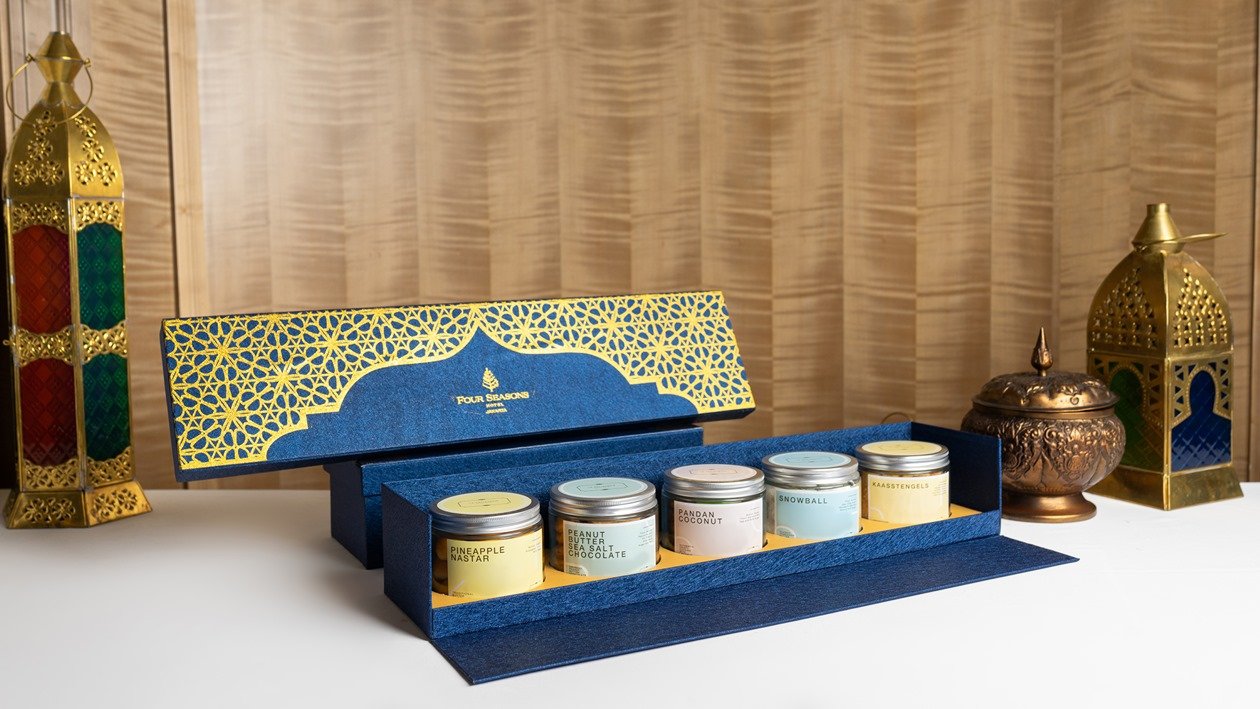 Cookie Hampers
Sa'id – 3 jars of assorted cookies; IDR 470,000++
Mabrook – 5 jars of assorted cookies; IDR 680,000++
Gift Hampers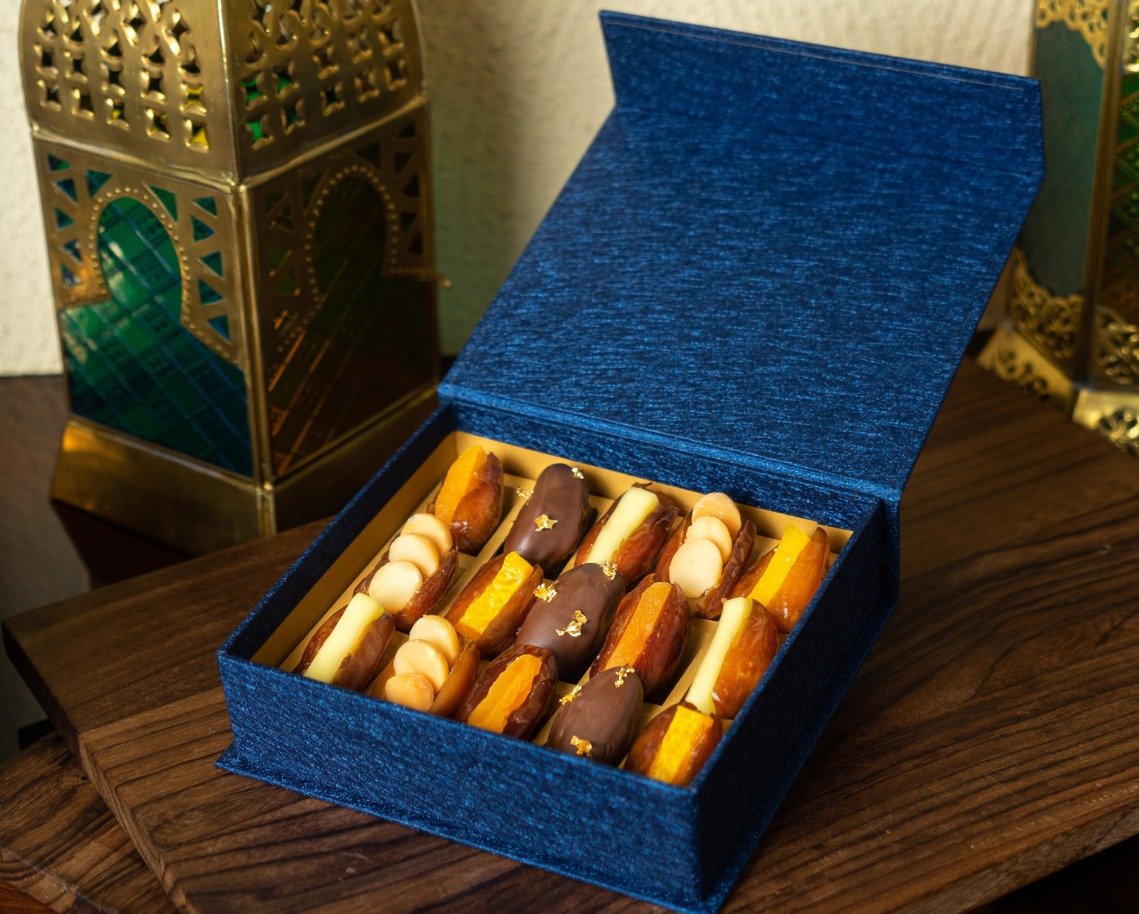 Thannina – cookies, chocolate, tea, jam, Moroccan mocktail; IDR 1,650,000++
Shukran – cookies, chocolate, tea, jam, Moroccan mocktail, honey, travel cake; IDR 1,850,000++
Tabrikatuna – cookies, chocolate, tea, jam, Moroccan mocktail, honey, travel cake, macaroons, lapis legit; IDR 2,250,000++
Assalam Kurma – assortment of stuffed Kurma; IDR 370,000++
Celebration Cakes
Elevate Ramadan gatherings with a splendid Four Seasons cake, crafted by the incredible team at La Patisserie. These stunning creations are also perfect as an extra-special gift.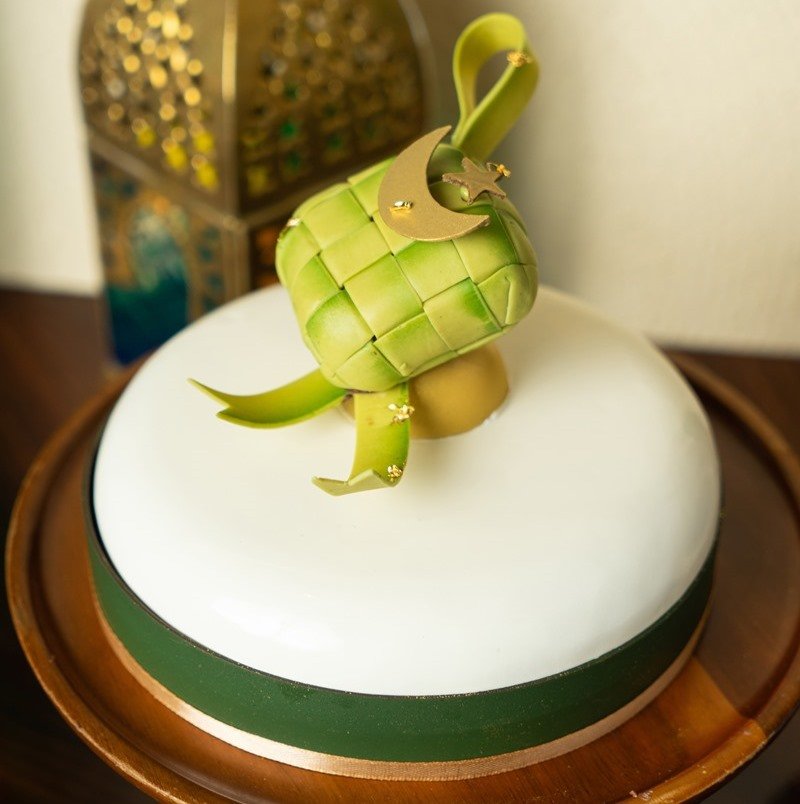 Shahrazad Cake – an indulgent composition of chocolate mousse, banana sponge, crispy phyllo pastry, chocolate crème, and fresh banana. The star-and-moon decoration on top makes this cake a wonderful centrepiece. 18 cm, IDR 450,000++
24k Gold Plated Lapis Legit Cake – a traditional Lapis Legit layer cake, topped with edible 24k gold leaf. The ultimate indulgence for a festive celebration with family and friends. 20 cm, IDR 650,000++
Lapis Surabaya Cake – a traditional Lapis Surabaya layer cake, a vibrant homage to the flavourful heritage of Indonesia. 20 cm, IDR 650,000++
Ramadan Retreat at Four Seasons
The season of Ramadan offers a precious opportunity to reconnect with loved ones. Create beautiful new memories together with a holiday at Four Seasons Hotel Jakarta.
The Rediscover Jakarta package invites couples and families to enjoy a relaxing retreat at this luxurious urban oasis. Enjoy 20 percent off Room Rate, daily breakfast for two guests per room, 15 percent off spa treatments, and self-parking for one car per room. Framed by stunning views of the city, each private suite offers the perfect base for an inspiring stay in Jakarta.
Available for booking directly via the Hotel website.
Jl. Jend. Gatot Subroto Kav. 18, Jakarta Selatan 
Phone: +62 21 2277 - 1888