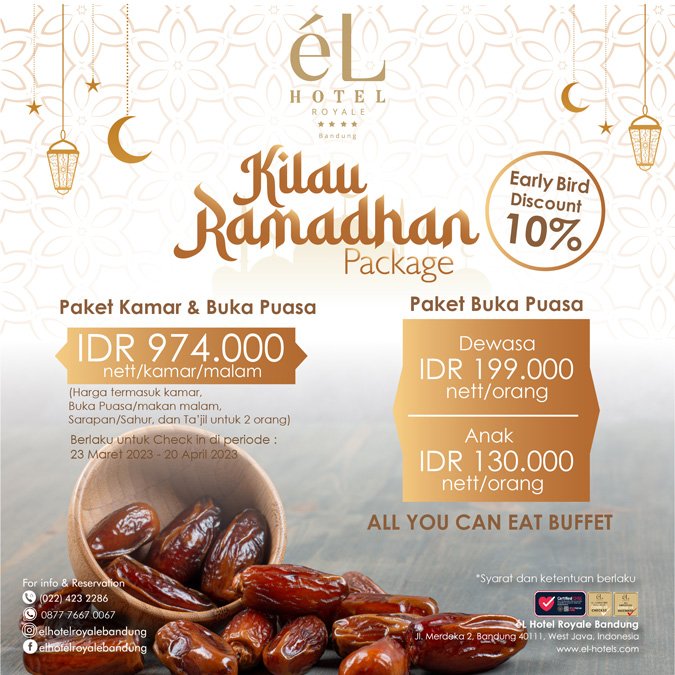 éL Hotel Royale Bandung has again attracted the public's attention by issuing an iftar package entitled 'Kilau Ramadan' by highlighting dishes with typical Indonesian flavors as well as several choices of western food so that guests can freely choose the kinds of food they are craving.
The iftar package is open at a price of IDR 199,000 nett per pax (All You Can Eat) in the Restaurant area from 23 March – 20 April 2023 from 17.00-21.00. In addition, visitors also have the opportunity to get a special promo, namely for special arrivals in the period March 23 - March 30 there is an additional discount of 10%.
Hani Hanipah as Public Relations for éL Hotel Royale Bandung said, for this year éL Hotel Royale Bandung provides a variety of food menus every week with more dishes than last year. Where every day we have menu rotation/changes so that guests who come l more than once did not feel bored with the same menu. Not only the mainstay menu every day, it will be equipped with various takjil, pastry, salad bar, and live cooking.
In addition to the iftar menu package, éL Hotel Royale Bandung offers a special package, namely the Ramadhan Room Package starting with a special price of Rp. 974,000,- net/room includes breakfast or sahur and dinner or iftar for 2 people
éL Hotel Royale Bandung
Jl. Merdeka No. 2, Bandung
P: (022) 4232286
Instagram
Website